Car Door Decals
Advertise your business anywhere you drive with weather-resistant car decals.
See Details

100% satisfaction guaranteed
Make the most of your commute, errands or appointments.
12 size options
2 materials available
Transparent polyacrylate adhesive
Weather-resistant & waterproof
Vivid, full-colour printing
Ready to create your custom car door decals? A car door decal is sure to get you noticed on the street or when you're parked. Create a professional design with your logo and contact information, and let your door decals do the talking (and branding) for you.
Ready to start? Upload your high-resolution image, add any extra custom touches, and then select your preferred options like size, orientation and whether you'd like to use a white or transparent material. We'll take care of the rest, and your car door stickers will arrive ready for you to show off on the road.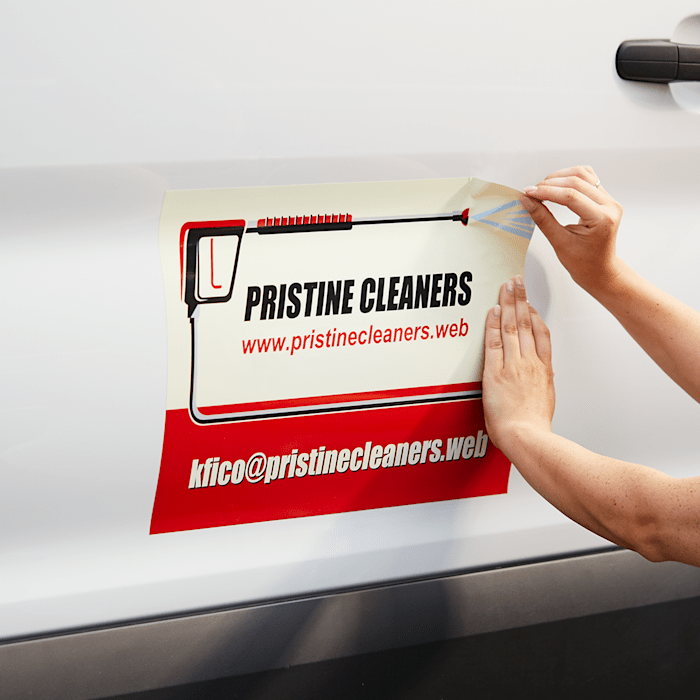 Frequently Asked Questions
With proper care and use, vehicle decals can be used for about three years. At that point, we strongly recommend replacing your decal, using heat to do so. See the following question for details.
If you've used your decal for more than two years, we recommend you heat the surface of your car with a hair dryer (not a heat gun) before you start to take the decal off. This will help the decal come off smoothly and reduce the risk of paint damage. Just heat the decal and the surface, pull from a corner and gently pull the decal off, using extra heat if needed. If you've used the decal for less than two years, using an oil-based adhesive remover should do the trick.
If you've chosen a white vinyl car door decal, you can take advantage of our full-colour printing options – and we recommend that you choose a background in a different (yet complementary) colour than your vehicle. Not only does this help your decal stand out, it's the easiest way to create a consistent look across vehicles of different colours. Just be sure to keep your messaging and design simple and clear.
No, you'll want to wait for the paint curing process to finish. This is also the case if you've added a new clear coat or wax to your car. The recommended wait time is 90 days for a new coat of paint, 60 days for a clear coat and 2 days for wax.
Transparent polyacrylate – a removable, pressure-sensitive adhesive.
Product Specs & Templates