Magnetic Car Signs
Outfit your vehicle for quick and easy promotion on the go. Explore fully customisable design templates and an easy design upload.
See details

100% satisfaction guaranteed
Get more mileage out of your marketing.
5 size options
0.85-mm thick magnet
Durable, wind-tested hold
Vivid, face-resistant printing
Seeking a new way to build awareness about your business? With personalised magnetic car signs, you can add quick and effective marketing a vehicle's side door, the back of a van – or even both. Durable, weather-resistant and wind-tunnel-tested, the right magnetic sign can get your business name and logo noticed by pedestrians or other drivers – and they can help you make a strong first impression.
Ready to start? Explore our gallery of fully customisable design templates. (Or, if you have a design ready to go, use our design upload option.) Once you've found a favourite design, make it yours by adding your custom details and choosing the options that work best for you. We'll use fade-resistant UV ink printing to add your design to the matte surface of your magnetic car sign – and the finished product will be ready to stand out wherever the road takes you.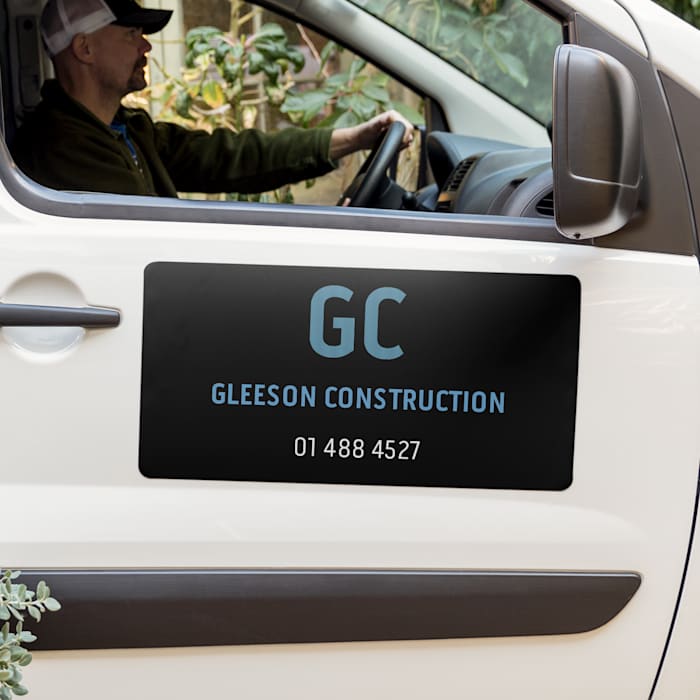 Frequently Asked Questions
Each car sign is 0.85 mm thick.
Sorry, but no. For a secure fit, magnets should be affixed to surfaces that are smooth, without curves, dips or bumps.
With proper care and use, custom car magnets can be used for about two years. At that point, we strongly recommend replacing your magnet to prevent it from falling off your vehicle while you drive.
No, you'll want to wait for your paint to cure – and this is also the case with a new clear coat or wax job. The recommended wait time is 90 days for a new coat of paint, 60 days for a clear coat and 2 days for wax.
Yes. We recommend these magnets for short-term use, especially repeat short-term use. Long-term use without caring for the car surface underneath can run the risk of paint damage. In fact, recommend you take your signs off at least once a week, and that you wash and dry the space underneath. If you live somewhere that experiences extreme weather, we recommend you remove your magnetic sign more frequently – ideally once a day – to keep your sign and car paint looking fresh.
We recommend removing magnets before washing your vehicle.
At least once a week – and we recommend that you wash and dry the space under your magnet. If you live somewhere that experiences extreme weather, we recommend you remove your magnet more frequently – ideally once a day – to keep your magnet and car paint looking fresh.
We recommend that you create an advertising magnet in a different (yet complementary) colour. Not only does this help your magnet stand out to people, it's the easiest way to create a consistent look across multiple vehicles of differing colours. Just make sure you keep your messaging and design simple and clear.
The best answer for your magnet may depend on your specific vehicle. If you're working with a larger pickup truck, you can take advantage of the size of a side door with your choice of prominently displayed magnetic truck signs. Magnetic signs for vans may include options for side panels or even the back door – especially opportunistic if you're often in heavy traffic. That's why we offer a range of options that can work with a variety of vehicle types and sizes.
The magnetic strength is 54g per square cm.
Product Specs & Templates
Review Snapshot
910 Reviews
---
Ratings Distribution
---
Reviewed by 910 customers
I would not recommend this product
Submitted 19 Apr 2021 By Quan From queensland
---
I would not buy this product again
Submitted 31 Mar 2021 By Robert From Cairns
We`re sorry to hear about the poor quality of the Magnets you received. Thanks for your feedback. To provide a resolution, we have refunded the cost of the magnets and you`ll receive the refund in the next 3-5 business days. you`ll receive an email to confirm the refund. - JA
Response from Vistaprint Customer Care Team:
---
Disappointed
Submitted 26 Mar 2021 By Nete From Victoria
We appreciate your feedback and are sorry to hear that you're having trouble getting the car magnet off the door. We recommend that you contact us at 1800-864-973 if you still need help and we'll be happy to assist. - ZW
Response from Vistaprint Customer Care Team:
---
Quick and worth the spend
Submitted 17 Mar 2021 By DRC From Brisbane
---
I'm annoyed
Submitted 26 Feb 2021 By Sarah From Melbourne
We regret to hear that the quality of the car magnets received did not meet your expectations. To ensure your full satisfaction, we've issued a merchandise credit to your Vistaprint account which is valid for 1 year starting today. Please contact us at 1800-864-973 if you still need help. - ZW
Response from Vistaprint Customer Care Team:
---