Matte Business Cards
Turn the original feel-good paper stock into your own one-of-a-kind creation. Explore fully customisable design templates and an easy design upload.
See details

100% satisfaction guaranteed
Create a card that makes things happen.
2 shape options
2 paper weight options
2 corner options
Feels like: silky front & back
Vibrant, full-colour printing
Spot UV finish available
A true classic never goes out of style – a point well proven by matte business cards. This paper stock continues to be among our most popular year after year, and it's easy to see why: The shine-free paper absorbs more ink, making it a great option for big, colourful designs.
Ready to create your matte card? Start by exploring our assortment of full-colour designs. (If you have your own design already, you can use our easy upload.) After you've found a favourite template, make it yours by adding all your custom details. Then pick your paper weight and let us take care of the rest. Your cards will arrive looking polished, professional and ready to get noticed.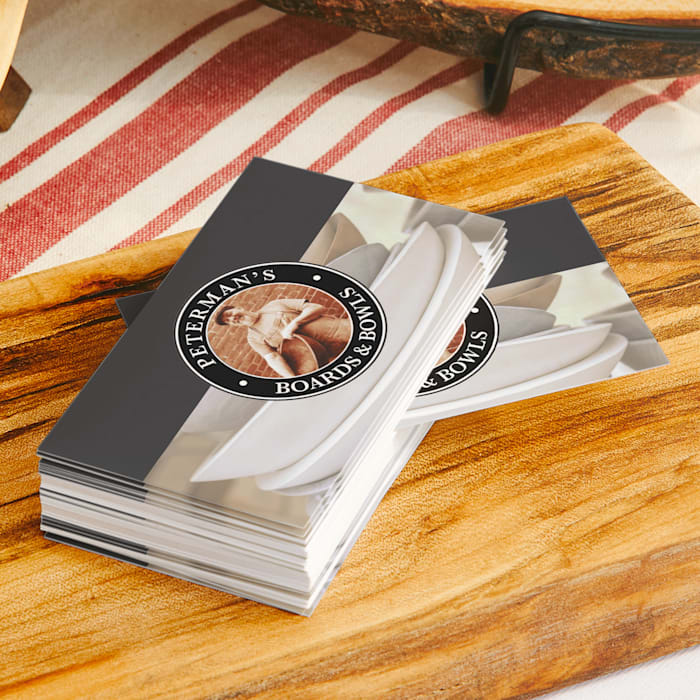 Frequently Asked Questions
Different paper stocks best complement certain kinds of designs. Matte paper is an especially good choice if your design features vibrant designs with a lot of ink – the paper absorbs the ink especially well, so your design will look all the more vibrant and rich. If your design uses very crisp, fine lines, you may want to consider another paper stock, as fine lines can sometimes bleed.
Our matte cards come in two paper thicknesses – standard (300 gsm) and premium (360 gsm). Each paper thickness features a silk-coated front and back. We typically recommend standard matte cards for high-volume distribution – trade shows, events or package inserts. For more personal, one-on-one interactions, we'd recommend our premium paper.
Yes. When you choose our standard card shape, you have the option of crisp, 90-degree corners or 5 mm rounded corners.
For most people, choosing among our shapes – standard, square and slim – is a matter of preference. That said, there are a few things you can consider pick a card size that matches your business personality. Standard cards (91 x 55 mm) are the traditional and most familiar, and well complement timeless, classic card designs. Square cards (65 x 65 mm) are fresh and bold, especially popular among creative professionals interested in conveying an innovative, edgy style.
Yes. You can choose from our one or two-sided printing options.
Our brilliant finishes are special upgrades that add more visual interest to your card design. Our spot UV applies raised gloss to specific areas of your design. Please note that these finishes are applied to the front of card designs only.
Product Specs & Templates
Review Snapshot
31 Reviews
---
Ratings Distribution
---
Cards cut skewed
Submitted 15 Apr 2021 By Ian From Devonport
---
Great!
Submitted 14 Mar 2021 By Kiki From Australia
---
Beautiful work i love them
Submitted 10 Mar 2021 By Deano From ALBION PARK
---
Not matching with what shown on the website
Submitted 9 Mar 2021 By Fey From Cremorne
We are truly sorry to learn that your business cards were printed in an unsatisfactory manner. We appreciate your feedback and we love to make it right for you. We`ve sent over a free replacement for your cards. An email confirmation was sent for your reference. We hope this helps. – JS
Response from Vistaprint Customer Care Team:
---
Great quality
Submitted 12 Feb 2021 By Business Cards From Central Coast NSW
---