Aluminium Prints
Turn your favourite photos into stylish, metal home décor. Two-layered signs with brushed and coated aluminium options.
See details

100% satisfaction guaranteed
Give your custom wall art a modern, industrial look.
5 size options
3 mm thick aluminium
Made with 2 metal sheets & a plastic core
2 material options
Vivid, full-colour printing
Interested in adding a bit of edge to your wall décor? Aluminium prints can transform the look of a wall or display space, adding a touch of industrial style to pictures of family, travel and more. Images are printed directly onto your choice of brushed metal or coated white aluminium – resulting in an art-quality conversation piece.
To start creating your metal print, you'll upload the high-resolution design of your choice. As you look over your design, you'll be able to add any final touches you might like before you leave the rest to us. We'll professionally print, package and deliver your aluminium print – and the eye-catching artwork will be ready to display and love for years to come.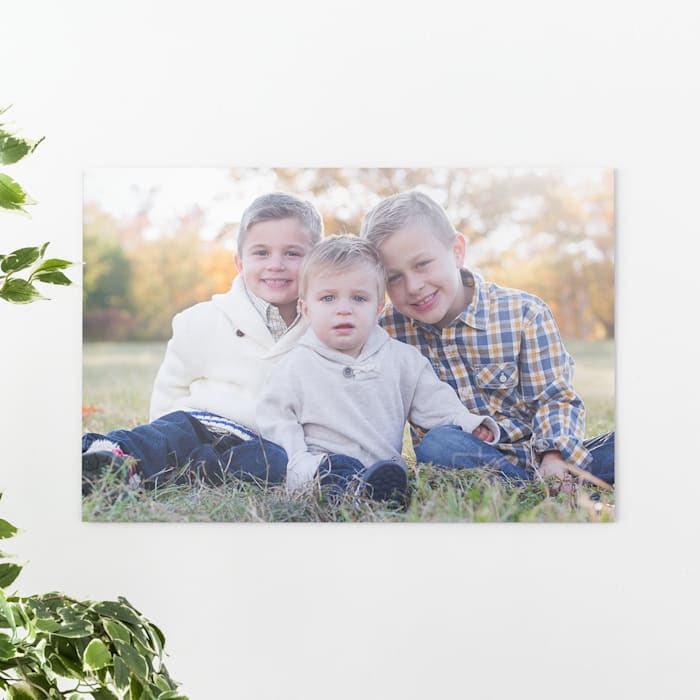 Frequently Asked Questions
Each print consists of two layers of aluminium, with a solid plastic core in the middle. We print your design onto the top layer of aluminium. Depending on your preference, that top layer will have been covered with a white coating or will be uncoated, with a brushed finish.
We recommend you use adhesive hanging strips – they're durable, easy to use and will keep your print flush against the wall. Make sure you're using enough strips to support the weight of your sign.
It depends on the size of your print. For context, a 60 x 90 cm print weighs 2.01 kg.
We recommend wiping the front of your print with a mircofiber or lint-free cloth to remove dust. If you need to remove a stain from the print's surface, streak-free glass cleaner is a mild and effective option.
Before we package aluminium prints, we add a plastic layer for extra protection during the delivery process. The layer has a green tint to it – upon arrival, you can go ahead and remove the the plastic.
Product Specs & Templates