A-Frames
Capture everyone's attention indoors or out with customisable A-frame boards. High-quality, fade-resistant printing with included protective sheet.
See details

100% satisfaction guaranteed
Make your message really stand out.
68 x 120 cm size
Collapsible aluminium frame
Fits 2 A1 posters
2 poster materials available
Protective sheet included
Whether you're advertising a sale, announcing a grand opening or letting customers know about new products, versatile A-frame signs will get the job done. These signs are perfect for restaurants, retail, galleries, events and more.
Ready to get started? Begin by exploring our assortment of fully customisable a-board designs, including industry-specific options. Personalise your chosen design with key details, like your business name, logo and unique message. A transparent sheet is included to keep your A-frame sign protected. We'll take care of the rest, and your sign will arrive looking crisp, polished and ready to impress.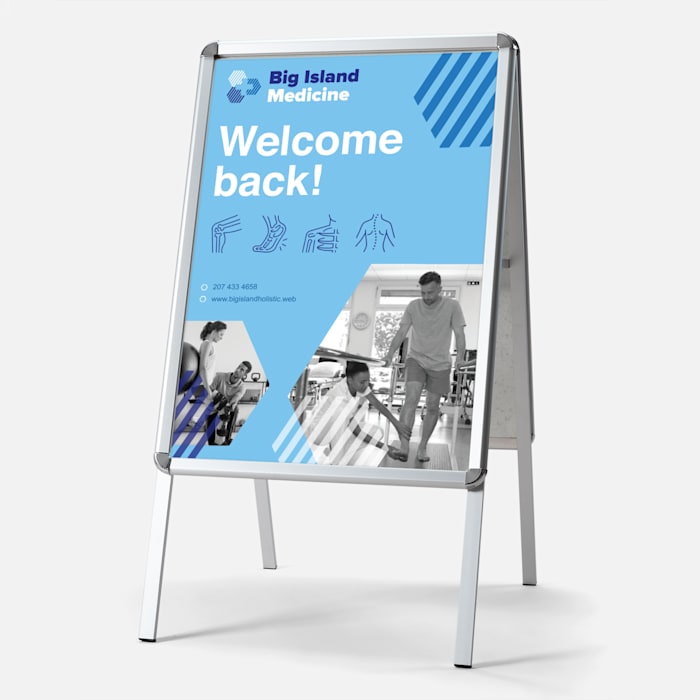 Frequently Asked Questions
Our A-frame signs are made from Collapsible, durable aluminium and will sturdily stand on a walkway or pavement.
These signs are so popular because of their versatility. Use a-frame boards to advertise an upcoming sale or promotion, let customers know you're now open or have an exciting product to try, share your new hours or even say a friendly hello or welcome.
You can use these signs outdoors, however our current paper stocks aren't waterprood. We don't recommend using our A-frame signs outdoors in wet conditions.
Our Studio doesn't automatically mirror the front design to the back. To ensure you have artwork on both sides, you need to manually copy and paste the content from the front side to the back side.
We recommend to avoid using arrows or have in mind to swap and flip the arrow when replicating your design on the back side.
Our A-frames are 68 cm wide by 120 cm high with a 9 cm depth.
Yes, as long as you are using our A1 poster size.
Made from durable PET plastic, this sheet provides an extra protective layer to your sign.
Unfortunately, our current matte and premium glossy paper stocks are not waterproof.