Flags
Create super-sized advertising that stands up to the elements. Variety of sizes and shapes available, already comes with pole and ground spike. Already have a pole and base? Shop our fabric only flags here.
See details

100% satisfaction guaranteed
Take your marketing to new heights.
4 size options
3 shape options
Durable polyester
Wind-resistant up to 59 kph
Pole, ground spike and carry bag already included
To start creating your flag, explore our gallery of fully customisable design templates, including industry- and event-specific options.
Once you've found a favourite design, make it yours by adding your custom details and choosing the options that work best for you. We'll take care of the rest, professionally printing and delivering your order. Your flag will arrive looking great and ready to start turning heads.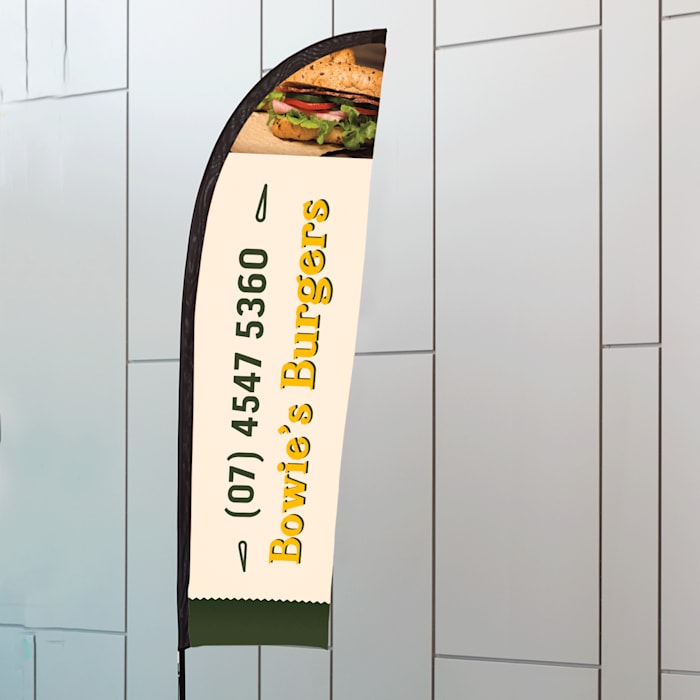 Frequently Asked Questions
Yes, you will receive the flag, pole, ground spike and carry case.
Yes! You can choose between single- or double-sided printing options. Single-sided flags are more translucent, which lets the flag design (and sunlight) shine through, while our more opaque, double-sided flags offer richer colour saturation.
When you choose our "flag set w/ pole + ground spike" option, you'll get a black pole that is 0.5" wide. The pole arrives in sections, with a bungee to connect them; most of the sections are made of aluminum, with one fiberglass section. It also has a plastic hook that is used to secure the flag to the pole – and you can adjust the hook to increase or decrease the flag tension.
If you choose our "flag fabric only" option, a flag pole is not included with your order.
Our promotional flags are printed using dye sublimation on translucent polyester. The resulting banners are slightly sheer, which lets the design show through to be visible on both sides.
Yes! You can throw your feather flags, sail flags or teardrop flags into the washing machine. We recommend you wash with cold water – and we strongly recommend you let your flag air dry.
Yes. Our flags are fire-certified.
123 cm x 30 cm x 10 cm (length x width x depth), weighing about 4kg.
Dimensions vary and are listed below (includes pole):
| Size | Sail | Teardrop | Feather |
| --- | --- | --- | --- |
| XS | 2 m | 2 m | 2 m |
| S | 2.6 m | 2.8 m | 2.8 m |
| M | 3.2 m | 3.4 m | 3.4 m |
| L | 4 m | 4.5 m | 4.5 m |
Product Specs & Templates
Review Snapshot
5 Reviews
---
Ratings Distribution
---
I would purchase again
Submitted 9 Apr 2021 By Carl From Perth
---
These flags are fantastic.
Submitted 7 Apr 2021 By Colourful From Perth
---
Product fault
Submitted 30 Mar 2021 By Faulty made flag From Qld
We`re sorry to hear about the issue with the Flag you received. Thanks for your feedback. We have adjusted the design and replaced your order. You will receive the replacement on or before April 9th. We hope this helps. - JA
Response from Vistaprint Customer Care Team:
---
Wont be buying this again.
Submitted 17 Mar 2021 By Elijah From Austral
We are sorry to learn that the text on your flags were printed really small and thanks for sharing your feedback. To make it right, we've saved 2 different copies of your flag on the My Projects page of your Vistaprint account with the name VP_Copy1 and VP_Copy2. You may choose between those updated flags and place the order again using the merchandise credit that we have applied to your account which is the same cost of the flags that you've already paid. - DS
Response from Vistaprint Customer Care Team:
---
Worth a try.....
Submitted 4 Mar 2021 By Bud2 From Warrnambool
We`re sorry for the issues on your Flag and we apologize for the inconvenience. We`re happy to see that you`ve contacted our Customer Support team and they assist. - JA
Response from Vistaprint Customer Care Team:
---