Estimated reading time: 6 minutes
As a small business owner, you probably know that it's important to be searchable and accessible online. And prioritising search engine optimisation (SEO) for your website and digital assets is key in growing your business online.
SEO for small business can be a little confusing if you aren't immersed in digital marketing (and even if you are, it can still be pretty confusing). But don't worry — there are simple steps any small business owner can take to boost their presence online and generate additional traffic. Here, we'll cover what you need to know about SEO as a small business owner, and give you the info you need to start optimising your online presence.
What is SEO?
Let's start with the basics — simply put, search engine optimisation is the process of improving traffic to your website. This optimisation increases the number of overall website visitors, increases how often your business appears in searches for a given keyword, and also boosts the quality of those visitors.
In the most general sense, SEO is an organic, unpaid strategy. The primary focus is a combination of keyword research, content strategy and understanding how to ensure that your business shows up in local search. SEO is an inbound marketing strategy, which means that people will see your business results when they are actively looking. This is different from outbound strategies that disrupt the audience, such as a television commercial.
At the root of any SEO plan is keyword strategy. (More on that later!) Knowing what words people use to search for your products and services can help you understand how to formulate a plan.
Combining solid content with a robust SEO strategy creates a dynamic duo that can help you appear closer to the top of search rankings. As a small business owner, being on the first page of Google generates more traffic and conversions, and, ideally, new customers. Rankings on subsequent pages provide much less of a boost, since many searchers will conduct a new query instead of digging past the first page of search results.
What's the difference between regular SEO and local SEO?
Spoiler alert — the difference is all about location. There are two types of SEO for small business: regular SEO and local SEO. Regular SEO helps you rank in search queries regardless of user location. It's a general search strategy that helps attract website interactions solely based on keywords and topics. This could be great for small business owners who operate online and deliver worldwide, or entrepreneurs who offer virtual-only services.
But for most small business owners, local SEO is what you want to focus on. This practice helps people near your location find you when they use Google to search. Local search terms can include a keyword or phrase, plus area-specific words, like:
'Near me'
A specific city name, such as Manchester
A town and region designation, such as Boston, Lincolnshire
So, a local search query may look something like this:
Vet near me
Vet in Manchester
Vet in Boston, Lincolnshire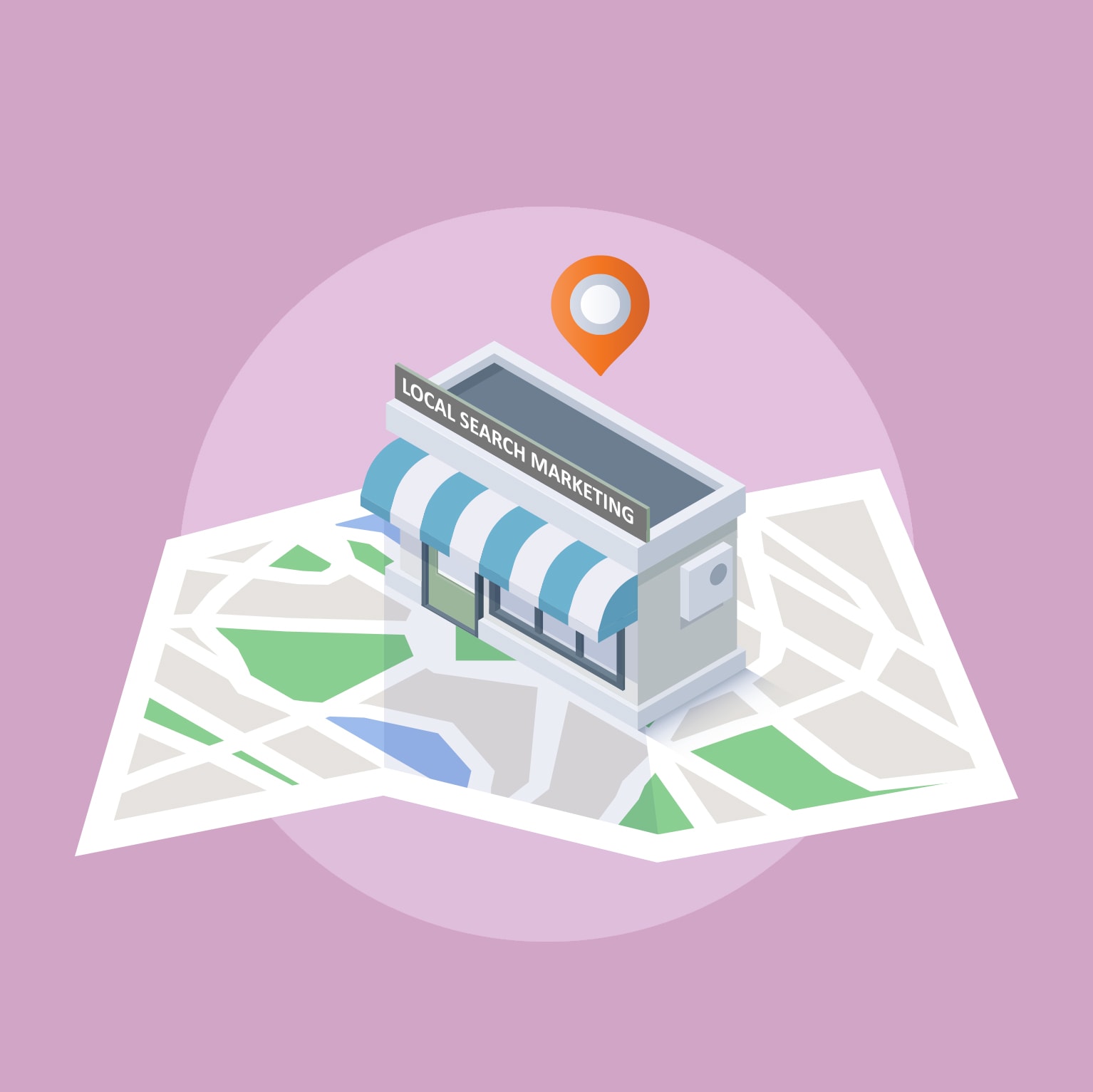 Why is local SEO for small business so important?
Search optimisation is important for small businesses for a number of reasons. Most importantly, it can help the right people find your business at the right time: when they are looking for it!
SEO is rooted in keywords and search terms that users type into search engines (like Google) or ask virtual assistants about, such as Siri or Alexa. As a small business owner, your ultimate goal is to appear on the first page of results for any given keyword. This will lead to more:
Website traffic. More traffic for certain keywords tells search algorithms that your content is valuable and important, and, as a result, your website will rank higher in searches over time.
Leads. One of the best small business SEO tips around is to use your website to generate business leads. Even if you don't sell anything online, you can use a form to collect emails and provide information to web visitors. Offer a voucher for your physical location, or email content from your blog. Everyone who signs up becomes a direct marketing lead with a deeper connection to your business.
Conversions. It's a well-documented fact that most people who search will click on some of the first results they see. These clicks can lead to sales, form completions or other conversions on those websites.
How to get the most out of local SEO for your small business
1. Set up your Google Business Profile and Bing Places.
The two primary sources to consider when it comes to local SEO are Google Business Profile and Bing Places, because they are linked to the two most-used search engines.
How to set up your Google Business Profile:
Sign in (or sign up) using your email address.
Enter your business information, such as name, location and contact details. You may also be asked to pin your address on a map.
Add a business category.
Enter your website URL.
Verify your business account and information. This proves that you are authorised to manage the account on behalf of your business.
After the business is verified, you can add additional information to your page such as photos, business hours, events and special posts.
How to set up Bing Places:
Claim your business on Bing. Most places already exist in the Bing database.
Fill out the fields to complete your listing, including services, opening hours and location information.
Verify your listing with one of the methods available.
2. Conduct keyword research.
Keyword research is your most valuable process when planning and developing a small business SEO strategy. Effective keyword research will help you understand what visitors are looking for when they come to your website, and what search terms they used to find you. Keyword research can even involve words or terms to exclude if you are generating some of the wrong kinds of traffic, and help target visitors in the right locations.
Conducting keyword research can be a little intimidating at first, but there are tools to help. Google has a keyword planner tool for Ads users and includes keyword information for websites linked to its Search Console. There are also a variety of paid keyword research tools on the market that can be beneficial depending on your business size, volume of competitors and budget.
3. Perfect on-page optimisation.
Local SEO opportunities for a small business happen on every page of your website. On-page SEO includes the keywords and written content on each page, as well as other search signals, like meta tags and page architecture.
Including relevant keywords and using natural language on each page of your website is important for your overall search engine rank. Make sure keywords are included in the content of these parts on each page:
Title tag: This main description of a page should tell users clearly what the page is about, using the main page keyword. Structure the title tag so that it is written for the average person — think of it as a short headline that includes one keyword.
Meta description: This secondary information appears below the headline in search queries. You have about 155 to 160 characters to explain the content, so make sure to include the keyword again, and encourage searchers to click the link.
Alt information: Descriptions of photo and video content should describe the image as well as use a keyword.
URL: What is your page about? The URL should provide that information. Seeing a descriptive URL reinforces to visitors that they are looking at the right content in the right place and that it is relevant to their keyword search.
Body copy: Finally, keywords related to the topic of your page, based on research, should be scattered throughout the copy in a natural and conversational manner. If the headline tells users the page is about 'vet fees', that information should be the actual content of the page, including the use of that specific keyword. Use the keyword, and other secondary keywords, in the body copy, and for at least one header or subheading in the context of the page.
Let's put it all together in an example for a veterinary clinic — the meta information for their 'Pricing' page should target the keyword 'vet fees' and look something like this:
Title tag: Vet Fees: Clinic Pricing in Boston, Lincolnshire
Meta description: Our vet fees are among the most competitive in your area. Routine check-ups, vaccinations, teeth cleaning, spaying and neutering services for cats and dogs start at £35.
Alt information: If you decide to use an image of a dog on that page, your alt information could be: "Vet fees for a barking dog with a wagging tail."
URL: The URL should be short and sweet and also include your keyword. In this case, it would be the URL of your domain, separated by a forward slash or hyphen for your keyword: abcveterinaryclinic.co.uk/vetfees.


4. Include NAP data.
The final, and maybe most important, element of local search is NAP data. NAP stands for name, address and phone number.
To maximise your NAP data, always refer to your business in the same way. 'Dog Shop LLC' might be 'Dog Shop' in the footer of your website, URL and on Google Business Profile and Bing Places listings. That's okay, because it's the same everywhere. Don't flip between Dog Shop LLC, Dog Shop and Dog Shop Inc., because those look like three different businesses to search engines. So, to make the most of NAP data, you must use a consistent name, address and phone number everywhere.
The same is true of your phone number and physical address (use the Google-verified map address everywhere). A common mistake is to switch between different variations of a business phone line — instead, use the same phone number across all of your digital assets.
Reviews are also an increasingly important part of NAP data. You've probably noticed that many small business search engine results show reviews. More reviews and better ratings can help you appear more prominently in local search. Using NAP consistently makes it easy for your fans and customers to find your business online and leave a review.
On Google, for example, those reviews are directly tied to your Google Business page. You can further link those to your website to establish a connection between the two.
Every small business should use SEO to help generate website and physical traffic to their location. With a solid strategy, keyword research and optimised content for the right type of customer, you can help boost your search rankings over time.