Estimated reading time: 9 minutes
At the peak of the COVID-19 pandemic, quick response (or QR) codes made something of a comeback. And be honest…did you know that's what 'QR' stood for before we told you?
Today, QR codes are still going strong as an affordable way to give potential customers more information about your business. Whether for contactless restaurant menus or touch-free transactions, QR codes are now easier than ever to use. With most smartphones, you just need to position the code within your camera and a URL will automatically generate. So when it comes to your small business, a QR code can be an effective tool in getting your products or services out there and boosting your brand.
Are you ready to get started? Well, with the help of an easy-to-use QR code generator, you can create a code for yourself in a matter of minutes. In this article, we'll guide you through the steps of creating a code and also the various ways in which you can use it to its fullest. Let's go!
How to generate a QR code for your business
Creating a QR code is generally a straightforward process. There are many QR code generator tools available online that can help you create a QR code with ease. These tools typically require you to input the content that you want the code to link to, and then generate the code for you.
With VistaPrint's QR Code Generator, creating a QR code for your business is fast, free and so easy! First, select a destination for your QR code; you can choose from the following:
Your website
Your Instagram profile or a specific post
Your Facebook page or a specific post or a group
A tweet or your Twitter profile
A prompt to leave a review
A pinned location on a map
Instant access to your in-store WiFi network
Your contact information (vCard)
A document containing information that you want to share
Then, click 'Create QR code', test it out with your phone's camera and download your design. You can also choose to customise the code before downloading it. Our QR code generator for business offers various customisations— change the colour, add icons or even adjust the shape of the code. What's more — this is a QR code generator with logo customisation option, meaning you can include your business logo (or any other image or graphic) in your code. So, add your brand identity to your QR code and make it even more visually appealing and recognisable to your customers. Once you're happy with the design, download it for using on your intended file.
Where is the best place to use a QR code?
The best place to use a QR code depends on what kind of business you run and what you want your QR code to link to (more on this later!). Here are the top 10 VistaPrint products to add a QR code to:
Business cards
Magnetic car signs
Window decals
Sheet stickers
A-frame signs
Vinyl banners
Outdoor posters
Tabletop retractable banners
Coasters
Drinkware
What type of QR-coded product is best for your small business?
Whether you want to use QR codes to accept payments, give customers more information or streamline your services, let's look at some QR code use ideas (and product suggestions) for a variety of small businesses.
For eatery owners
One of the most popular ways we've seen QR codes make a comeback is through restaurants, cafes and bars (read: contact-free menus). If you haven't already, set one up for your eatery and display it in a prominent, easy-to-scan location — maybe on a tabletop retractable banner, a window decal on your front door or a banner by the takeaway counter.
Does your restaurant offer an advance order and pick-up service? Include a scannable QR code in the order confirmation email you send to customers, then when they arrive to pick up their order, you can scan it to create a streamlined pick-up process.
For dine-in customers, consider adding a QR code to a set of coasters or even your drinkware. It can link to a page on your website that outlines upcoming special events or bring customers to one of your social media pages.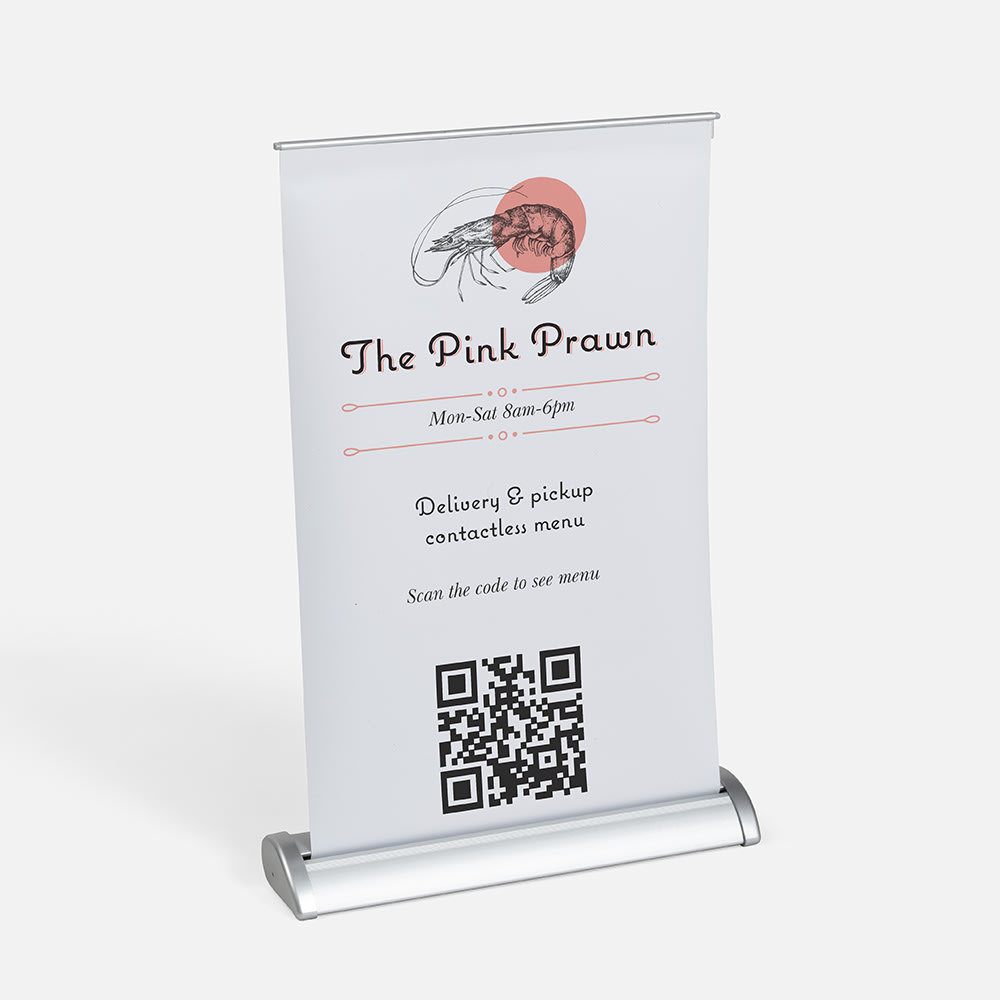 For gym owners
Whether you run a large gym or a boutique fitness studio, consider using QR codes to create a seamless experience for clients when they check in or register for a class. Try printing a QR code on a tabletop retractable banner for easy check-in, or add a window decal to your studio entrance for touch-free registration.
Or, if you're trying to attract new members, create a QR code to add to high-visibility items (like a banner or poster) that links to a virtual gym tour, a preview of your class offerings or a special joining offer.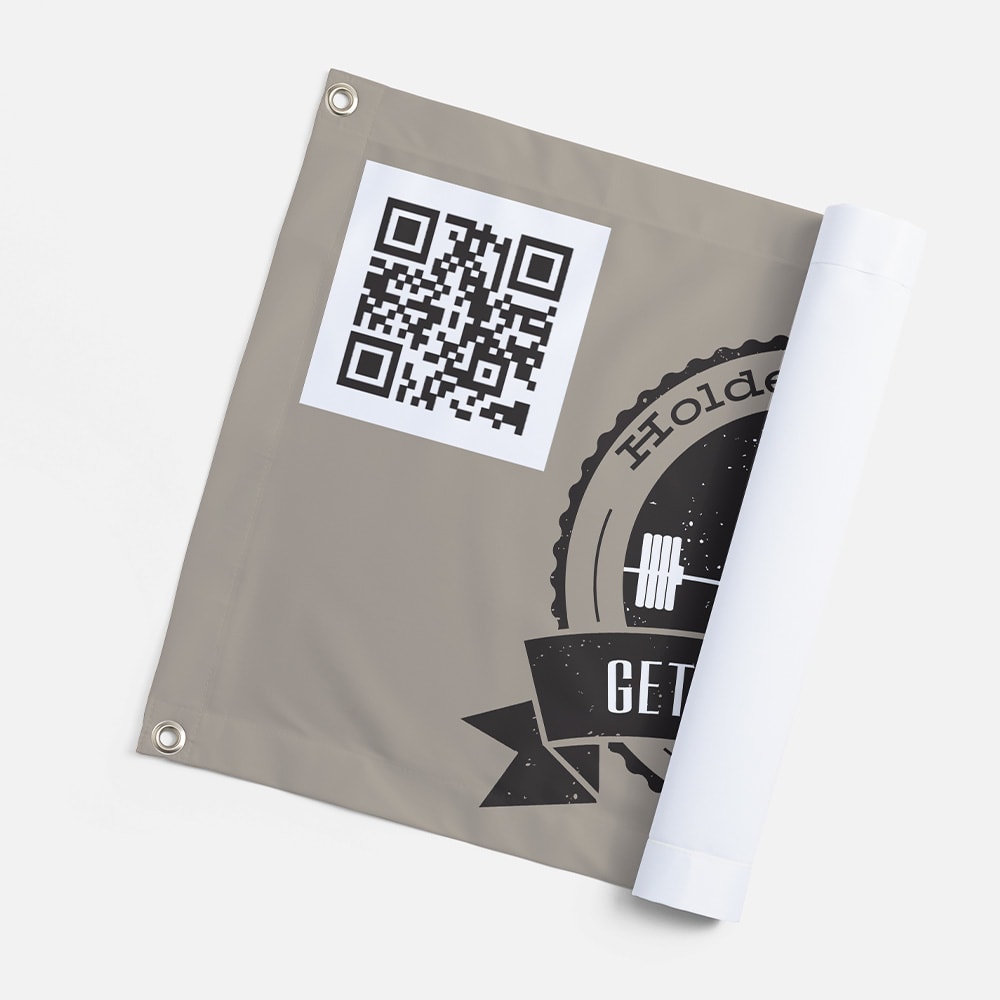 For service providers
If you run a service business like building, landscaping, plumbing or painting and decorating, you can get in on the QR code action, too. Using QR codes makes it easy for customers to book an appointment, fill out a consultation request form or leave an online review. Add a QR code to a window decal or magnetic car sign so potential customers can quickly scan it for more info when they see your (parked!) vehicle.
Are you providing a service that requires follow-up from the customer's end? At the end of your appointment, leave them with a QR-coded business card. Your customers can scan the code to find additional information, like special instructions for maintaining their new landscaping or tips on caring for their new wooden floors.
For estate agents
A property listing is only as good as its photos — so make it easy for potential buyers to see the full gallery or take a video tour via a QR code. Add them to property brochures or use them in your estate agency window display.
In addition to using QR codes for visual purposes, try using a code when you need to give potential buyers directions to your office or a property they want to view. Print some on a sheet of stickers that you can easily attach to your business card and give to buyers.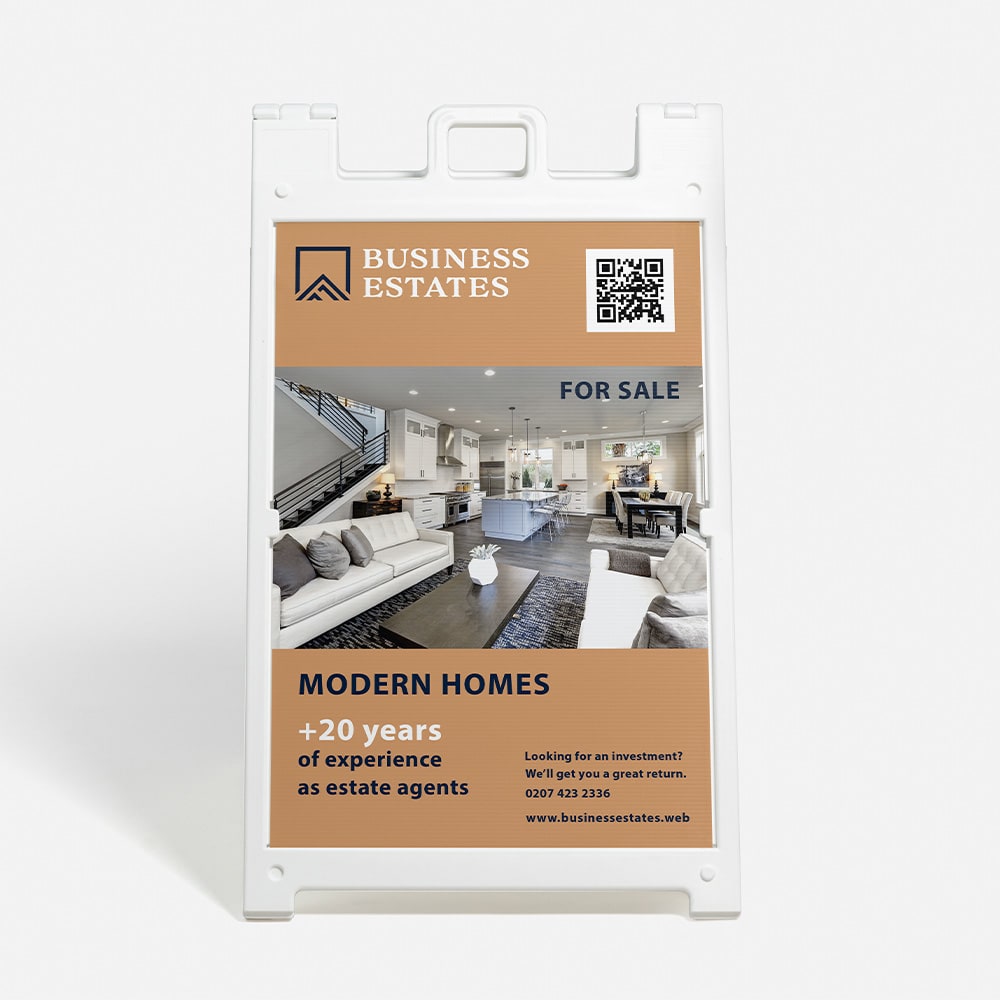 For retailers and shop owners
Whether you run an online boutique or brick-and-mortar shop, incorporate QR codes into your packaging — use them to link to your social channels, a discount code for their next purchase or a feedback form. Add a QR code to the stickers you use to brand your paper shopping bags and to the business card or postcard you include with every order. This is a great way to create an interactive shopping experience from start to finish!
Beyond packaging, think about how you can use QR codes to create an elevated shopping experience. If you run a clothing store, add a QR-coded sticker to an item's swing tag that scans to a styling video or related product suggestions. Do you run a delicatessen? Add a QR-coded sticker to the back of products that links to a recipe or a recommended wine pairing.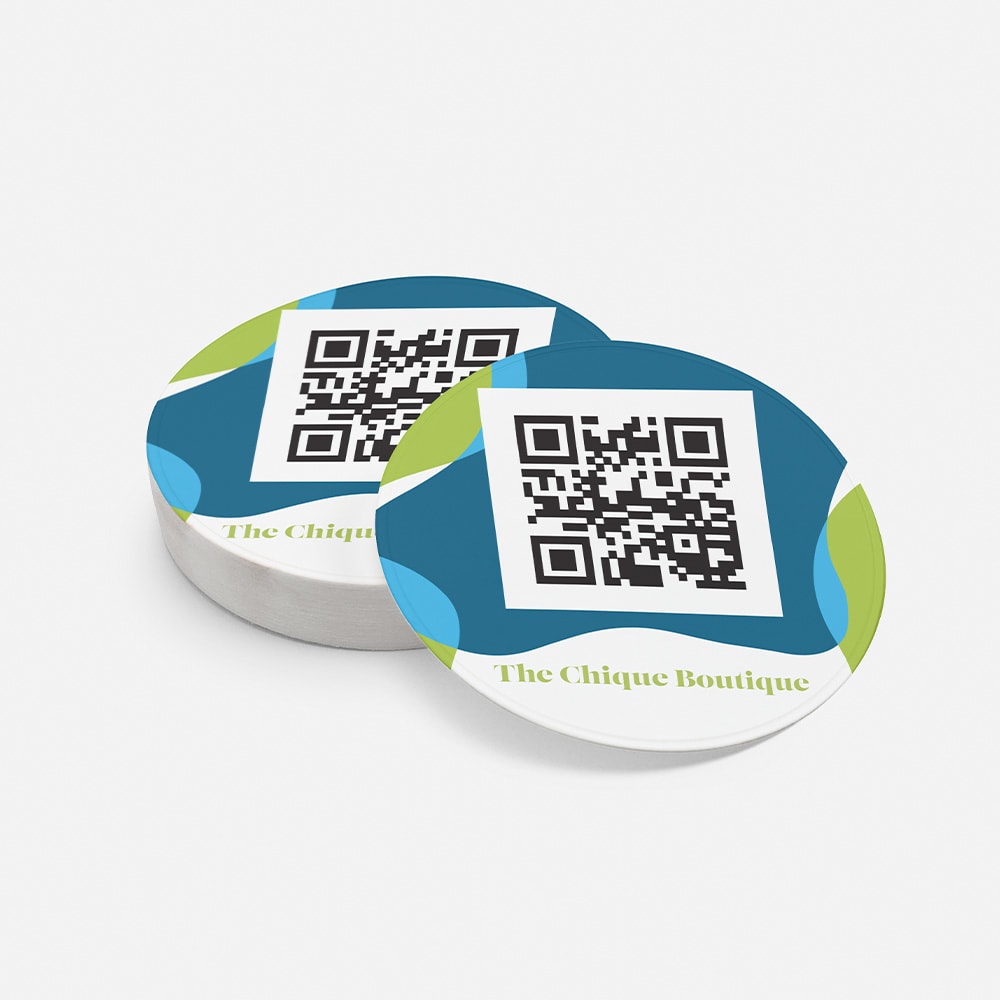 Joella Hogan, owner of Yukon Soap Company, is a Vista Collective member who includes a QR code in her packaging. When a shopper orders a bath bomb, she includes a QR-coded business card that links to a curated bathtime playlist.
For everyone
Regardless of what kind of small business you own, there are plenty of ways to make QR codes work for you. Here are some universal ideas for embracing this technology:
QR codes are a more affordable way for small business owners to accept touchless payments.
Add a QR code to your business card to share contact information, quickly, direct someone to your website or collect feedback.
Use QR codes to run giveaways — encourage someone to fill out a contact form or sign up for your newsletter via the QR code you provide, then reward them with a discounted service or freebie.
Boost your social media following with QR codes that link to your Instagram, TikTok, YouTube or Twitter pages. Just add the QR code to your business card, in-store signage or mailers.
Add a QR code to receipts or invoices to get customer feedback in just a few clicks.
Creating a QR code for your business: FAQs
Eager to try out a QR code for yourself but have some questions that need resolving first? We've got you covered! Here are the answers to some of the most common questions business owners have when it comes to generating QR codes:
How much does it cost to get your own QR code?
The cost of getting your own QR code can vary depending on the type of QR code and the provider you use. There are many online QR code creators that help you to create a QR code for free. If you're looking for additional features like tracking or analytics, you may need to pay for a premium QR code service.
Do free QR codes expire?
In general, free QR codes do not expire — they can be scanned any number of times. However, some QR code generators for business can place limits on how long the code can be used or how many times it can be scanned. It's important to check the terms and conditions of the QR code creator you're using to understand any potential limitations or restrictions. A free tool, VistaPrint's QR Code Generator places no limits on the number of times your QR code can be scanned.
Can you print a QR code?
Yes, you can print a QR code on various surfaces like paper, cardboard, plastic or even fabric. (The printabilities are endless – think table tents, mailing boxes, plastic business cards, tote bags and more.) After generating the code, print the image using a printer that supports high-quality image printing. It's important to make sure that the QR code is printed clearly and with sufficient contrast so that it can be easily scanned by a smartphone or QR code reader.
How to generate a QR code for a PDF file?
Find a QR code generator that is PDF-friendly. You can upload your file to the generator tool and create (plus, customise) your code. Once you're happy with the design, download and place the code in a visible location where it can be scanned easily. For example, if you're using the QR code in a printed material (say brochure), place it near the relevant information or on the cover page.
How to generate a QR code for your Facebook page?
Creating a QR code that links to your Facebook page is no different than creating one that leads to your website or other socials. Just head to a QR code generator website that's social-friendly and choose Facebook as the destination. Then, enter the URL of your FB page and generate the code. You can also customise the code to suit your style. Once it's all set, give it a quick test to ensure it works smoothly and voila! You're ready to download it in your preferred format.
What are some tips to keep in mind before debuting your QR-coded product?
Before you debut your new QR-coded product, make sure you:
Have a call to action. Include an actionable request beneath (or on the body of) your QR code, like 'Scan to get 10% off your first order' or 'Visit our website'.
Properly position it. Make sure your QR code is displayed in a way that's easy to scan — leave some space around it when designing your business cards or banners.
Test it out yourself. Before you hang up your QR-coded poster, give it a try for yourself! Then, have your employees, friends or family members test it out, too.
Create an incentive for customers. Get customers excited about using your QR code by attaching an incentive to it. For example, if they scan your code to subscribe to your newsletter, they will be automatically entered into a prize draw to win a gift card.