Estimated reading time: 4 minutes
As an entrepreneur with an exceptional offering, it's no wonder you want your business signage to stand out from the competition. After all, custom business signs are an extension of your brand and reflect your passion, personality and products.
Strategic small business signage is crucial for catching eyes on crowded streets, distinguishing your storefront from the competition and elevating your brand's consistency and cohesion. Whether it has a big, bold font, uses bright, flashy images or makes a remarkable impact (thanks to a surprising slogan!), a unique sign can attract foot traffic, drive sales and grow your business.
To help you get inspired, here are some small business sign ideas that'll help your establishment stand out and make a memorable brand statement.
Stop footpath passersby with an engaging sign.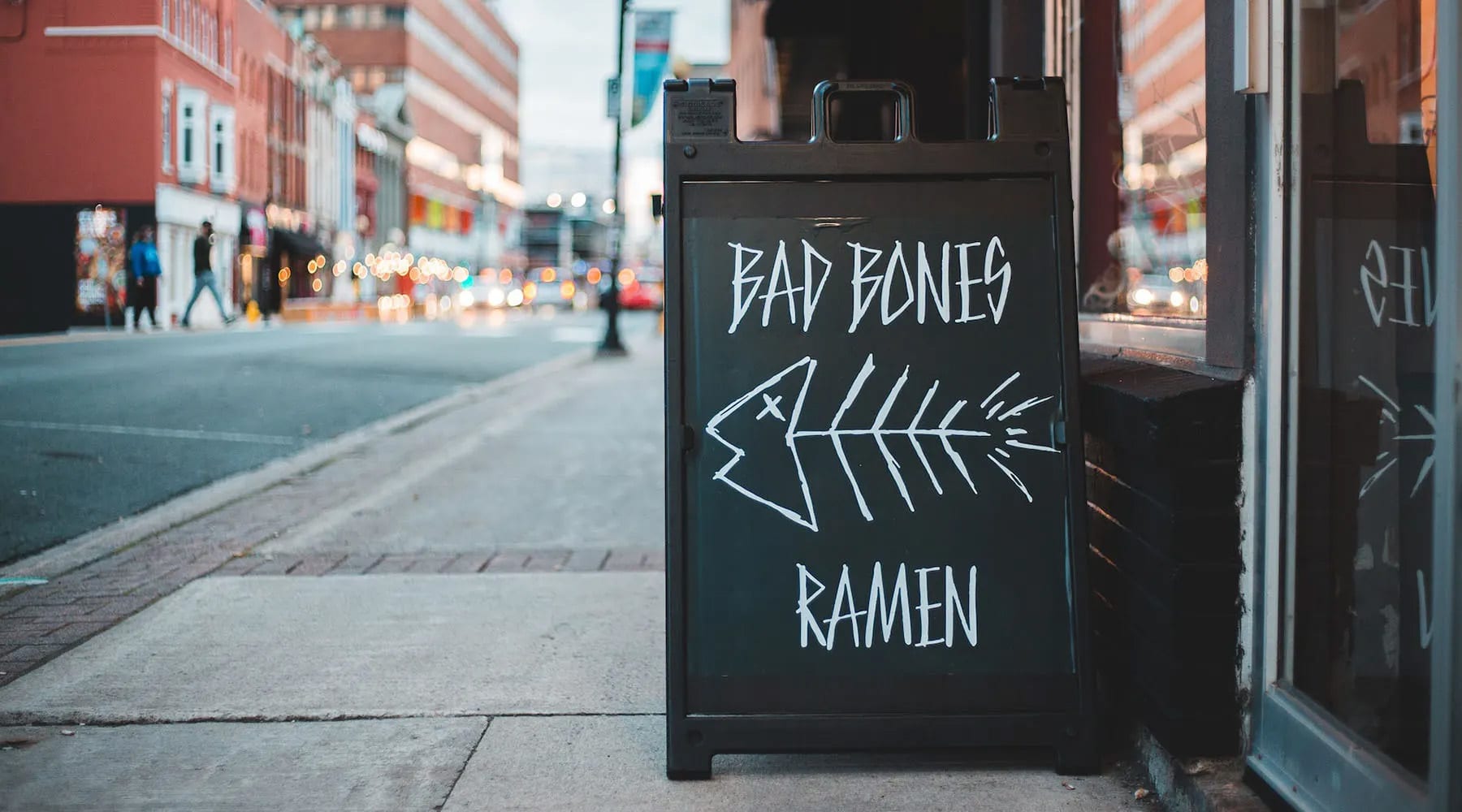 Passersby typically have somewhere to be with little time to spare, and they may not turn their heads and notice your business. That's where A-frame signs (also known as sandwich boards) come in handy. These portable, eye-catching commercial signs can be placed on footpaths to attract customers coming from either direction. A-frames are a great outdoor business sign idea for barber shops, salons, retail stores, restaurants and other in-person businesses.
Outdoor signs for business should be sturdy and waterproof to stand the elements. VistaPrint's vivid, fade-resistant printing will ensure your custom business signs don't lose any of their wow-factor over time.
Use enticing graphics to draw in potential customers.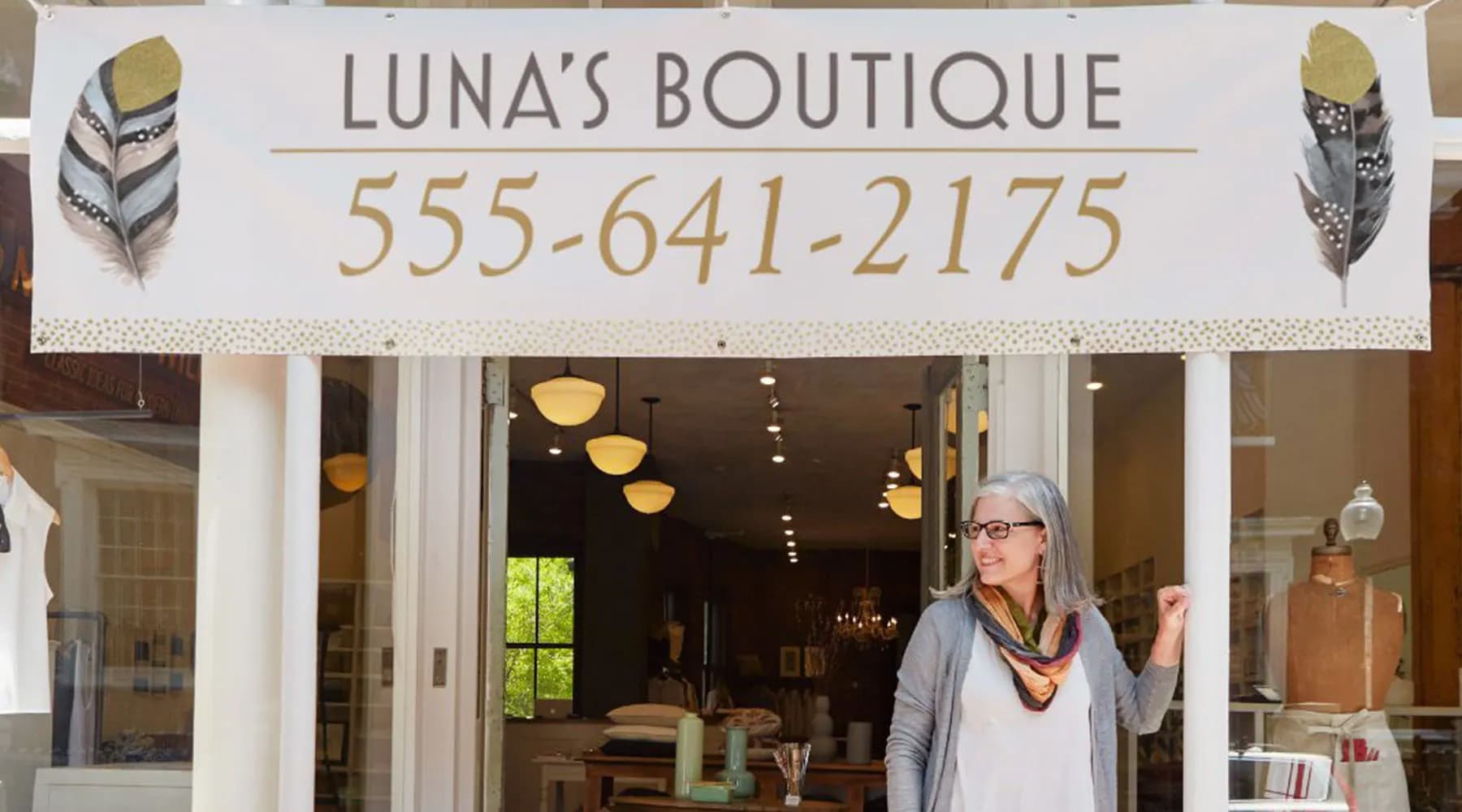 Have you ever walked past a restaurant or bakery when you didn't think you were hungry, only to see a window sign showcasing something that you instantly started craving? Here's a restaurant signage idea: whether it's a chocolate croissant or a chicken gyro, use enticing images on your business sign to drive in foot traffic.
Signs come in all sizes, from tabletop banners to billboards, and using enticing graphics on them is a great way to build your brand and encourage sales. This is especially true for the food and beverage industry, but other small businesses can leverage graphics smartly too. For example, an estate agent can showcase their available properties on a footpath sign, or a jewellery store could showcase some of their newest designs on a storefront poster. An appealing picture can evoke feelings that turn potential customers into paying ones.
Spotlight your sense of humour and creativity.
When a store's signage gets giggles, it leaves a lasting impression. A sign remarkable enough to elicit a chuckle could even be powerful enough to draw someone into your establishment who ordinarily would've kept strolling by.
You can build brand affinity by using humorous wordplay on signage that simultaneously promotes your restaurant's signature dish, your store's sale or your salon's seasonal special. Consider what appeals to your target audience and create custom business signs and banners that could encourage word-of-mouth and social media sharing.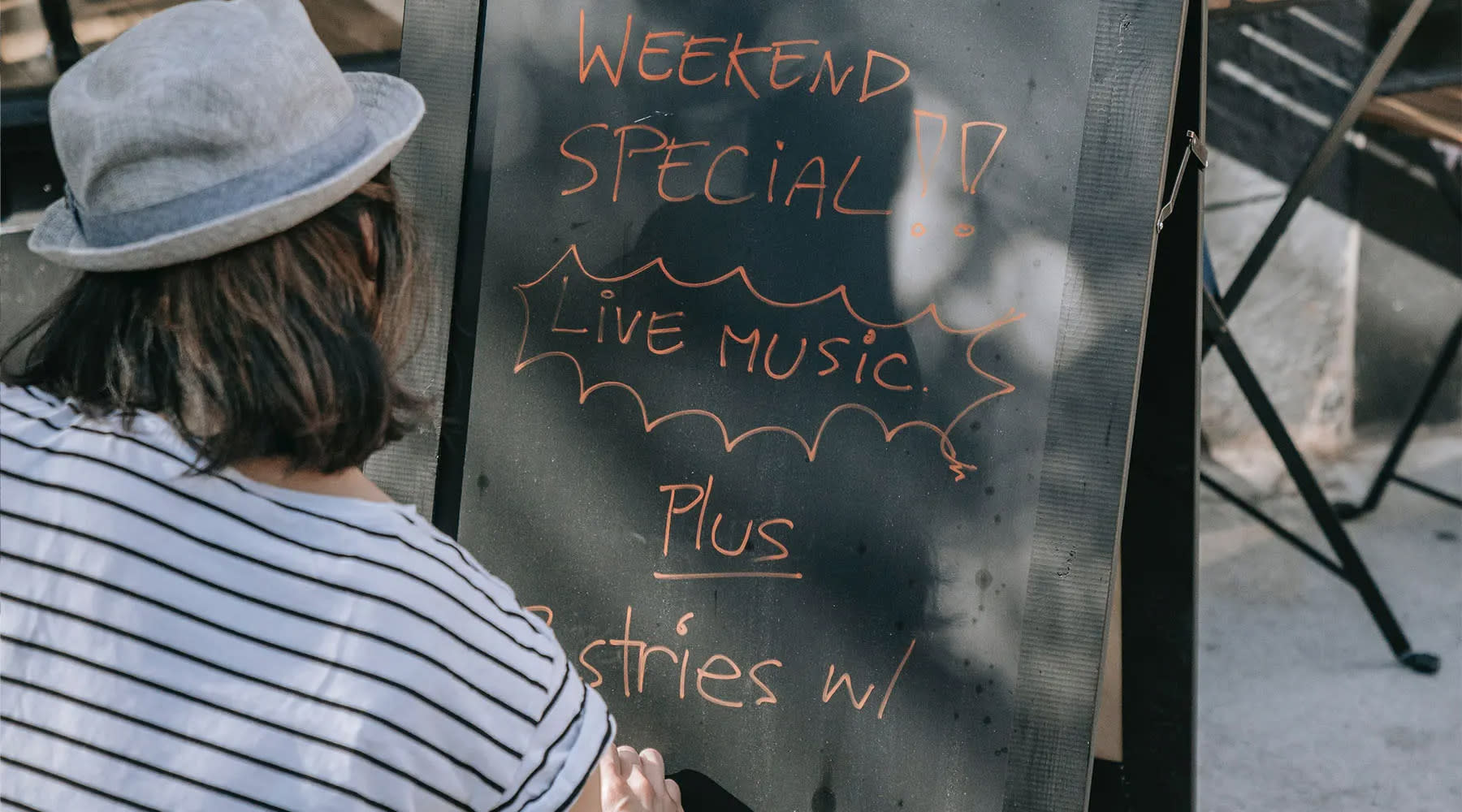 The same is true for creative signs that let you customise on a day-to-day basis. Chalkboard signage is such a storefront sign idea. If you're a natural artist (or you employ one), opting for a chalkboard sign can help showcase your brand's endless creativity and appeal to artistic souls.
At the same time, use your chalkboard to share contact information and entice people with discounts, sales and special deals. Remember that clarity and spacing are vital when composing signage, chalkboard or otherwise, so use fonts that are large and legible enough to be read at a distance and contrasting colours that pop against the chalkboard's black background.
Flag down foot traffic with high-visibility signs.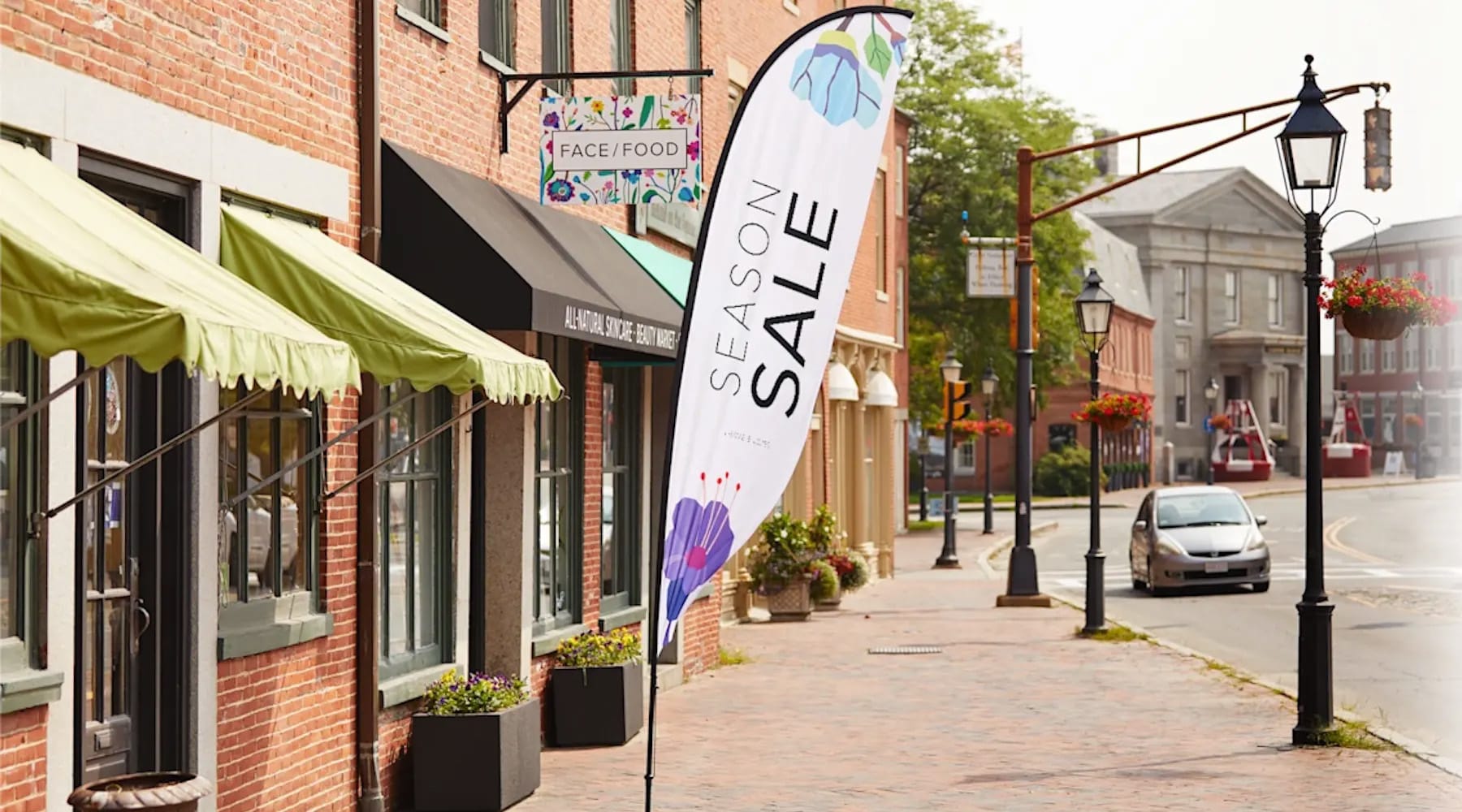 Traditional signs are highly effective, but why stop there? Flags are portable and great for standing out at events, driving retail foot traffic and promoting special offers.
Any business from restaurants and retail to beauty and financial services can benefit from this business yard sign idea. These high-visibility marketing tools grab people's attention, whether they're on foot or travelling as passengers in vehicles. Use flags to add a fun surprise to your storefront, food truck or farmers' market stand to catch more eyes and boost foot traffic.
Key takeaways for small business signs.
Now that we've covered a few creative business sign ideas, let's discuss what they have in common:
Simple fonts: Successful signage features clear fonts (it's usually best to stick to 2–3 fonts max) and avoids scripts and brush fonts that make reading difficult from a distance.
Smart use of space: For business signs to be effective, avoid overcrowding words and designs and leave plenty of white space — the space between your main text and graphics that lets those key elements stand out.
On-brand copy and design: Whether deploying humour, expertise or sophistication, the best small business signs stay on-brand with their witty wordplay and imagery to maintain consistency.
Bold, bright colours: Colourful signs and banners attract attention, and bright, eye-catching hues with plenty of contrast are best for maximising attraction. Start with your brand colours, then add in complementary ones to make your signs pop.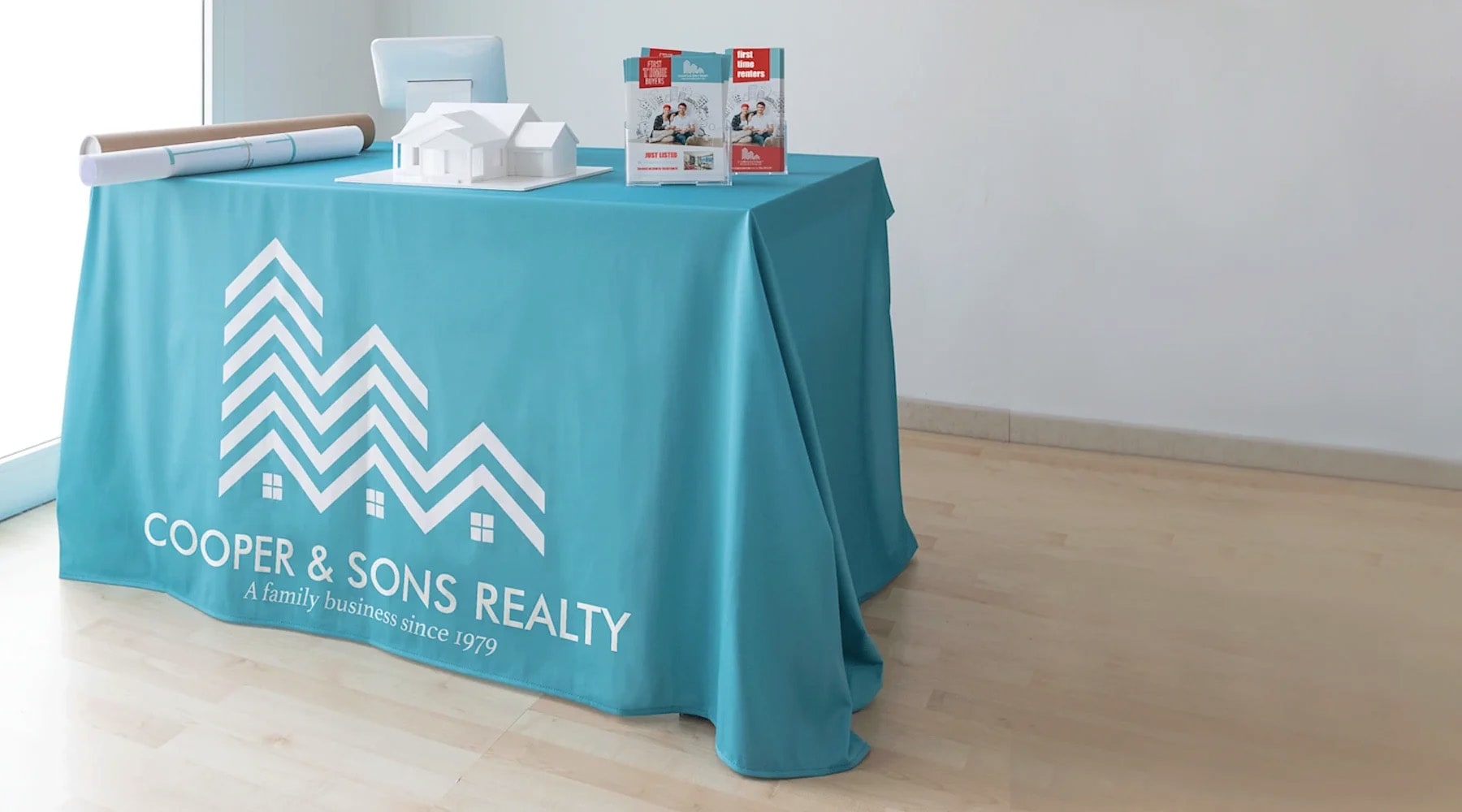 Trust your instincts.
The most successful business sign ideas come from those who take inspiration from others while also trusting their own instincts. Act with calculated boldness when crafting your messaging and sign designs to connect with people and turn them into loyal repeat customers.