Estimated reading time: 5 minutes
Whether your business is on a busy pedestrian thoroughfare or tucked away on a quiet street, the right types of shop front signs can make a difference in drawing customers inside. And beyond alerting people to the location of your small business, you can use signage to capture their attention with a fun message, promote a temporary offer or spotlight a special offering.
Let's look at the different types of signage you can use to attract customers to your shop. And since your sign is only as good as its message, we'll cover some handy writing tips, too.
Define each sign's purpose.
Draw people inside.
Prioritise readability.
Make your message stick.
Consider copy.
1. Define each sign's purpose.
When it comes to exterior signage, you have a few options — so before you place an order, consider what you need your sign to do. Banners and posters are ideal for spreading brand awareness or promoting special events, while window decals are helpful in communicating more permanent information (like business hours and contact info). Pavement signs are another great option for catching passer-by attention for your brick-and-mortar space.
2. Draw people inside.
People strolling past your business aren't just pedestrians — they're potential customers. And ideally, your shop front should be impossible to just pass by. A-frame signs are a popular choice as they're two-sided and readable from both directions, while a chalkboard sign is ideal if you want to regularly update your message and add some of your own personality. Bars often decorate these with witty handwritten notes to draw people in from the street.
3. Prioritise readability.
Potential customers will be looking at your shop front signage when they're on foot, in a car or on a bike. So, make sure the text size and font style is large enough — and easy to read quickly or from a distance. Contrast is something else to keep in mind when thinking about readability. The contrast between the colour of the text that you use and the background, along with the font you choose, will affect your sign's readability. Instead of printing a lightly-coloured text on a white banner, go for dark text on a white or yellow background to ensure plenty of contrast. Ready to start designing? Follow the rules of our Letter Visibility Chart.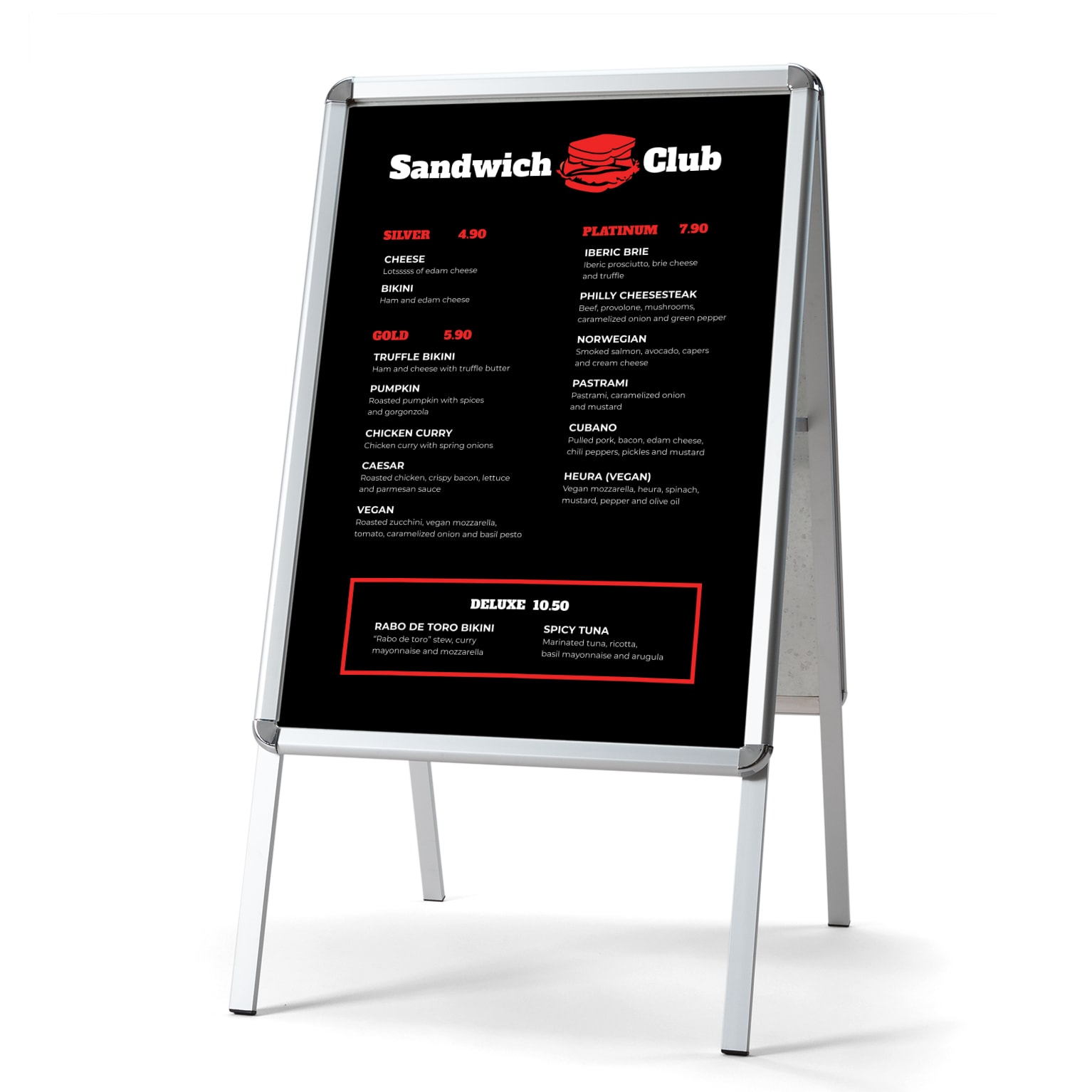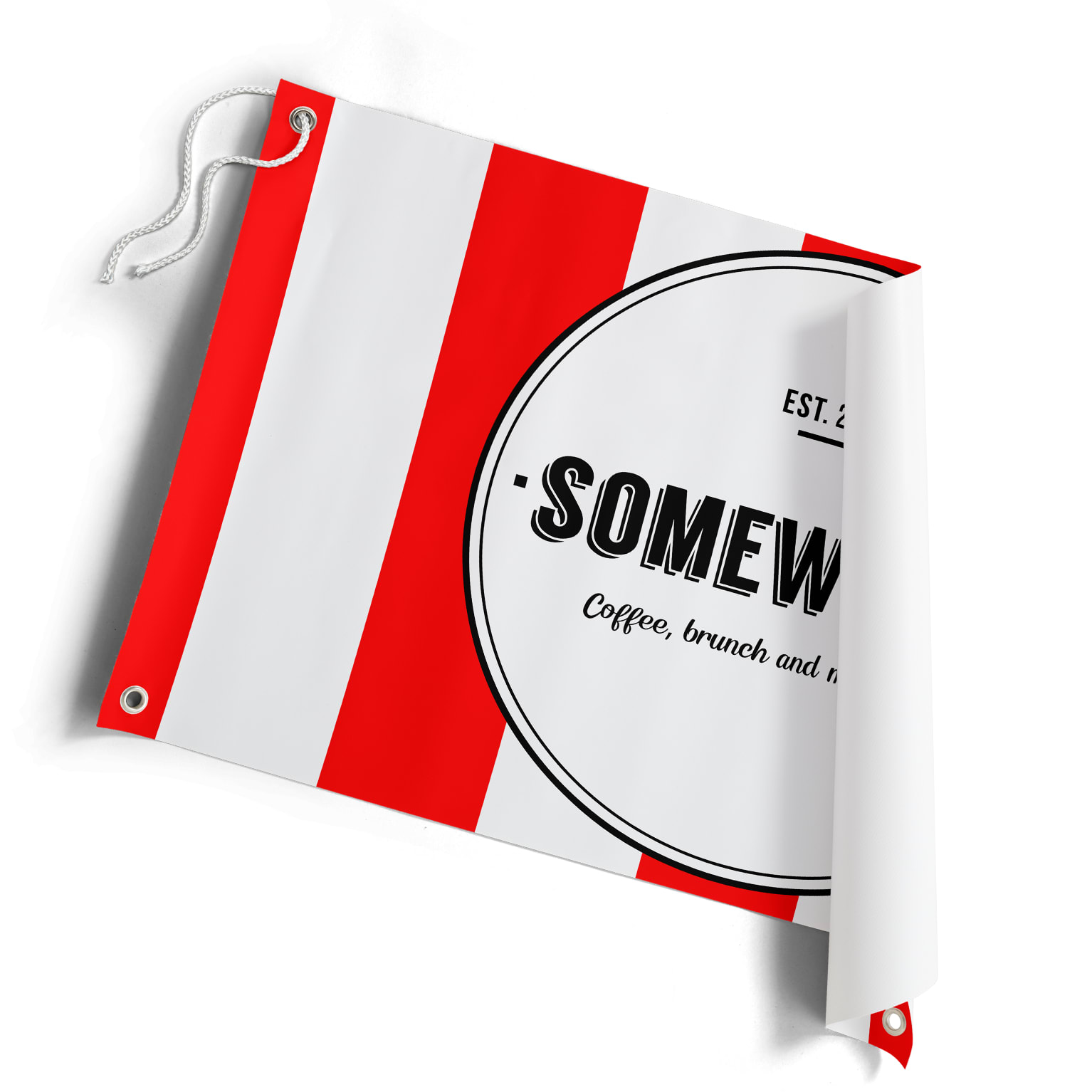 4. Make your message stick.
Customers could potentially pass by your business up to 30 times a month if it's near their home or on their commuting route. And remember — your signage is always visible, even when you're closed, giving you the perfect opportunity to showcase your brand 24/7. Window decals are a great way to display useful information after you've closed for the day. Potential customers can check out your opening hours, visit your website and hopefully come back the next day.
5. Consider copy.
Now that you've decided what kind of signage you need, here are some signage writing tips for getting your message across.
Avoid clutter. Less is definitely more when it comes to signage. When customers are reading your messages from further away, it pays to keep things simple and aim for a short message on a simple and clean background.
Stick to sentence case. All caps are the written equivalent of raising your voice. If you're warning of DANGER, then it makes perfect sense to write in all caps. But if you're inviting someone to try a new product or come inside, stick to sentence case. It creates a more conversational tone.
Keep your message short and sweet…but incentivise the reader to take action, whether it's coming inside or encouraging customers to ask for help. Messages like 'Ask about our gift-wrapping service' prompt conversation and create a friendly vibe.
Be specific. You have limited space, so stick to the essentials. Including a call to action and a timeframe helps create a sense of urgency.