Estimated reading time: 5 minutes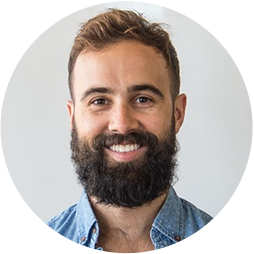 We chatted with Tristan LeBreton, Creative Director at 99designs by Vista, for tips on creating a website that makes the most of your online shop front. Read on for Tristan's advice and learn how to create a site that's functional, appealing and on-brand.
Though they exist in different spaces and may serve different purposes, websites and physical shop fronts actually have a lot in common. They communicate your brand, showcase your offerings, engage your visitors and contribute to your bottom line. Because of these similarities, the principles that apply to successful visual merchandising in a brick-and-mortar shop can be used to make your website a success, too.
Whether you're starting a site from scratch or refreshing your current website, remember that your online presence is a representation of you — and your business. And just like a physical shop front, your digital shop front and web marketing presence should do the following:
Express your brand.
Attract new customers.
Introduce your team.
Showcase your offerings.
Prioritize user experience.
Keep it fresh.
Include testimonials.
Make the sale.
1. Express your brand.
Your web branding strategies should be consistent with your printed or physical branding, in terms of colour palette, typography, imagery and even brand voice. Creating a consistent brand across all of your marketing is key to making a great impression on your customers and building credibility for your business.
One way to build this consistency and express your brand is through colour, Tristan notes. "Colours and emotions are intrinsically linked (there's a lot of psychology behind it!) and as a result, it has a huge impact on the relationship with your customers. Therefore, not only is colour a very important element of your overall brand identity, it is a very powerful tool for influencing how people feel about your business and the actions they take." Tristan recommends using your brand's dominant colour most heavily on your site — like on major headings, backgrounds or images. Use accent colours more sparingly, maybe for icons or buttons.
Your website is a great place to give customers more information about your business, too, so you don't have to worry about fitting your brand story onto the back of a business card. Create an 'About' page that gives browsers some insight into you and your brand.
2. Attract new customers.
Just like banners and pavement signs, your website should serve as a marketing tool and draw new customers to your business. And because your site is always open and has a broader reach, it should be working even harder to help new customers find you.
Start by optimising your website for search engines like Google. Include relevant keywords in the text of your site (like 'Nail Salon in York'). You should target keywords that speak to what you do and where you're located — so if someone's searching for a local nail salon, you'll pop up in their search results. Work these keywords into various landing pages as well as the meta copy of your site.
3. Prioritise user experience.
Tristan says that your online first impression is critical. Make sure potential customers want to stay on your site a while by making sure the user experience is seamless. "While the exact website content will vary depending on your business and audience, consistent, clear branding and simple, easy-to-use navigation are a must for a better customer journey."
Ask friends and family to test out your site on their mobile phones and home computers to make sure they're seeing the same thing you are, and ask for feedback on the online shopping and checkout processes. Tristan notes, "Mobile browsing now accounts for a huge amount of ecommerce traffic…so your web design needs to be responsive enough to adjust the size of the screen the customer is using, so that they still get the same seamless brand and shopping experience whatever device they are using".
And just because you aren't using flyers or banners on your website, you can still use signage — just in the form of a navigation menu. Each link in your site's navigation is like a sign hanging above a section of your shop, helping visitors quickly find what they are looking for before they get discouraged and walk out the door. Make sure your navigation links — like Contact, Gallery, Products and About Us — are clear, descriptive and uncrowded.
"It should be instantly clear who you are and what you have to offer with a compelling call-to-action that helps users make that next step. This might be registering for a free trial or signing up for a newsletter. For those that are just browsing, it should be easy for them to explore and find the information they're seeking."
4. Introduce your team.
When customers walk into a shop, they're typically greeted by a friendly staff member. This helps build trust, and puts a human face to your brand. Your website can do the same.
Make your online presence more personal with a page dedicated to photos and bios of your team. Invite them to publish blog posts or curate a selection of 'Staff Picks' products. This is a great way to show site visitors that there are real people behind your brand — and will help you build a loyal following.
If website visitors do need help, make it easy for them to contact you. Include a contact form or display your phone number, email address and postal address in an easy-to-find place on your site.
5. Showcase your offerings.
If you've ever arranged merchandise in a shop, you know how much thought goes into setting it all up. Where things go and how they're displayed can make a huge difference in the way people perceive the offerings in your shop. The same goes for digital merchandising — instead of cramming everything onto one page, divide products by category so you won't overwhelm new visitors. Tristan says one of the most common mistakes that small business owners make is (accidentally) creating over-cluttered websites. "The more intuitive you can make their experience, the easier it will be for them to find what they're looking for and make a purchase."
If you're planning to use lots of product photos, Tristan recommends choosing photography that authentically portrays your brand personality and matches your branding. "Use a mix between product shots and images featuring real people, like your actual customers or staff engaging with your product."
Tristan says that photography is an integral part of web design as well as website merchandising — and can make a huge difference in the success of your online shop. "It's important that your photos are of the highest quality. Product photography has a vital part to play in ensuring your customers feel confident buying your products as they can't visually experience your product in person. Capture your products in their best possible form and steer well clear from stock photography or low-res imagery as these can make your website seem dated, lower quality and untrustworthy."
Go a step further to create a mood with beautiful background images and include plenty of high-quality photographs. Shoot photos that represent your products but still feel on-brand — if you're a candle maker who uses all-natural ingredients, set the scene with floral accents and organic textures. If you're a service provider, showcase before-and-after photos of your work.
Whatever you're offering, make sure to update photos and inventory regularly so your website stays fresh and up to date.
6. Keep it fresh.
Once your website is up and running, you don't want to make drastic changes — these could confuse or overwhelm previous regular online customers. But it's still important to keep things interesting.
Tristan suggests thinking about it like a traditional shop window — there are simple things you can do to keep your site exciting and fresh. "Think: using a new accent colour to complement your existing colour scheme or playing with colour gradients to bring some new energy to your pages. If you're worried about it coming out of left field, try coordinating this update in the spirit of a certain time of year or a holiday.
"Dynamic content such as subtle animations, social feeds, videos and new product showcases can also work wonders in preventing your shop front from feeling stale and give an even better sense of your brand personality. Even adding a simple drop shadow behind semi-flat colours can create a fun, eye-popping result perfect for elements like buttons, text boxes, icons and product features."
7. Include customer testimonials.
Customer reviews are critical for small business owners…and once you've collected feedback from your clients, use their testimonials to your advantage. You can scatter customer quotes throughout your website or create a dedicated 'Testimonials' page where potential clients can see what satisfied customers have to say.
8. Make the sale.
One of the most important functions of a brick-and-mortar location is, of course, to sell products. Your website can do the same — and it never closes. Your ecommerce shop front can take orders 24 hours a day, so it can be incredibly valuable for your bottom line. Make sure that each of your products or services has adequate information. Whether it's pricing, availability or sizing, give customers all the info they need to make a purchase.
Do you offer products instead of services? You can still make use of your online shop front by offering digital payment options and gift certificates.