Estimated reading time: 3 minutes
Stickers are amazingly versatile tools for promoting your brand. You probably showcase your branding on your essential marketing materials, like business cards and on your social channels, but what about adding your brand to a sticker? Here, discover how small business owners use stickers, and get inspired with 6 creative ideas for where to put stickers.
Add your brand to basic packaging.
Swap tape for stickers.
Spotlight something special.
Personalise your postcards.
Get seen around town.
Pass them out to customers.
1. Add your brand to basic packaging.
Branded stickers are a great (affordable!) way to add your logo or small business name to ordinary packaging, whether you're selling fresh eggs, sweet treats, handmade jewellery or skincare products.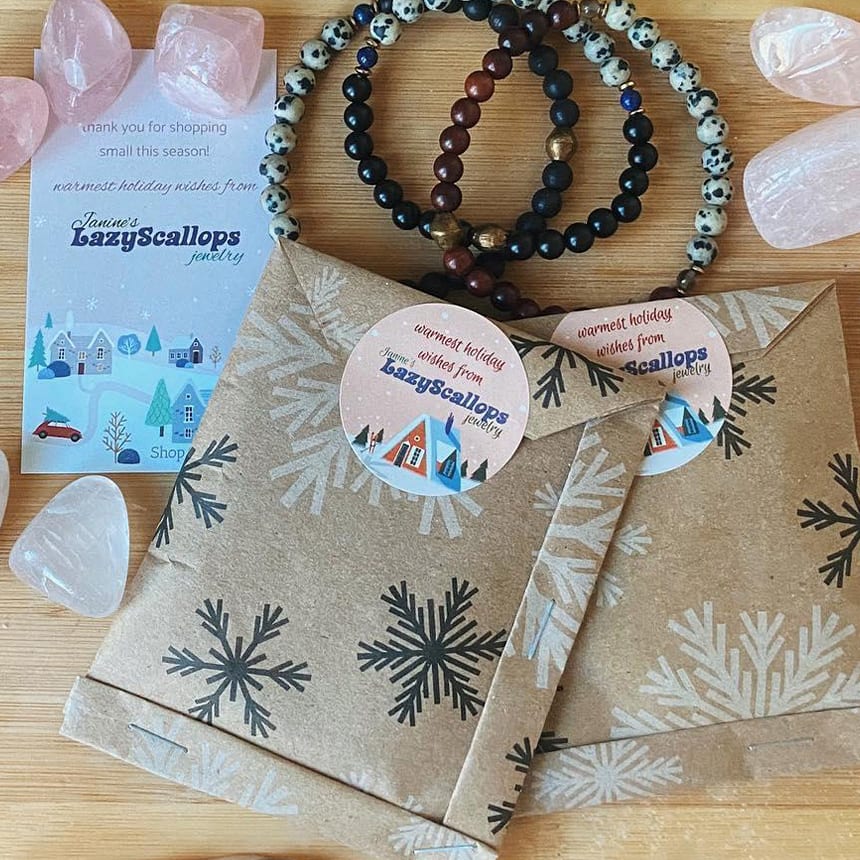 2. Swap tape for logo stickers.
Swap packaging tape for a sticker whenever you can — Boo's Toy Shop adds a label featuring their mascot to a wrapped gift box, while Katie's Collective uses a slogan sticker to bring some sunshine to ordinary envelopes. Both of these sticker examples show that your stickers can show something else besides your logo. Consider ordering an assortment of stickers that have your tagline, icons in your brand style or inspirational quotes.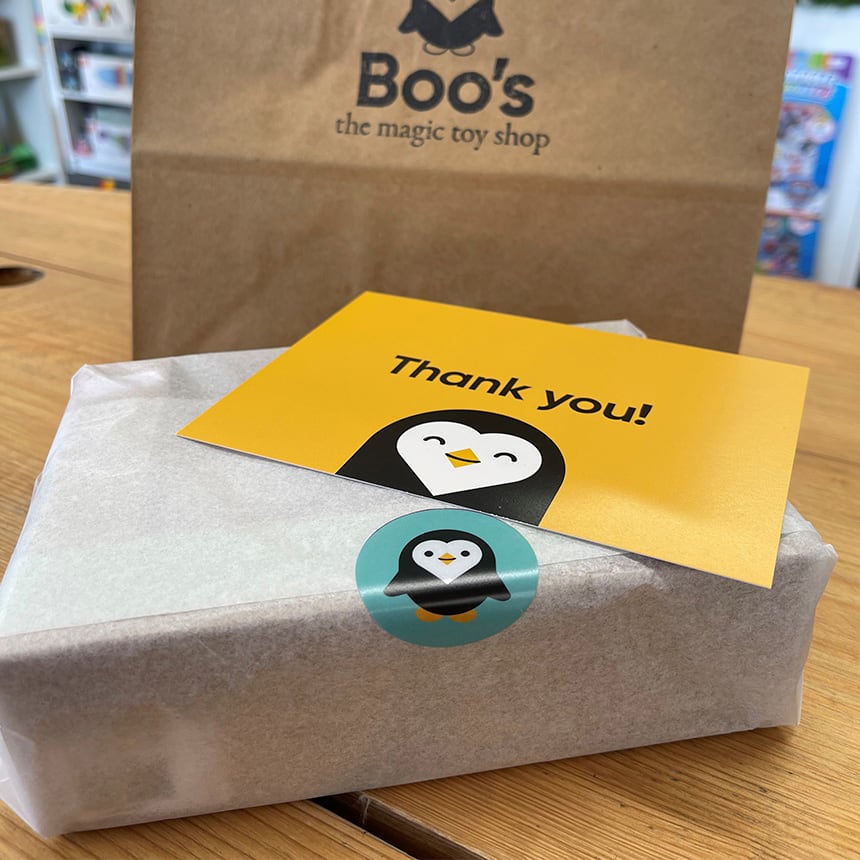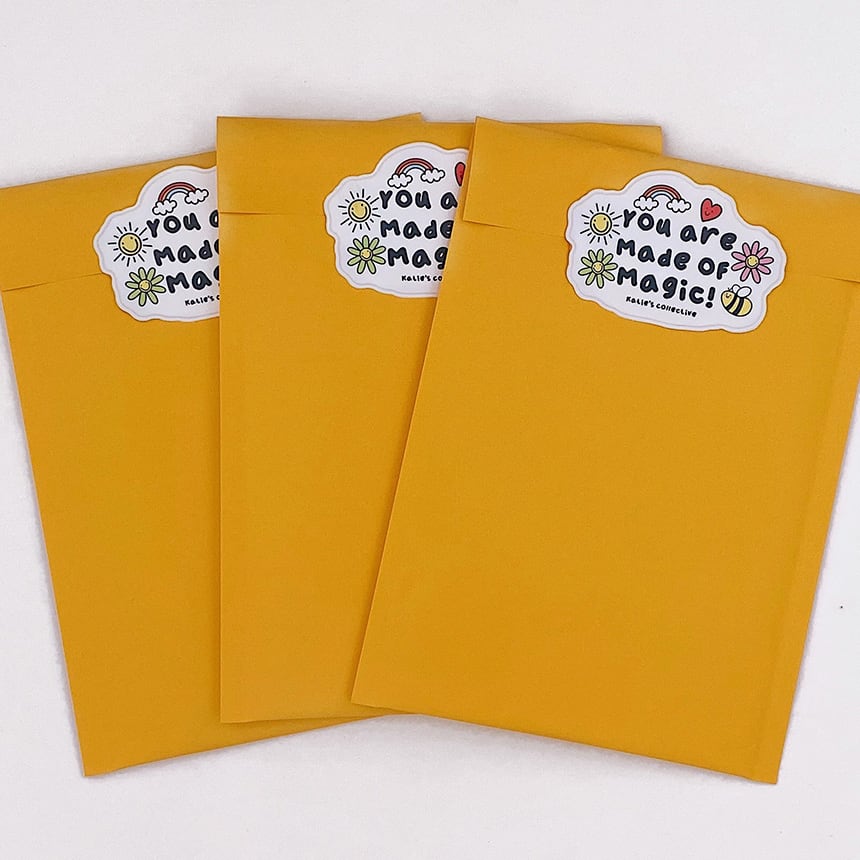 3. Spotlight something special.
Tell customers what makes your products unique with a sticker. If you make soap with locally-foraged herbs and flowers, spotlight that with a 'Local Ingredients' sticker. Does your cafe have a fridge full of grab-and-go food items? Make it easy for diners to distinguish which ones are vegan or gluten-free with customised labels. (You can leave a blank line to fill in the use-by date, too.) Do you carry a brand at your boutique that's woman or minority-owned? Add a sticker to the swing tags or price tags to tell customers what makes these products extra-special.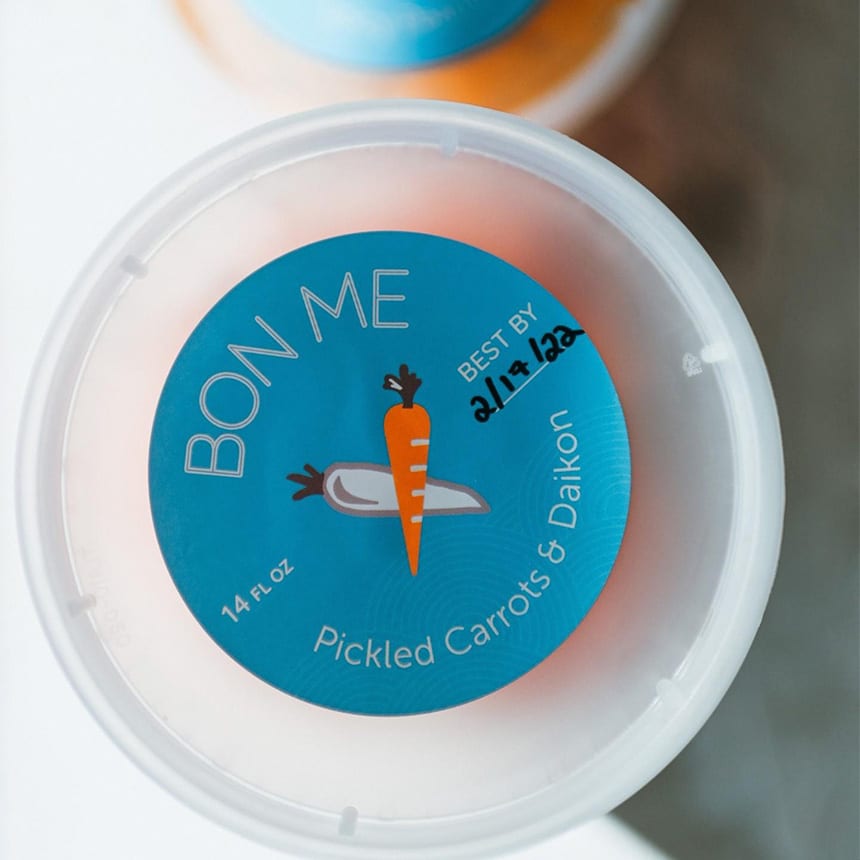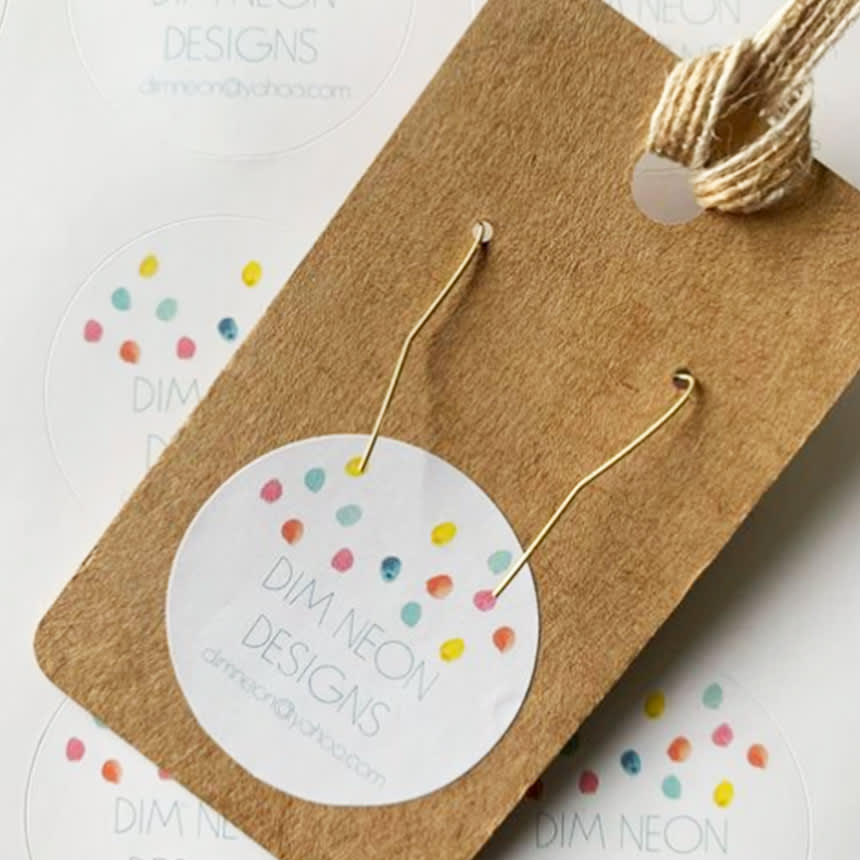 Want to call out something special about your product, but need more space than a sticker? Print stickers with QR codes that link to your website, so customers can quickly scan and learn more.
4. Personalise your postcards.
Do you have a stack of branded postcards and want to make them a little less uniform? Take a cue from Sunnie Creative and add a different sticker to each postcard. This makes it easy to update your postcards based on a new season or upcoming sales…plus, what customer wouldn't want to collect every one of these colourful cards?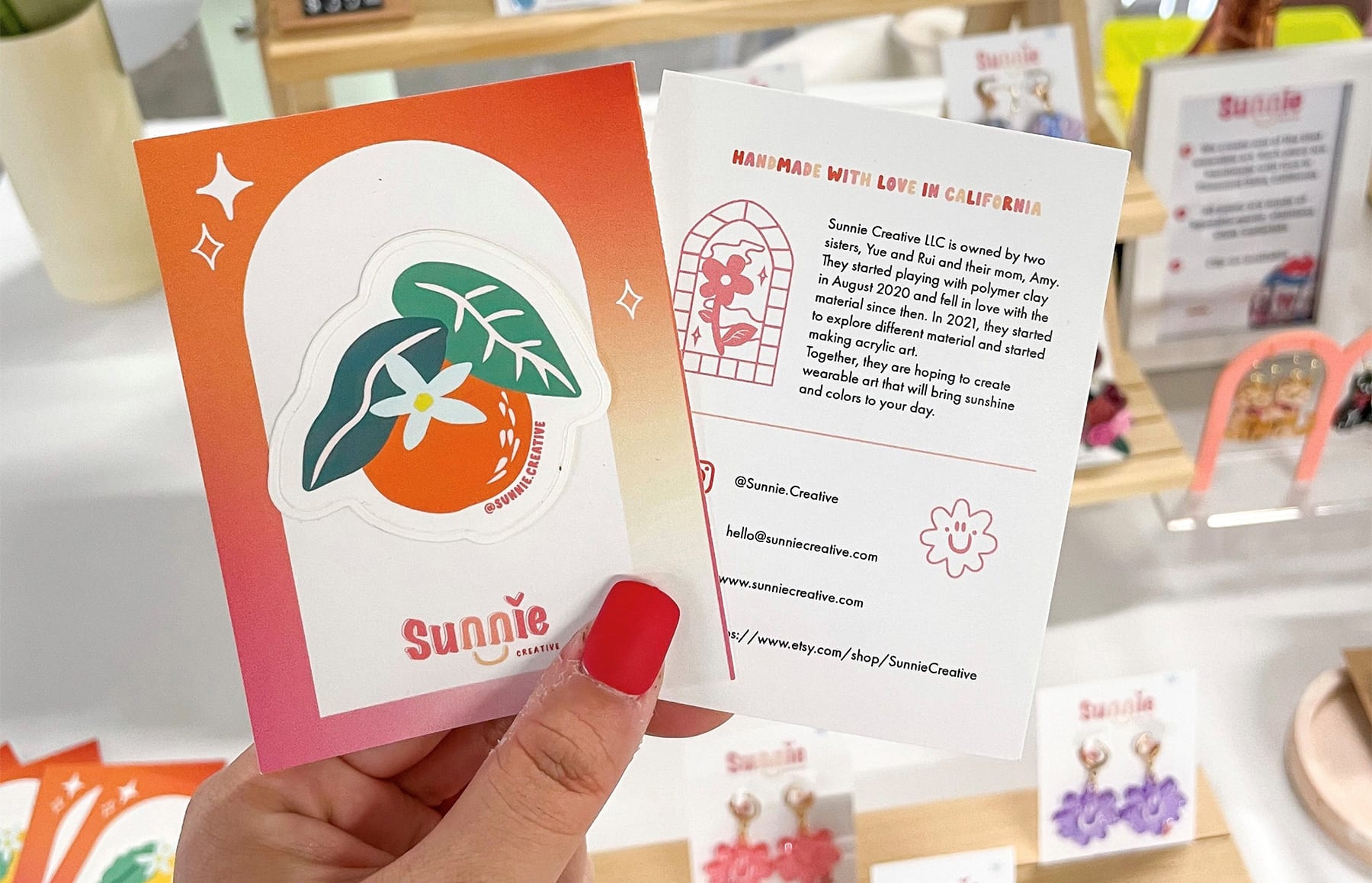 5. Get seen around town.
Promote your small business locally with something sticky — like Katie's Collective does with branded stickers. Beyond carrying this small business' name, these die-cut stickers carry an inspiring message that's sure to bring a smile to the faces of any passers-by…and maybe even encourage them to snap a photo and share it. (But make sure you don't put stickers anywhere that could get you in trouble!)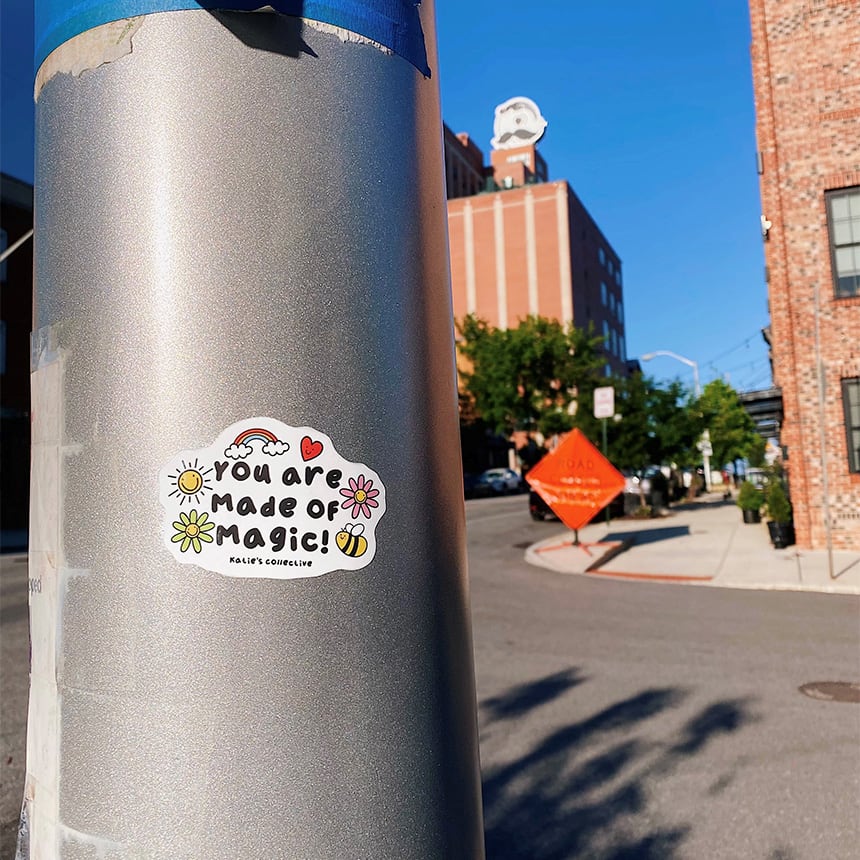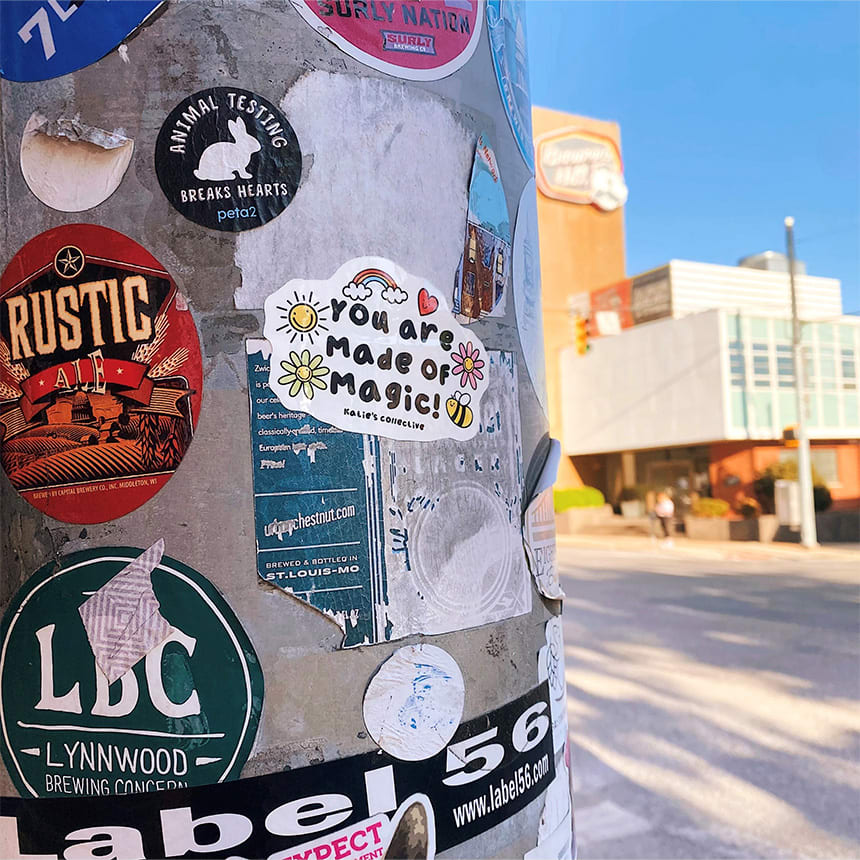 6. Pass them out to customers.
Customers love freebies, and single stickers make for great giveaways. Your customers can then display your sticker on their water bottles, reusable cups, laptops, car bumpers, bike helmets or even on notebooks, like these 1987 stickers. Giving out stickers practically ensures that your brand will get seen around town…all thanks to your loyal customers.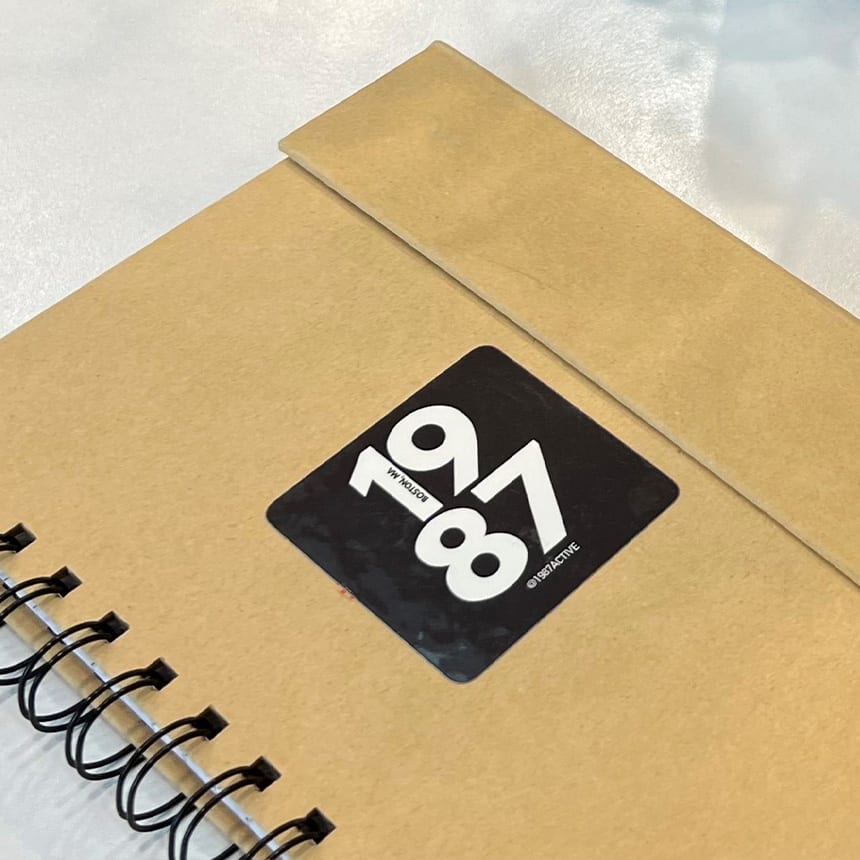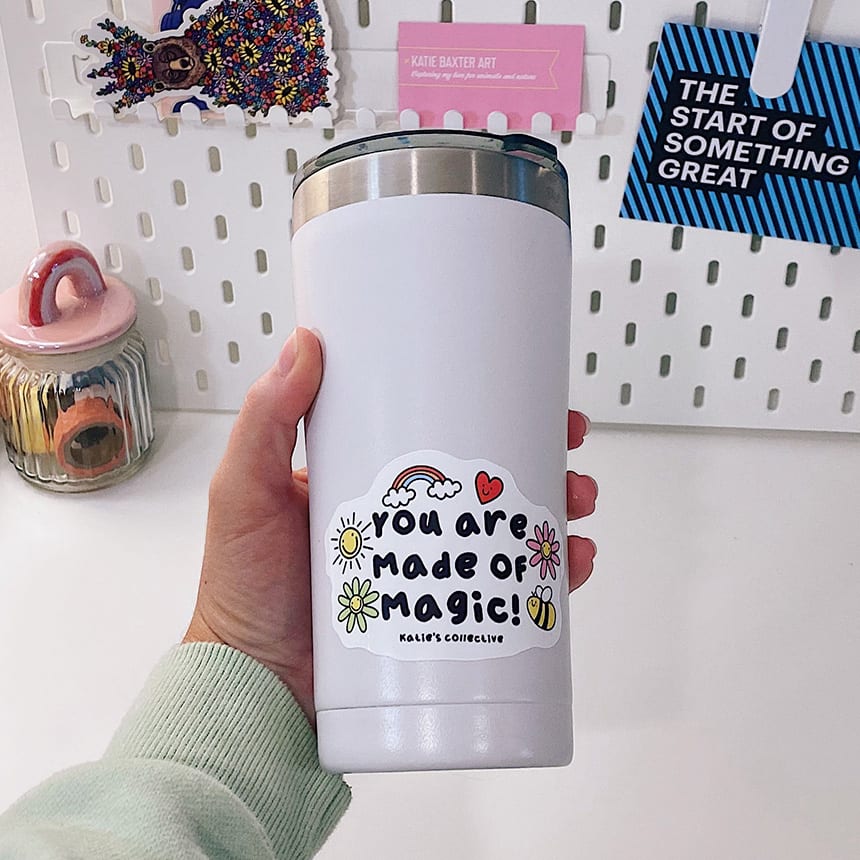 Thanks to these small business owners for sharing photos of how they use branded stickers! Check them out on Instagram:
@thelovelycoop
@lazyscallops
@boostoyshop_poundbury
@katie.collective
@bonme
@dimneondesigns
@sunnie.creative
@1987active