Estimated reading time: 5 minutes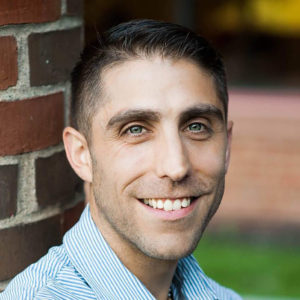 We chatted with Mark LaRosa, a Creative Manager at Vista, for his insights on business card design. Read on for Mark's expert tips on getting a unique look for your business card based on what industry you're in.
Your business card is often the first impression you make on prospective clients — and while your card should include basic information (like your logo and contact details), it should also have a memorable design. From typography to paper type, there's a lot to consider when you're designing a business card.
Here, we'll show you how to communicate your profession and expertise clearly on your business card, with plenty of expert design tips from Mark. We'll go over business card design ideas for:
Creative professionals
Business professionals
Service providers
Gyms/fitness centres
Retail businesses
Eateries
Salons and spas
1. Business card design ideas for creative professionals
If you work in a creative industry — maybe you're a photographer, a florist or an interior designer — showcase that on your business card. "Your business card represents you as a professional freelancer or a small agency, not a large company. So, choose a card design that captures your unique style, personality and talent", Mark says. Here are some of his suggestions for creating a stand-out card design:
Create a repeating background using your logo to add depth to your business card background.
Include something about working with you, or simply say 'hello' with a personality-packed tagline.
Show off your talent with a recent project or customer testimonial.
"Whether it's the logo you've designed or a catchy line of copy that summarises your skills, this is your first introduction and a chance to showcase your expertise — so put it front and centre", Mark says.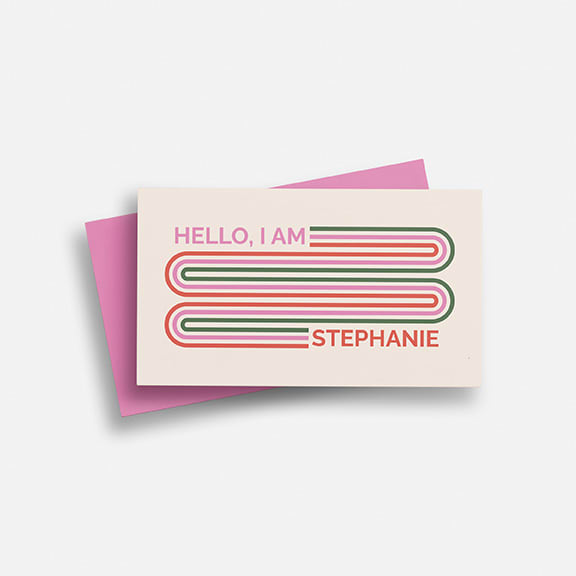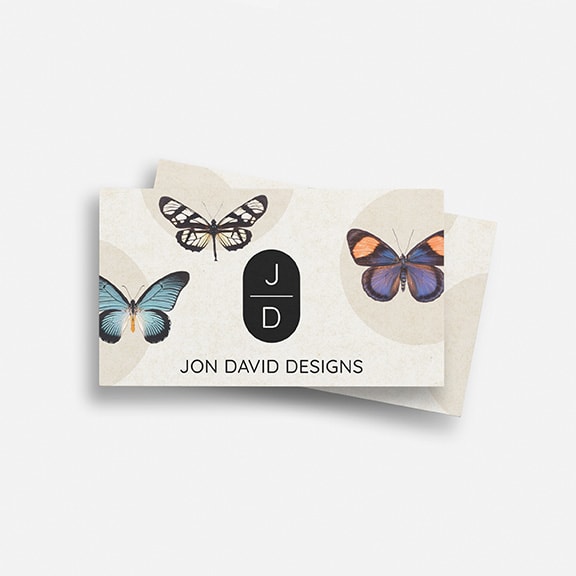 2. Business cards for business professionals
If you own a professional business — like a law firm or estate agency — competence is the most important thing your business card should communicate. Mark recommends avoiding whimsical typography and sticking to more conservative font pairings, but notes that geometric shapes and pastel colours are understated ways to add some personality to a more conservative design.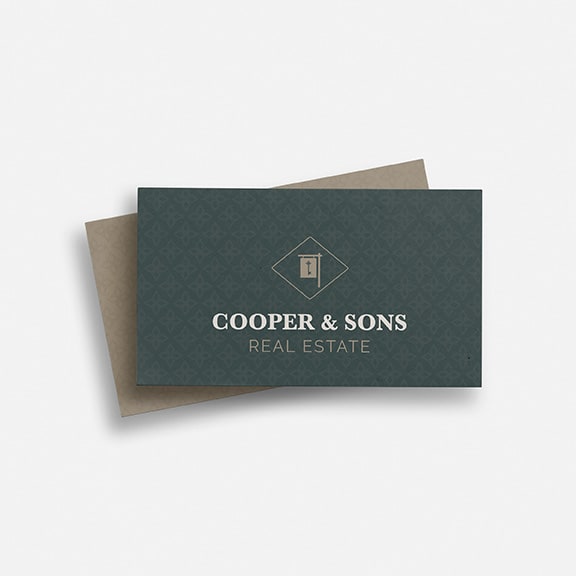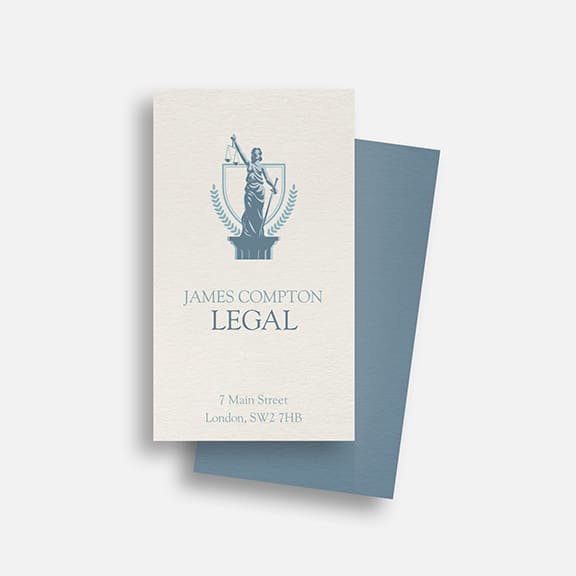 A headshot is a great way to build trust and show the person behind the business, especially if you work in a client-facing position — like an estate agent or a solicitor.
3. Business card design ideas for service providers
Do you run a specialised service, like a cleaning company or gardening business? Make sure your business card clearly communicates what you do. For example, if you're in the business of making things clean and beautiful, your business cards should communicate that. "But that doesn't mean it needs to be a stark white card", Mark says. "Your card should always clearly state what you do, but also let your clients know what's different or unique about you." He suggests using kraft paper (or recycled paper) and green-colour accents to show that you're environmentally conscious, or including a graphic of an office building if you specialise in commercial cleaning.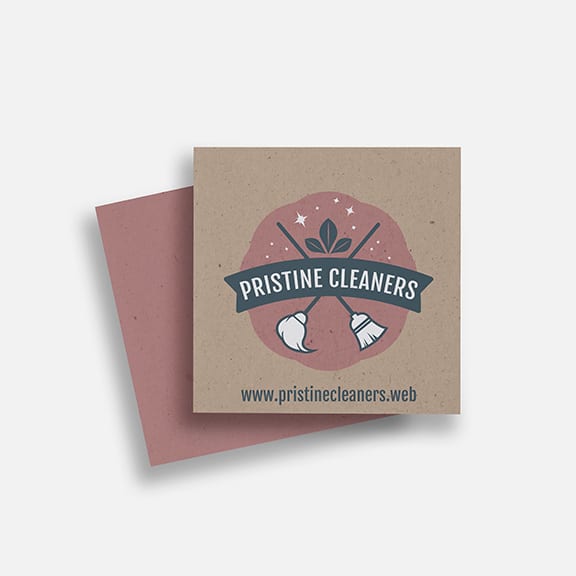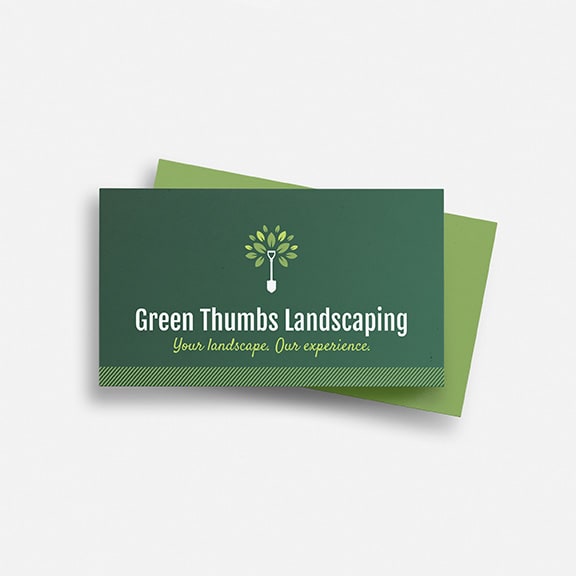 4. Business card design ideas for personal trainers & fitness industries
Fitness is a broad and competitive industry, so you want to make sure your business card design stands out. Mark recommends using your card to showcase your specific area of expertise. "If you focus on strength training or physical conditioning, consider an expressive logo and bold colour palette to communicate a sense of power and definition." Conversely, if your area of expertise is a healing exercise, like yoga or reiki, soft colours and natural textures can help communicate the healing effects of your classes.
Mark also suggests including customer testimonials on the back of your business card. "These details prove your ability in your field, instill confidence and increase the likelihood of recommendations."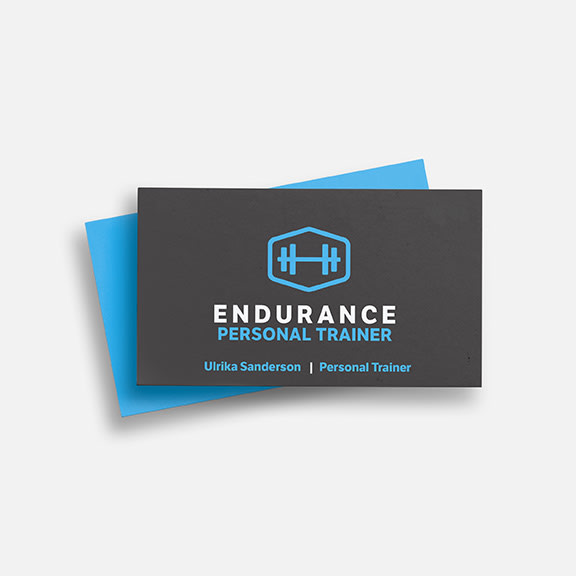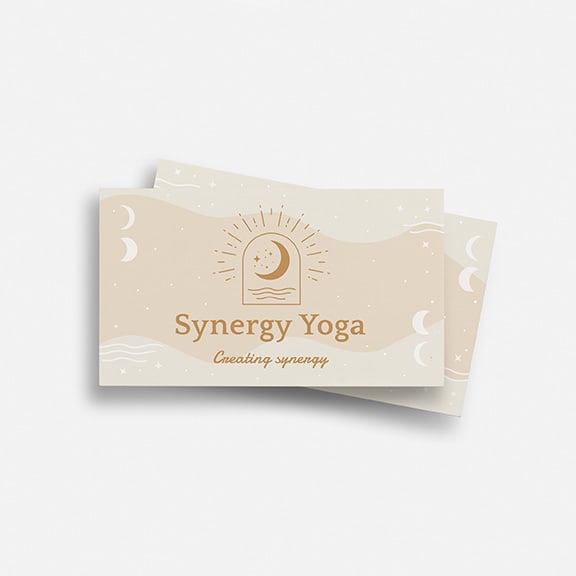 5. Design ideas for retail businesses
Style and trends drive the world of retail business — especially if you're in the fashion or design industry. "If your business card looks outdated, potential clients will assume your whole aesthetic is old and stale", Mark says. "Stay modern, stay current, but choose styles that appeal to most clients."
Let's say you own a jewellery shop. Why not include metallic accents and foil details to your business card design? Premium finishes make your card look distinguished, and are also a nod to the raw materials you use in your jewellery. Or, maybe you run a retail shop that specialises in children's toys. Make that obvious on your business card with a toy-inspired icon and primary colours.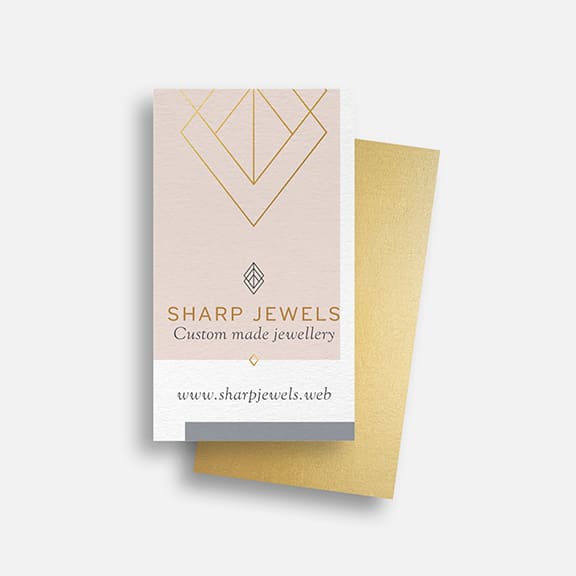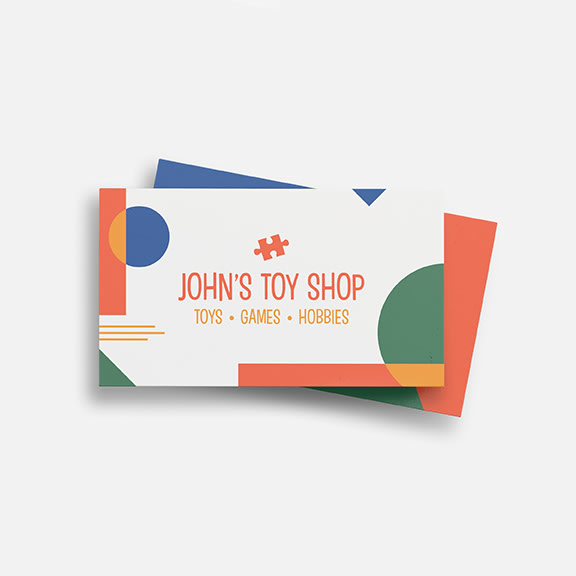 6. How to design a business card for your eatery
Whether you run a coffee shop or pizza parlour, Mark says that your business card design should demonstrate what makes you different. "Remember, people might be picking up business cards in your restaurant, receiving them in a hotel lobby or getting them from a friend as a recommendation. So, it pays to capture the memorable aspects of your eatery on your card."
Do you use locally-sourced or 100% organic ingredients? Differentiate yourself from those that don't to capture the environmentally-conscious audience. If you specialise in decorative desserts or elaborate wedding cake designs, show people what you're capable of creating on your card.
Are you an established restaurant with an enduring history? Many well-established restaurants use the strength of their name in a classic font with their essential contact details. This simple look, along with the year you set up shop, conveys confidence and reputation.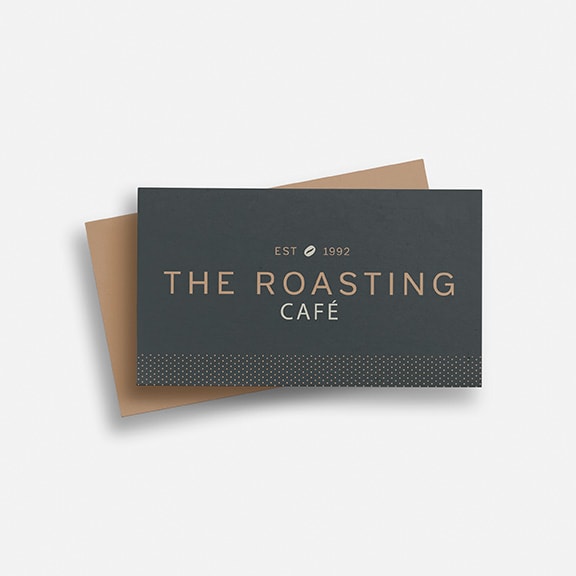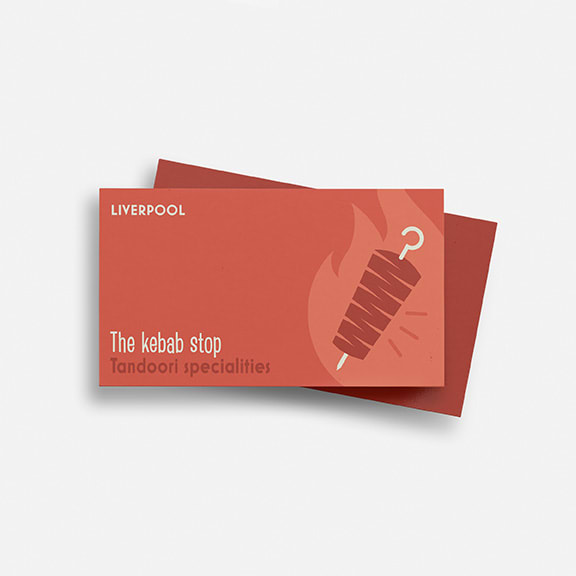 Does your cafe offer a rewards program? Design one side of your business card as a rewards card that can be stamped with each purchase
7. Business cards for salons and spas
"Much like other creative professions, beauty-related professions involve original artistry", Mark says. "Communicate that you're up to date with the latest styles by using a clear layout and on-trend typography." And like business cards for other industries, make sure that your card communicates what you specialise in.
Are you a cutting-edge hair salon that specialises in the latest trends in cuts or colour? List out some of your specialisms, but don't overdo the text on the front side. Consider the back side of your card for listing out treatments and styles. Or, maybe you specialise in events, like weddings. Include a selection of your package offerings on the back of your card.
Is your old-school barbershop just as much about the atmosphere and conversation as it is about the cut? You could choose a design with classic barber's pole design elements or a retro cut-throat razor to suggest the traditional barbershop experience.
Or, perhaps you run a spa. Use your business card to give potential clients an idea of your spa's vibe. Show that you use all-natural ingredients with a kraft paper card and leaf motif, or reflect your luxurious setting with foil text.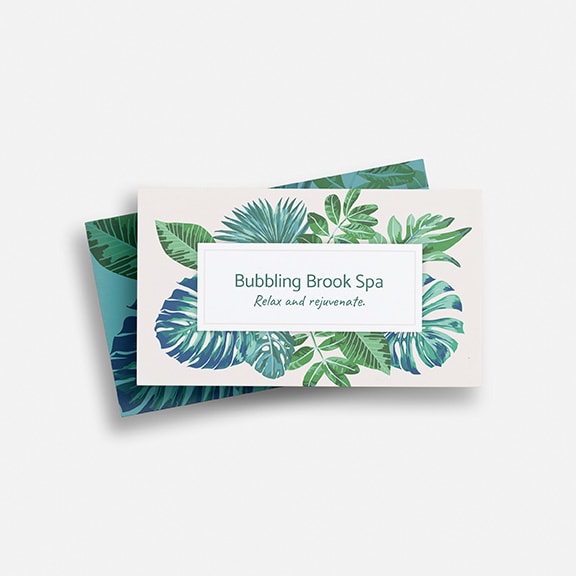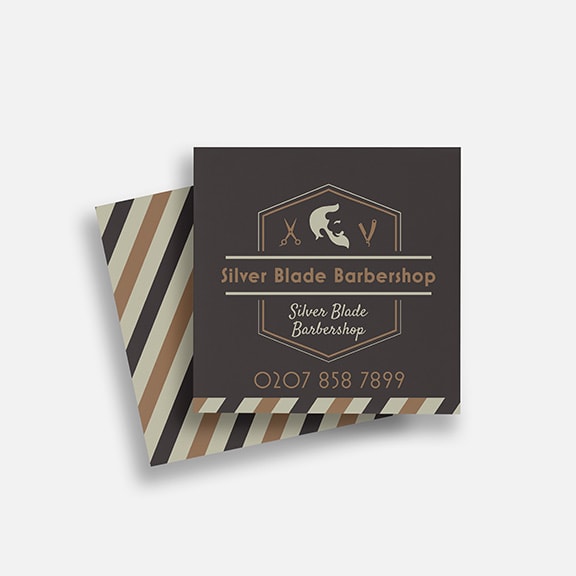 Use the back side of your business card as an appointment card, so clients have a reminder of their next service date. Or, include a QR code that clients can scan to easily make an appointment.