Estimated reading time: 4 minutes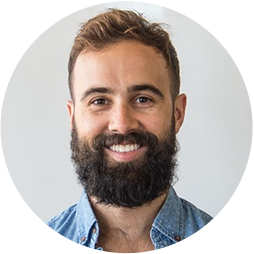 We chatted with Tristan LeBreton, Creative Director at 99designs by Vistaprint, for tips on getting the right logo look for your yoga studio. Read on for his design tips, as well as some of our advice on marketing your small business.
Opening a yoga studio? Aside from finding a studio space, buying equipment and hiring instructors, you'll need to think about yoga branding, too. Your logo is one of the most important assets you'll create for your small business — it's a representation of who you are and what you stand for.
And once you have a perfectly balanced logo, you can use it to market your business. From studio signage to digital communications, your logo should be flexible enough to work everywhere…and promote your studio online and in your real-life community.
Which colours reflect your studio's energy?
Tristan notes that the psychology behind colour is complex…so you should make sure the colours you choose accurately reflect your brand and offerings. Though there's no set rule for yoga branding colours, make sure the hues you choose accurately reflect your business. Your colour palette will send a certain message about your studio, so consider what virtues you want to showcase. 'Colours allow [consumers] to mentally categorise brands and identify which they resonate most with', says Tristan.
'If your yoga studio promotes vibrancy and a healthy, feel-good lifestyle, think about designing your logo using vivid and uplifting colours — like yellows, oranges and pinks — to let your members know that they are coming to a place with fresh, positive energy', Tristan adds. Conversely, if your studio's focus is on relaxation or calming breathwork, choose soothing shades like purples, greens and blues.
Designed by Polly_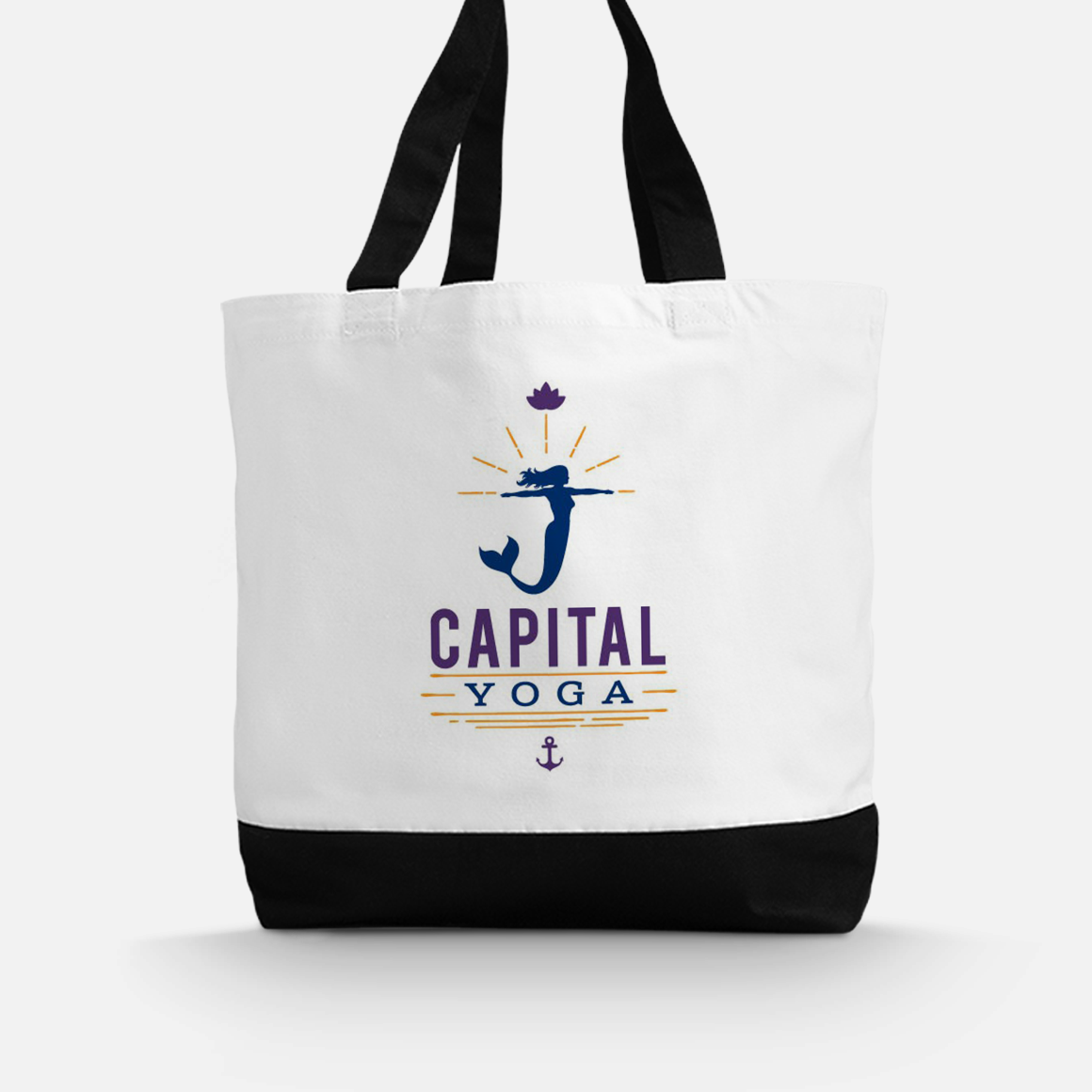 Designed by Flavia2767
Once you've decided on a colour palette, use it consistently across all of your marketing. Whether it's a social icon or outdoor banner, make sure you're using the same colours anywhere customers will see you.
Fonts talk — what does yours say about your studio?
Will your yoga studio cater to children, or specialise in pregnancy yoga classes? Will you focus on a specific type of yoga, like Bikram or hot yoga? Each font brings a different voice and personality to your logo, so choose a typeface that sends the right message about your brand and offerings. 'Just like colours, fonts talk. Even before a customer reads the words in your logo, the fonts are communicating something to them', Tristan notes.
'Do you want your logo to represent an approachable or down to earth brand? A script font can help you do this. Want your logo to be more classy or traditional? A serif font may be your best option. Whatever you choose, ensure it's legible, clear and timeless.'
In addition to reflecting your yoga brand, your font should be flexible — it needs to be readable on everything from staff T-shirts to souvenir water bottles.
How will your logo flow from one place to another?
Your logo should look good everywhere. As you're in the design process, consider how well it will transfer from a studio-front banner to a QR-coded sticker.
One way to ensure easy adaptability is to keep your logo design simple. Tristan says that many people make the mistake of trying to cram too many elements into their logos. 'To ensure your logo is memorable and scalable, it must also be simple. A good logo is one that isn't overly designed yet still manages to capture the essence of your brand and what you stand for.'
But don't forget that your logo has to communicate a lot about your yoga studio. 'Although your logo should be simple, ensure it doesn't leave your audience guessing. The goal of your logo is to explain who you are and what you do, even if it's the first time someone sees your logo. You might have a great-looking logo, but if it's vague, you risk customers passing you by.'

How can your studio's logo style stand out?

When you're looking at yoga logos, you might notice that many of them use the same design elements — like a lotus flower, a word in Sanskrit, a circle or a motif of someone seated in lotus pose.
'There is a reason the same design elements are commonly found within logos of specific industries', Tristan says. 'Sacred geometrical patterns and soft, earthy tones and textures are all design archetypes that are recognisable and make it easy for audiences to clearly distinguish what a studio offers from first glance.'
It's fine to include a generic motif in your design, but be sure your logo doesn't blend into the crowd. 'You don't necessarily have to stay away from popular and familiar iconography altogether — but if you do choose to use them, add your own personal spin on it to ensure it stands out among the lotus flowers.'
Do you offer outdoor yoga classes? Consider incorporating a natural element (like a tree branch or ocean wave) to communicate that through your logo and ensure you stand out. Do you specialise in quick classes? Maybe you can work a graphic element that represents time or speed into your logo. Do you offer something truly unique, like goat yoga? Include an animal-inspired motif in your logo. Show why you're different from the very first glance and you'll be sure to stand out from the crowd.
Where do you want your logo to work?
Once you have a logo design that feels perfectly balanced, start using it to promote your yoga studio online and in-person. Announce your opening (or reopening) by sending postcards to your community and hanging flyers around town. Use your logo across all of your social channels for a consistent look, too.
When you're setting up your studio or creating an outdoor practice space, add your logo to all of your signage — it should be easy for new customers to find you. Whether with window decals, shopfront banners or A-frame signs, display your logo everywhere you can.
You can also use your logo on studio merch to drum up excitement among your clients and awareness within your community. Loyal yogis will love flaunting your studio's brand on hats and caps, T-shirts and personalised tote bags, and you'll get some additional word-of-mouth marketing while they're out and about.
About the designers
All of the logos seen in this article were created by the experts at 99designs by Vistaprint. As your partner in an ever-changing world, we're here to help — visit 99designs.com to find a designer and get a logo for your small business.
YogaRanger: Designed by Raveart
Puri Yoga: Designed by Polly_
Myogaia: Designed by Iris Design
Zenmind: Designed by Tom22
Anaya: Designed by dandt
Capital Yoga: Designed by Flavia2767
Little Yogis: Designed by sSpark