Estimated reading time: 5 minutes
Congratulations on getting engaged! Now that you've celebrated your engagement with family and friends, it's time to set a wedding date and get planning. Planning a wedding can be overwhelming — there are so many decisions to be made, from cake flavours to event coordinators. Whether you're having an intimate elopement or a grand celebration, follow these steps to make your wedding day one to remember.
Decide on a budget.
Brainstorm your guest list.
Create a mood board of your bridal style.
Choose a venue and set a date.
Start booking your suppliers.
Create a wedding website and gift registry.
Send save the dates.
Prepare for pre-wedding events.
Send formal invitations.
Plan your honeymoon.
Make it personal.
Get creative.
Say "I do".
1. Decide on a budget.
Your budget will dictate nearly all of your wedding decisions — so before you start touring venues or tasting cakes, you and your partner should discuss how much you're looking to spend on your wedding day. Do some research ahead of time, like requesting pricing from venues and suppliers, to make sure your number aligns with your vision for your day. Think about what's non-negotiable in your budget, and what you can live without. Let's say a videographer is on your must-have list, but you need to find more room in your budget to hire someone…so, maybe skip the open bar or the wedding favours.
2. Brainstorm your guest list.
Before you settle on a venue, make a list of everyone you plan on inviting to your wedding day. Decide whether you're inviting children and if you're giving all guests a plus one. From there, research venues that can accommodate your guest list, and get a better idea of what the per-person cost will be. Expect to make some cuts to your guest list based on your wedding budget and venue capacity limits.
3. Create a mood board of your wedding style.
What vision do you have for your wedding day? Will the vibe be rustic or romantic? Do you see yourself celebrating in a ballroom or a back garden? Would you prefer a black-and-white colour scheme or something more vibrant? Will it be more casual or a black-tie affair? Create a dedicated board on Pinterest or an inspired collage of magazine cut-outs to convey your vision. You can come back to this visual tool when you're making decisions about details or want to share your vision with your suppliers. And if you're looking for a little inspiration, check out this year's trends.
4. Choose a venue and set a date.
Now that you have an overall vision for your wedding, narrow down venues to the ones that capture the feel you're going for. Venues often book up quickly for weekends and prime dates, so if you find one you like, book it. Or, if you're looking to save money, consider getting married in the off-peak season or on a weekday — many venues offer discounted rates for these less popular time slots.
5. Start booking your suppliers.
Now that you have a time and location for your wedding, you can start booking suppliers — you'll probably need a photographer, florist, band or DJ, caterer, makeup artist, transportation and more. Like venues, popular wedding suppliers will book up quickly…so be prepared to sign a contract and pay a deposit when you find someone you like. It's also a good idea to book suppliers who are familiar with your area or your venue — they'll have an advantage when it comes to planning and set-up time, and you'll be supporting small businesses in your area. You can also consider hiring a wedding planner or coordinator. They'll probably provide you with a list of their preferred suppliers, and as your wedding date gets closer, handle any last-minute details.
6. Create a wedding website and gift registry.
Whether you design your own website or use a third-party service, your wedding website will be the place your guests go to for critical information. In addition to details about the date and time of your celebration, your website can have a link to your gift registry, answers to FAQs, hotel information and more. Choose a website theme that ties back to your mood board, and make it personal by sharing the story of how you met or photos from the proposal.
7. Send save the dates.
It's good practice to send save the dates for your wedding six to nine months before your wedding day. If you're having a destination wedding, anticipating a lot of out-of-town guests or planning to hold your wedding on a bank holiday weekend or at another big time of year, aim for closer to nine months — you want to give people plenty of notice. If your wedding is local, with mostly local guests, you don't need to give as much notice. Choose a theme and colours for your save the dates that reflect your wedding inspiration board, and make sure to include your date, your venue and your wedding website. Want to send out save the dates that won't be forgotten about? Print them on a magnet.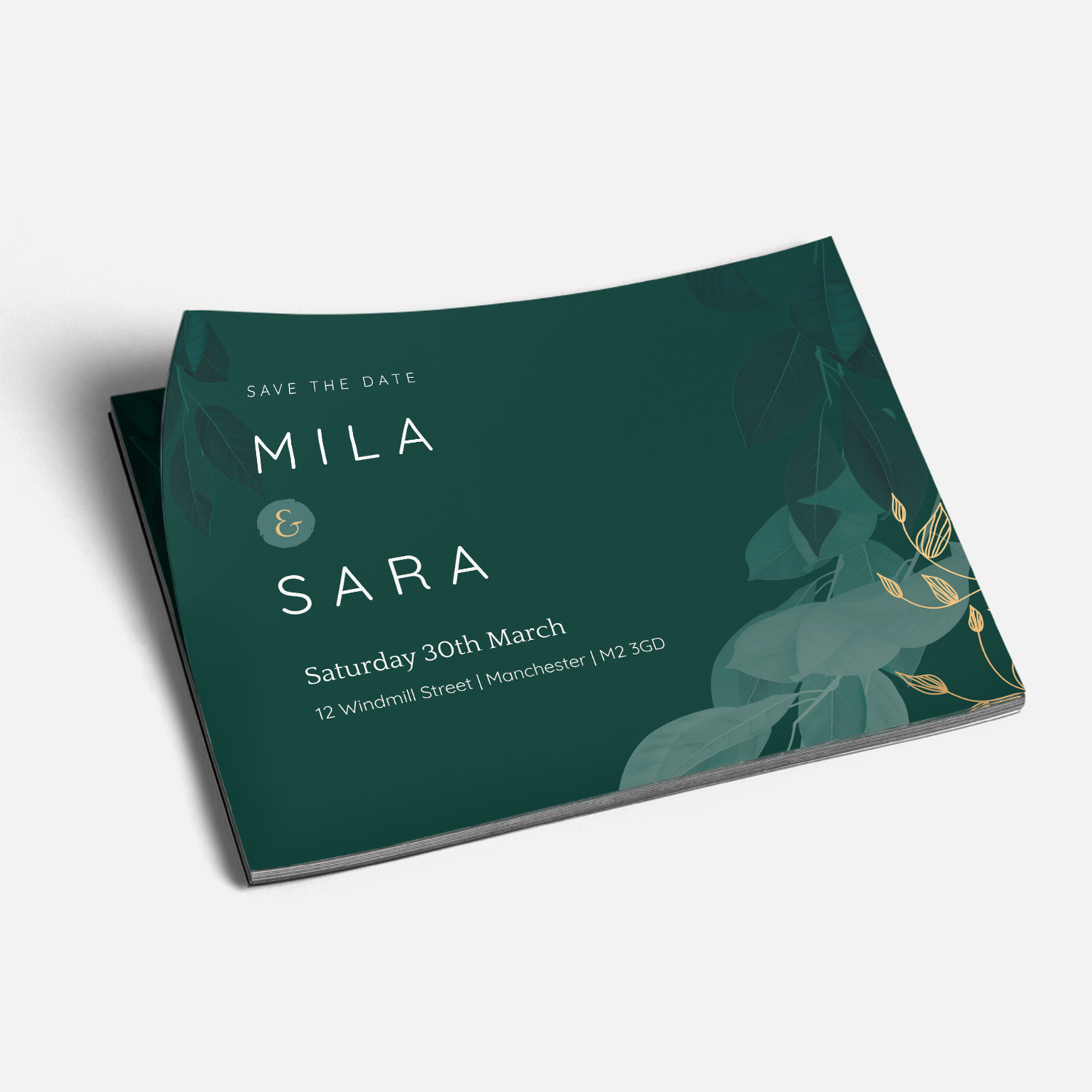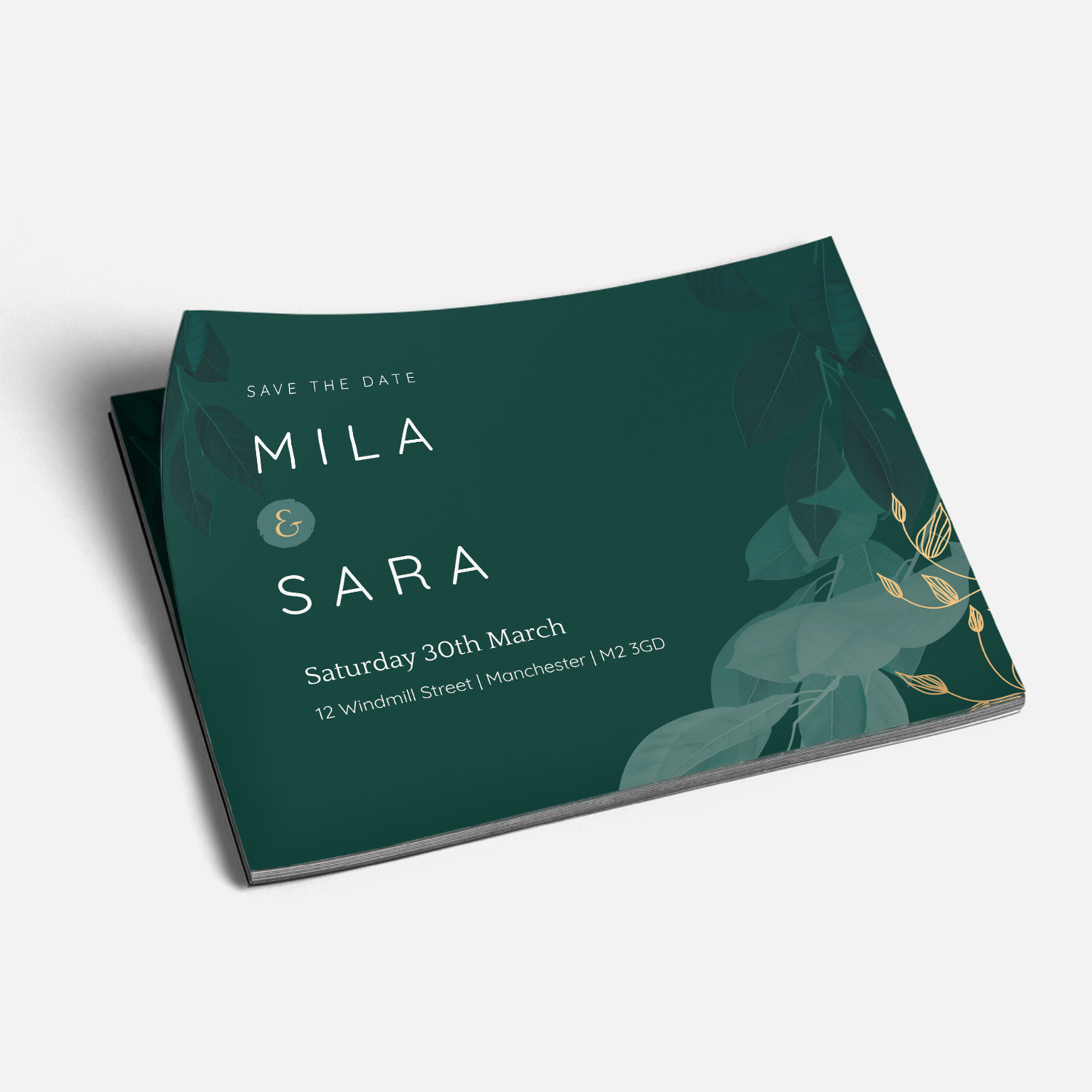 8. Prepare for pre-wedding events.
There are plenty of events that lead up to your wedding day, from hen and stag parties to rehearsal dinners. For these events, you'll need to make guest lists, send invitations and secure a venue. Turn to your wedding party or your parents for help planning these smaller-scale events.
9. Send formal invitations.
As your wedding day gets closer, it's time to send your formal invitations — aim to get them in the post six to eight weeks before the event. Your invitations should have the location and time of your ceremony and reception, and a deadline for guests to respond — either through your wedding website or with an RSVP card. Short on time? Consider sending evites if you're less than four weeks away from your wedding day.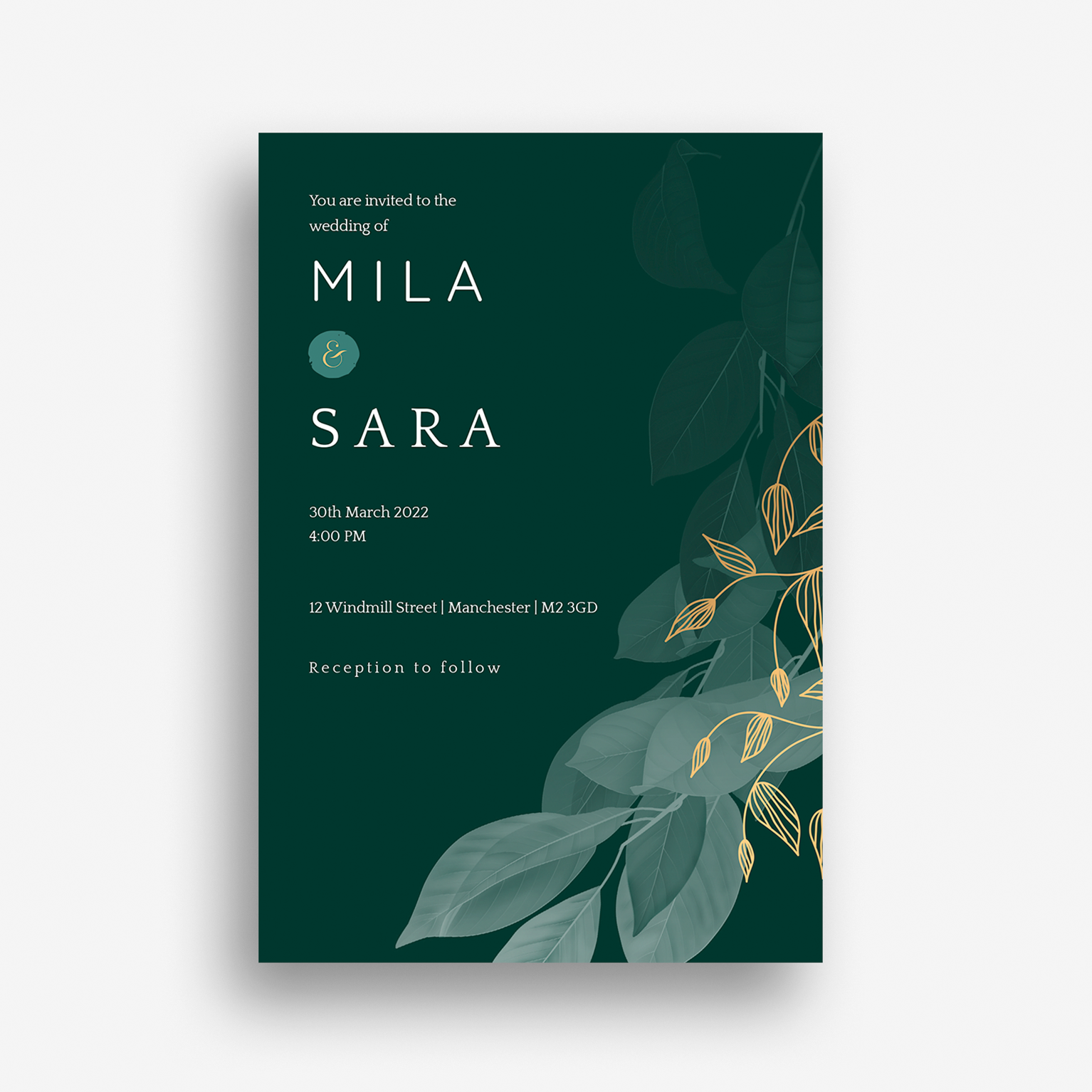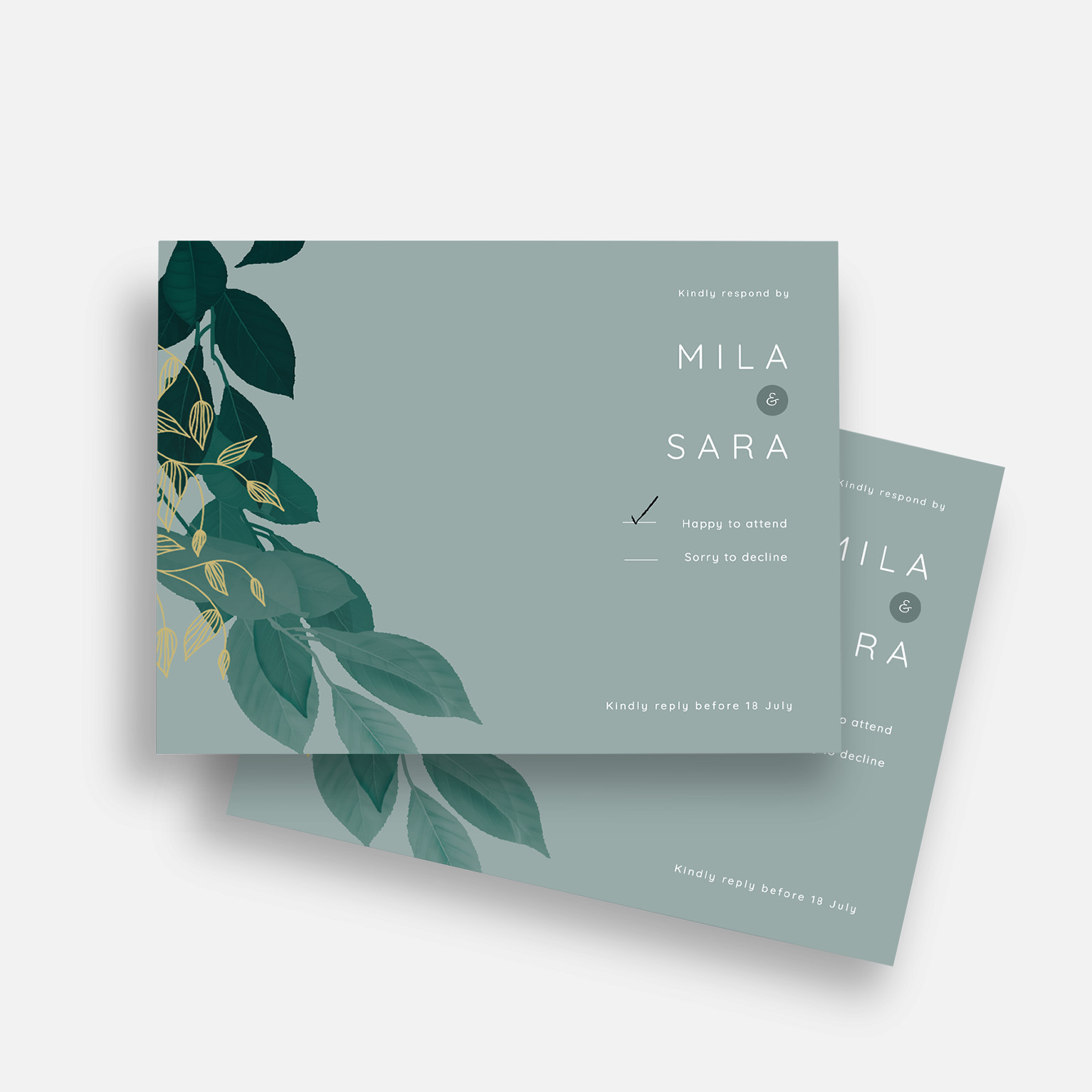 10. Plan your honeymoon.
Once all of the 'big stuff' is taken care of, take some time to plan a honeymoon — you deserve a holiday from all the wedding planning. Whether you want to do a low-key getaway nearby or an exotic extended adventure, talk to your partner about where you want to go and start booking hotels, flights and activities. If you've received any contributions to a honeymoon fund, think about how you'll use those funds.
11. Make it personal.
Make your wedding day extra memorable with details that reflect who you are as a couple. Maybe your signature cocktail could be named after your pet, or your dessert course a nod to your first holiday together. Could your first dance be to a song from your favourite film? These small details can go a long way in making your wedding day feel completely 'you'…without breaking your budget.
12. Get creative.
If you're looking to cut down on costs for your wedding, think about things you can create on your own…or with a little help. You'll probably need things like seating charts, place cards, programmes and menus — start with a template, or upload your own design to create customised decor. Welcome signs are another (affordable!) way to set the tone for your special day, whether you go for a hand-painted mirror or a printed acrylic sign. Did you think of a unique hashtag for your wedding? Display it on your signage to encourage guests to use it when they share photos on social media. Some other things you can DIY before your wedding day are welcome bags, favours or table numbers.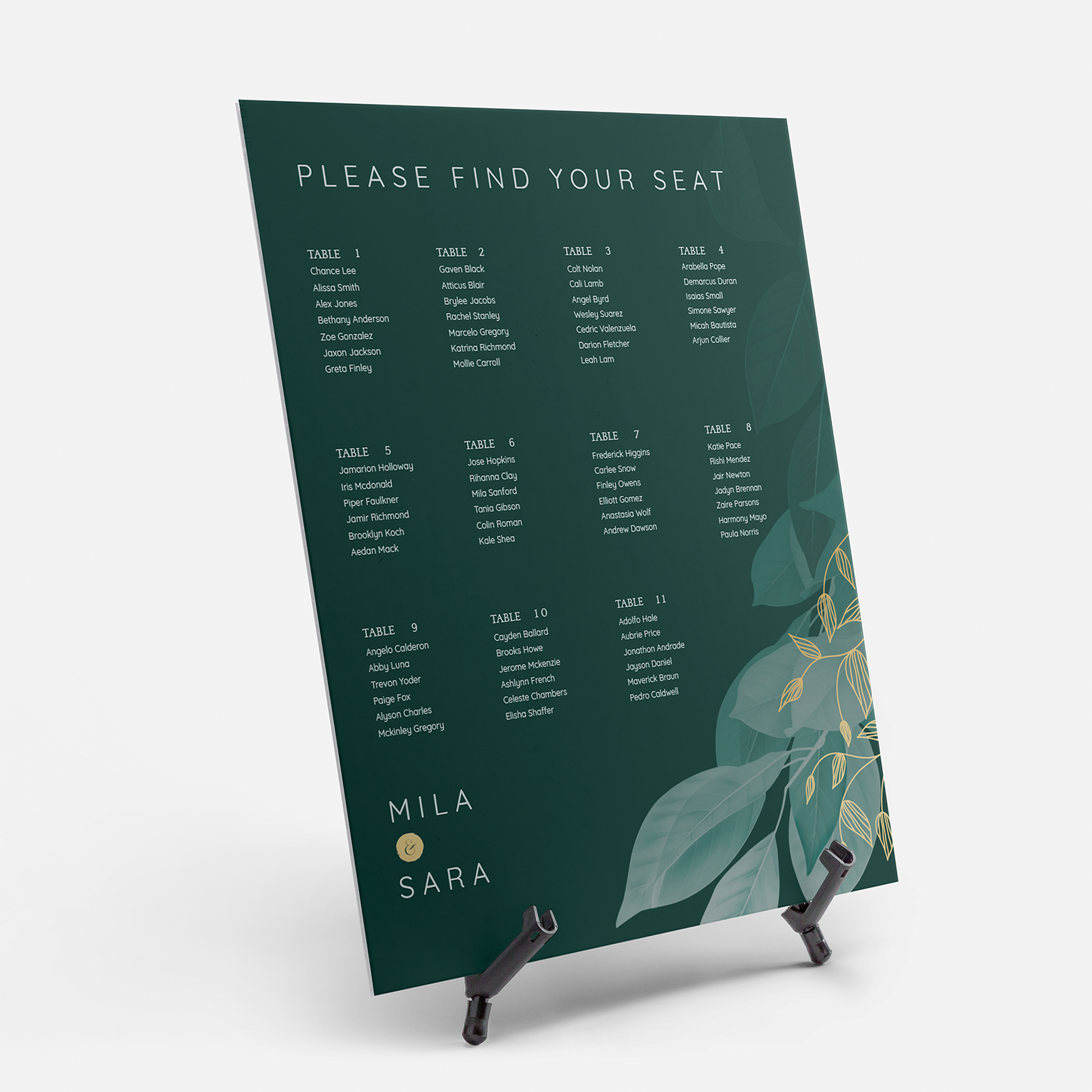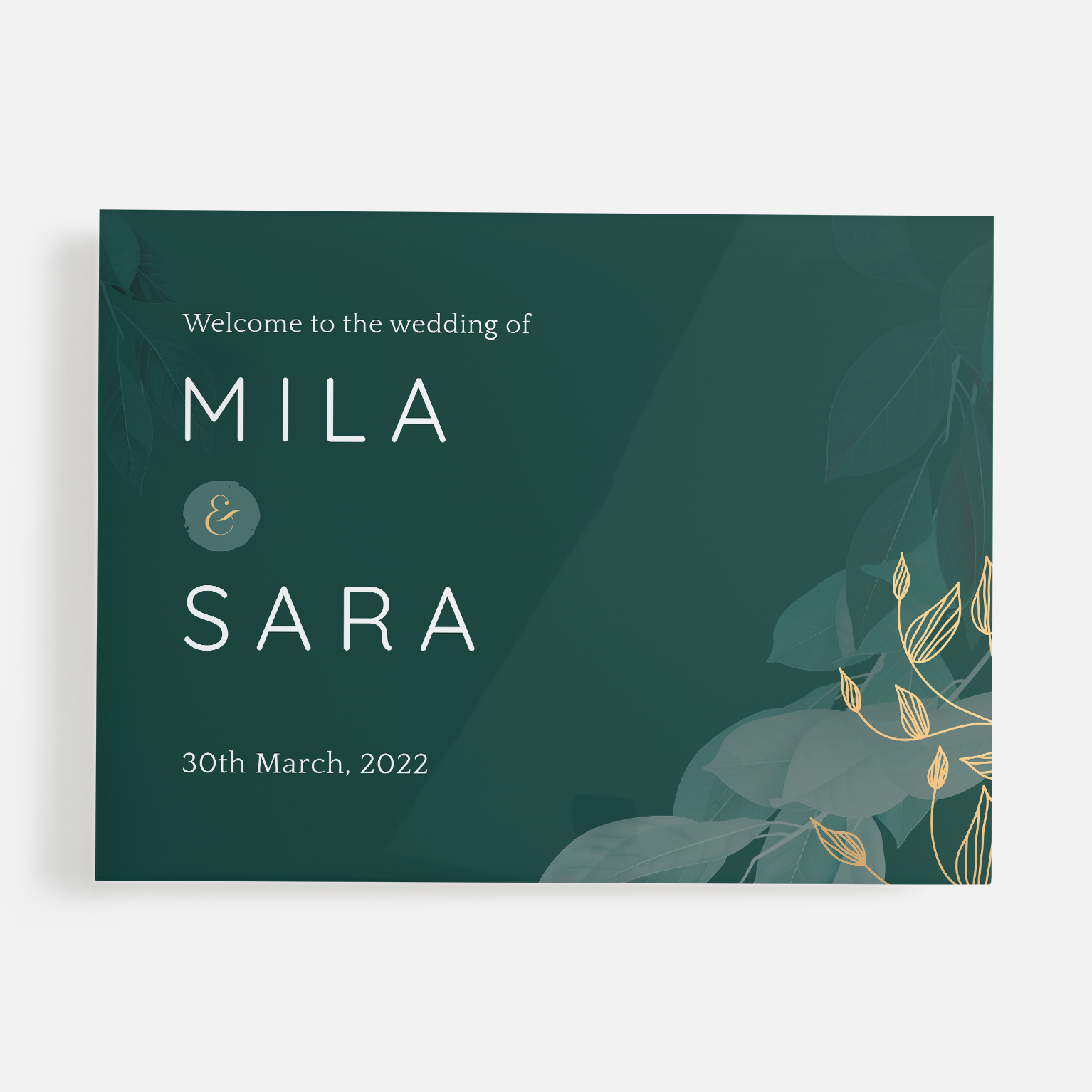 Do you need help creating unique decor for your wedding? The experts at 99designs by Vista can help turn your vision into ready-to-print designs for posters, signs and more.
13. Say "I do".
Congratulations…you made it to your wedding day! Now, it's time to admire all of your hard work, and, most importantly, celebrate with the most important people in your life. (There will be plenty of time for thank-you cards when you get back from your honeymoon.)