Think outside the shop with a fun footpath pop-up
Estimated reading time: 3 minutes
There's never been a better time to get creative with how you connect with customers…and you barely have to leave your shopfront to do it. If your goal is to engage with existing and potential clients in a fun, memorable way, host a pop-up event right outside your door.
By holding an exciting event outside your shopfront, you'll ultimately attract customers from the outside, in.
1. Flyers
Send people home with a physical reminder of your business — like a flyer or a postcard. Display them on a stand or rack, or neatly stack them on one corner of your table set-up. Encourage passers-by to take one before they leave, and include one in their shopping bag when they make a purchase.
You can also use flyers and postcards to spread the word about your pop-up — hang them on noticeboards in the local area, or pop them through people's letterboxes.
Materials like flyers, postcards and brochures are great ways to tell your story…and send customers home with all the information they need about your small business.
2. Vinyl banners
Attract the attention of passers-by from afar with an eye-catching banner. Vinyl banners are a great option for outdoor events since they're made from fade- and water-resistant polyester. No need to worry about windy conditions or rainy forecasts!
Make sure to create your banner in your brand colours and include your small business name and logo. Your logo should be visible from a distance to attract customers from afar, and you can include other information that's readable when they come closer, like menu details, for example.
3. T-shirts
As a small business owner, wearing your brand is one of the best ways to generate awareness. So, during your event, make sure you're representing your business from the moment customers stroll by. One of the easiest ways to do this is with branded clothing, like a T-shirt with your logo design. In addition to promoting awareness, a branded T-shirt also boosts credibility — it shows that you're a professional, and can add some legitimacy to your business.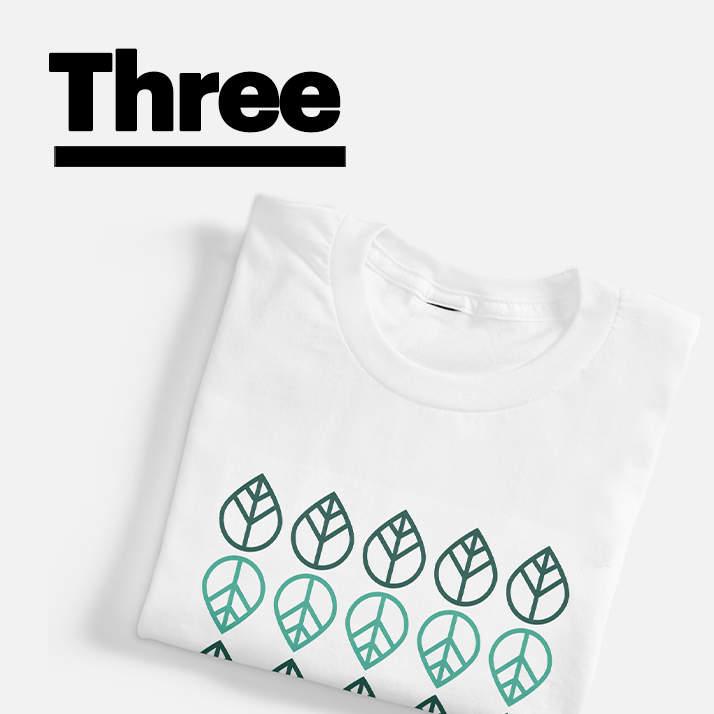 How to entice customers even more:
Create an attractive table set-up.
After you've attracted attention with a banner, make sure people will actually want to come over and say hello. Do that by creating an appealing setup — it can be as simple as a folding table with a branded tablecloth. Decorate with some basic items from your shop, and keep your set-up well-stocked with samples and marketing supplies.
Excite passers-by with an energetic display. Consider playing music or doing something 'live' (like blending smoothies!) so customers can see you in action.
Offer an incentive.
It's great to give out free samples…but what can you do to encourage potential customers to come back? Include a special offer on the postcards and flyers you're handing out, or add a loyalty stamp system to one side of your business cards. Enticing visitors to come back is a great way to convert curious passers-by into paying customers.
Connect with the community.
Small businesses are integral to any community, so demonstrate your commitment to your neighbourhood at your next event. Raise money for a local charity, or invite town leaders, chamber of commerce members or even local press to pop by. (Your event could score some free publicity in the daily newspaper!) Plus, staying connected with your community can work to your advantage. Stay in the know about local events, so you can capitalise on that extra foot traffic.
Get social.
Aside from spreading the word about your event on social media, encourage visitors to share photos from your pop-up on their own social channels. Create a hashtag for your event so you can find their posts later, and encourage passers-by to follow your small business social accounts, Also make sure your set-up is something they'll *want* to photograph — consider hanging an Instagram-worthy backdrop and make your products look extra pretty (colourful smoothie garnishes, anyone?).
Everything you need to host a shopfront event
1. Flyers
2. T-shirts
3. An eye-catching set-up
4. Incentives or special offers
5. Community connection
6. An event hashtag