Estimated reading time: 5 minutes
To be successful, small businesses have to grow – whether it's evolving their offerings or ensuring their customer bases continue to expand. Glowy, a beauty bar in Berlin, is a prime example of a small business that prioritizes reaching new clients and appealing to a variety of demographics. Glowy is owned by Amelie Hoang, Tami Hoang and Teresa Schicks – here, we spoke with Theresa and Amelie to learn more about their growth and success since first opening.
Self-care is something of a family business for sisters Amelie and Tami – growing up, their parents ran multiple beauty salons. In addition to learning how to perform different beauty treatments and procedures, they learned a lot about customer service and what it's like to manage a business.
"I knew early on that I wanted to start my own business. After a few part-time jobs, a business degree and working in my parents' two beauty salons, I decided to start my own business in the beauty industry," Amelie explains. "While newer and cooler concepts were coming onto the market in other countries, in Berlin there were only outdated nail studios that almost all fit the same cliché. I wanted to bring these [new] concepts to Berlin and create an It Place, where you can get your nails, eyebrows and eyelashes done in a relaxed, modern environment." Eventually, Amelie and Tami were ready to go out on their own – and opened the first Glowy Beauty Bar in 2016.
Theresa came on board about a year after Glowy's first location opened. She and Amelie took a college class together about planning your professional future, where Amelie had presented her business plan for the beauty bar. When Amelie mentioned she needed help with marketing, Theresa was all in. "I did marketing from the beginning and Amelie did studio management," Theresa says. "Now, Amelie takes care of the staff, Tami takes care of the orders and we share the finances. In general, we always talk things over."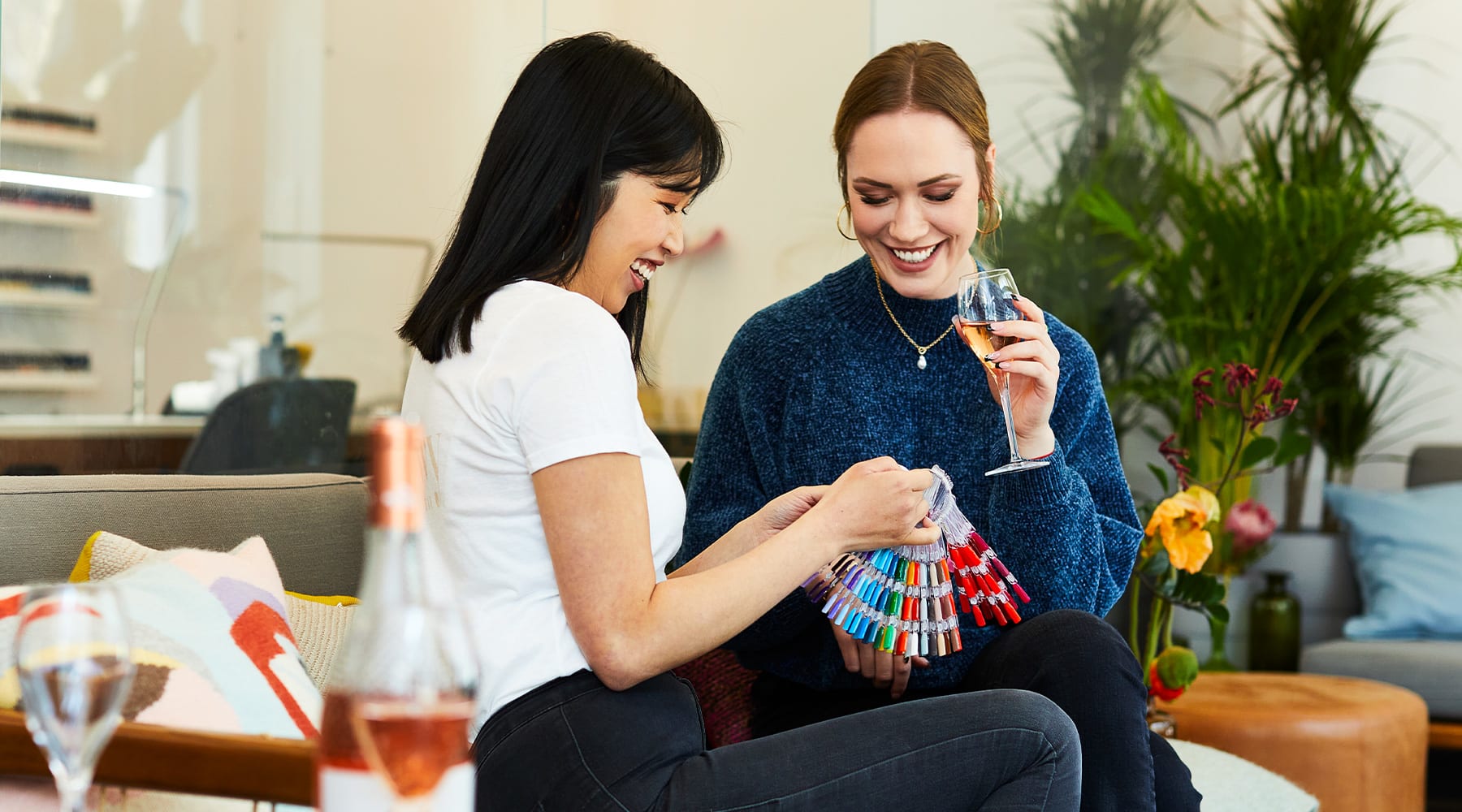 Glowing and growing
When Glowy first opened, Amelie worried that her idea wouldn't be well-received and that she would struggle to establish herself in the market, let alone stand out. Though she says she didn't have a ton of competition when they first opened in Berlin, there are now more studios with similar models and treatments.
As the marketing lead for Glowy, one of Theresa's priorities is ensuring Glowy provides stand-out services. "To remain unique and to be able to offer our customers the Glowy experience in the long term, we have to keep evolving," she says. "On the one hand, this means keeping up with the trends, but on the other hand, it also means staying true to your brand and working and performing at a consistently high level of quality."
Originally, the Glowy logo had a hand-lettered design with gold and pink details. "Since then, we have evolved…and with the opening of the second Glowy Beauty Bar, we wanted to show our evolution with a rebrand. So, our brand manager decided on a serif font in a fresh blue tone for the new logo. It was important to us that the 'grown-up' version of Glowy appeals to our female and male customers, and that their time with us conveys pure relaxation, in keeping with our motto: 'Feel Glowy, Feel Good.'" Theresa adds that their new logo is more gender-neutral, and meant to have a friendlier, approachable look.
One major way Glowy has differentiated themselves from the competition is their expansion to private events (like in-salon 'Pretty Parties') and a mobile beauty bar. Though most of these private events are booked by existing customers, Theresa says there are almost always new customers in attendance. And once the event is over, they reach out to everyone who attended to get their feedback. For in-studio events, Glowy's must-have items include price lists, indoor and outdoor signage and loyalty cards.
Glowy also has a mobile beauty bar, which customers can book for events or off-site parties. "By working at events or for large companies, we reach a lot of new people." Theresa spreads the word about their mobile offerings on Glowy's website, social media pages and display stands. And during the beauty bar events, they always make sure they have discount cards, price lists and branded items, like chairs and clothing. "We reach a lot of potential customers at events, and they're more likely to try out the studio with a discount."
Glowy's marketing must-haves
Glowy uses a wide variety of marketing materials to create a cohesive branded experience from start to finish…and beyond. (They send their customers home with after-care booklets based on the beauty treatment they received.)
Business cards were one of the first things Amelie, Tami and Theresa ordered for Glowy. Today, there are several variations that they keep on hand for specific purposes – a corporate benefits card, for example, and a 10% discount card for events. Loyalty cards have become key in retaining customers, too."Each customer receives a loyalty card after their visit and a stamp for each treatment," Theresa explains. "We want to reward our customers for their loyalty, so we give a discount on every fourth treatment. The fact that every fourth treatment is slightly cheaper is of course an incentive for customers to return again."
Glowy prints gift certificates and vouchers on postcards. Theresa says they created their vouchers and loyalty cards to be unique and recognizable, while also "professional, modern, and, above all, inspiring. There's something artistic about working with colors and designs, which is reflected in the brush strokes on the [voucher and loyalty card] designs." They also sell digital gift cards on their online store, which helps draw in new orders and customers.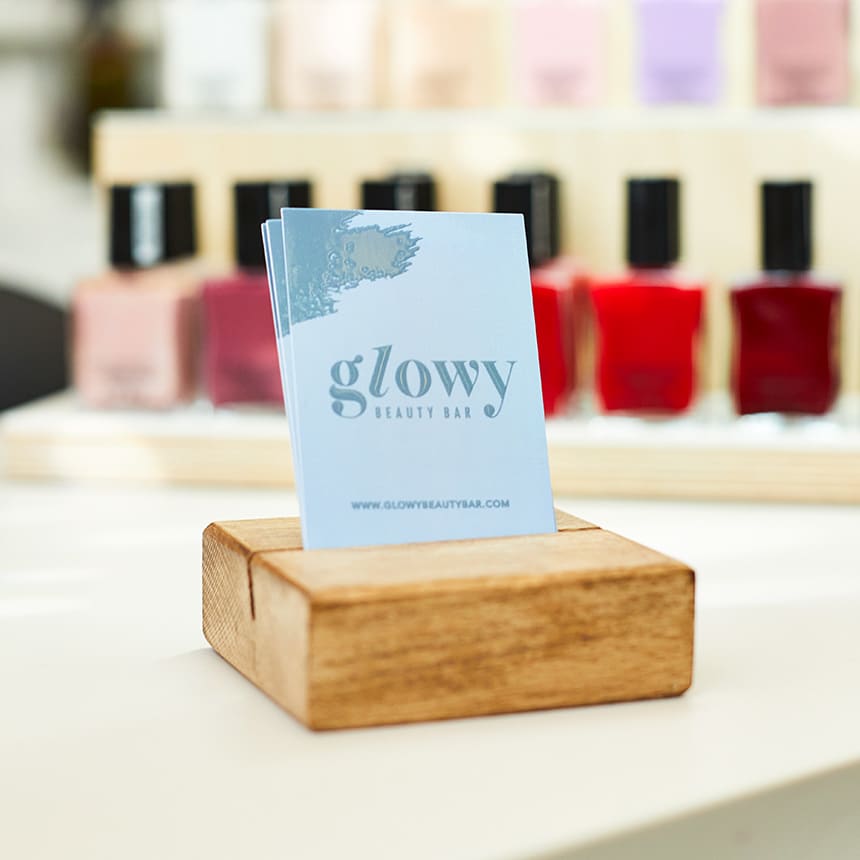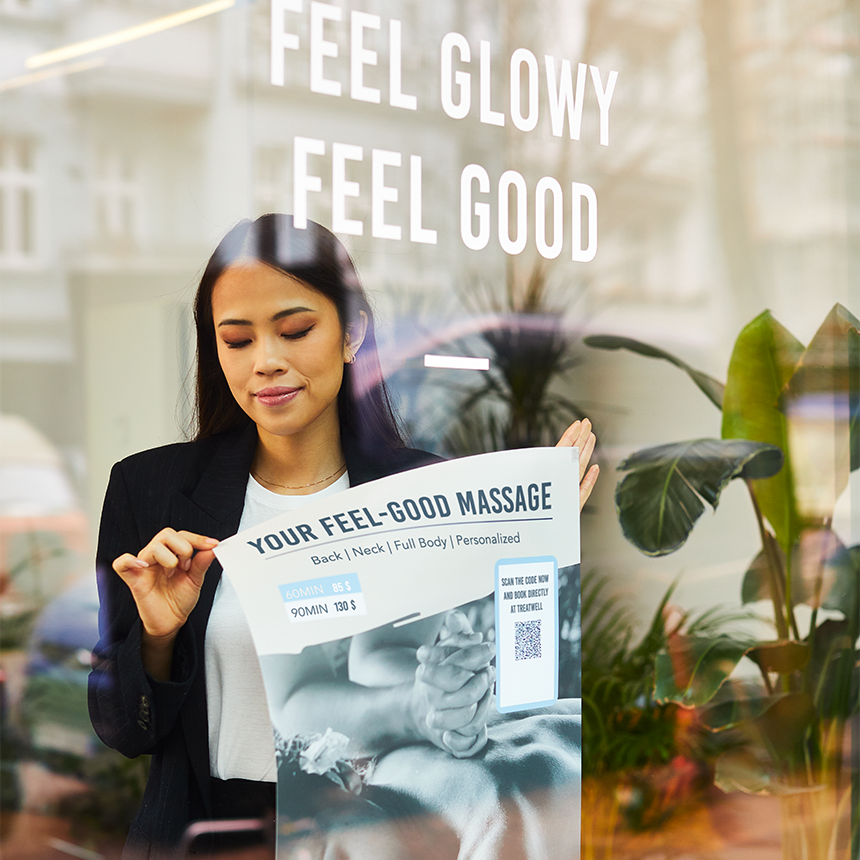 Posters with pricing information were also early purchases. They continue to hang outside Glowy studios today – used with flyers to help communicate news and information to their clients, as well as promotions and seasonal specials.
The Glowy team uses A-frame signs in the front of the studios to display their service menu, spotlight current specials and highlight new services. They also use digital display stands that showcase videos and images. "Both the A-frame signs and the digital display attract attention when people walk by, and inform passersby who we are and what we offer," Theresa notes. It's an effective way to introduce the business and its services, because "people don't have to come in and ask. We also have a box of price lists near our entrance for people to take."
Glowy outfits their staff in branded T-shirts and hoodies so they look professional in the studio and at events. During the lockdown, they started selling this apparel in their online store, too, so customers could show their support for the brand.
Getting social
Aside from traditional physical marketing materials, Theresa and the team make sure Glowy keeps an active online presence to attract new customers and connect with existing ones. "We put a lot of emphasis on having a good online presence. We had a website built when we first opened our studio, but it was relatively small at the time. After our rebranding, we also created a new website in-house that provides comprehensive information about all of our treatments, collaborations, press, specials and even has its own blog section and online shop where you can purchase Glowy vouchers and other products."
They use TikTok, Pinterest, Facebook and Instagram to promote Glowy – with an emphasis on Instagram. "We look at our Instagram like it's our look book," Theresa says. "In our posts and Stories we share information about our treatments and specials, and we have a few influencers who mainly support us on Instagram."
Visual platforms like Instagram are the perfect place to showcase everything Glowy does, from manicure selfies to lash treatment close-ups. "The pictures for our posts are either taken by us and our employees, or come from our collaborations. In the case of influencer collaborations, it is always important to us that we receive high-quality images that we can use for social media."
Beyond using social media to showcase Glowy's services and brand identity, they use it to interact with customers. "Both our customers and influencers often link to us in their Instagram Stories, which draws the attention of non-customers to us. We also use hashtags and post results of our treatments, as well as special offers."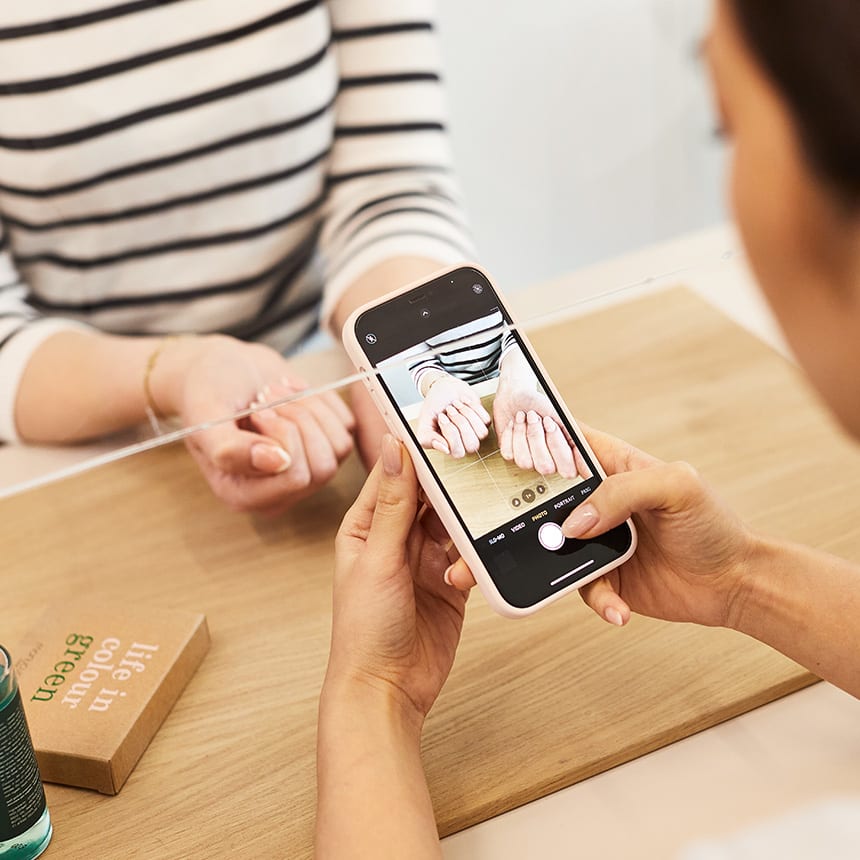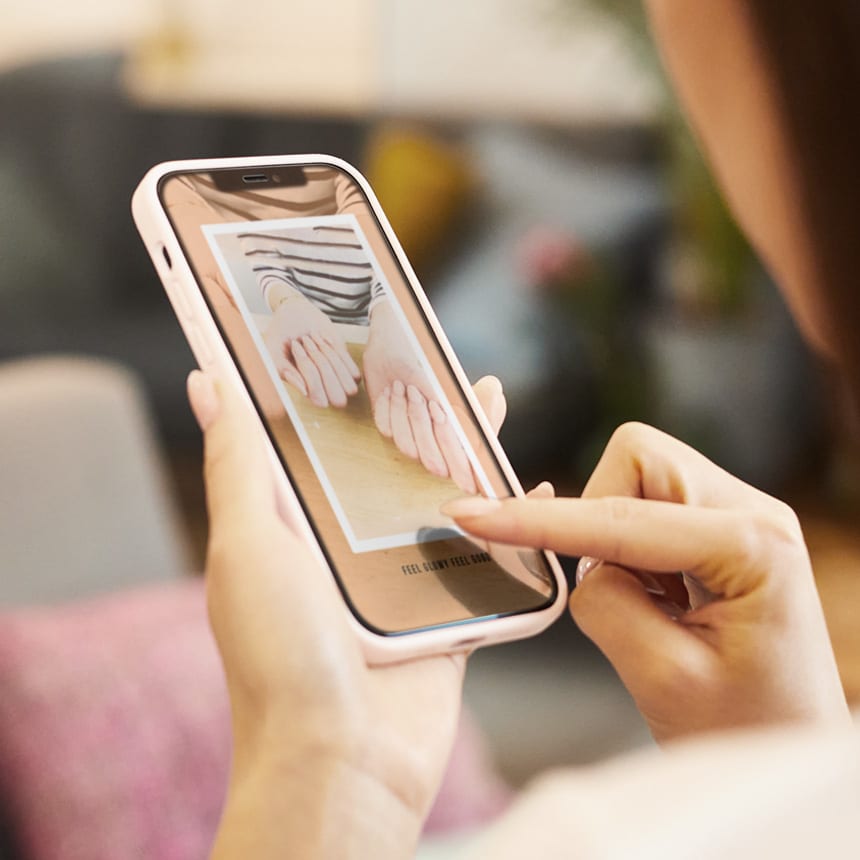 Do you need help creating stand-out content for your social platforms? Start with a free template on VistaCreate, then add your own photography, text, logo and more.
Looking to the future
With three locations in the Berlin area, Glowy has grown quickly in the five years they've been in business. In addition to opening more Glowy studios, the team hopes to do more with events, products and their mobile beauty bar.
"Since the beginning, we've offered Pretty Parties in our studios and have also worked and collaborated on many events outside," Theresa explains. Our studios in Berlin and our clients will always be the heart of our business, but we would like to expand in the future."