Estimated reading time: 12 minutes
The economic landscape may be throwing punches left and right, but consumers are gearing up for an all-out seasonal shopping extravaganza. They're not holding back when it comes to treating themselves, their nearest and dearest and anyone who has made it onto their nice list (or at least semi-nice list).
The Christmas spirit is contagious, and it's driving consumer spending to new heights. But here's the deal: you can't afford to be fashionably late to the seasonal marketing party. To claim your slice of the spending pie, you need to kickstart your season's marketing strategies early and execute them with precision. In this article, we're laying out 10 game-changing Christmas marketing ideas to ensure your sleigh is loaded with success.
10 seasonal marketing tips for your small business in 2023
Set clear goals for your sale season marketing
Dive into market research
Sync your seasonal marketing strategy with the latest trends
Tap into customer emotions to boost your 2023 festive marketing
Tap into the power of User-Generated Content
Get your social media platforms into the festive spirit
Decorate your store and make use of print marketing
Host exciting giveaways and contests
Focus on seasonal sales and discounts
Start early and plan your marketing activities thoroughly
1. Set clear goals for your sale season marketing
Just like with any other marketing campaign, the first thing you need to do is set clear objectives for your festive season marketing.
Setting goals for your seasonal marketing efforts is crucial for several reasons:
Goals give you a clear direction and focus for your Christmas marketing campaigns.
Well-defined goals help you use your resources effectively (time, budget, team).
Goals keep you in touch with the needs and expectations of your target audience.
Clear goals help you to easily track and assess the success of your marketing efforts.
Goals create a sense of accountability within your team.
Setting goals helps sync your marketing plan with your overall business objectives.
But here's the kicker: to make the most of your marketing goal setting, ensure your goals are SMART (Specific, Measurable, Attainable, Relevant, and Time-bound).
❌ Example of a not-so-SMART seasonal marketing goal:
Increase sales
✅ Example of a SMART seasonal marketing goal:
Achieve a 20% increase in online sales within the festive season between November 1st and December 31st.
Here's a list of possible objectives your small business might want to focus on during the sale season:
Increase sales
Drive website traffic
Boost average order value
Increase customer engagement
Improve social media presence
Increase social responsibility and community involvement
Increase store foot traffic
Remember! The festive season is like the year's grand finale, and your business doesn't have to settle for just one goal. Mix and match different goals to boost your small business from November through December 2023.
2. Dive into market research
In the fast-paced world of Christmas marketing in 2023, small businesses can't afford to skip market research. Thorough market research helps you discover hidden opportunities, spot emerging trends and create unique selling points that make you stand out.
What's more, it ensures that your marketing efforts hit the right notes with your audience and that you use the best platforms to get the word out. Ultimately, to ace your seasonal marketing, you need to understand what your audience craves during the festive season and serve it up with a dash of Christmas spirit.
Source: Design by Fe Melo via 99designs by Vista
Here are some ways to familiarise yourself with the market and its needs:
Dive into your customer data from past seasons. Look for trends, preferences and purchase patterns. These insights can be your guiding light when planning your marketing strategies.
Keep a close eye on your competitors' seasonal marketing activities. Explore their promotions, campaigns and messaging. This can help you identify successful tactics and ways to stand out. Don't forget to peek at their social media, websites and any media coverage.
Engage with your customers through surveys, feedback forms or social media polls. Ask about their Christmas shopping habits and what they expect. To encourage responses, consider offering incentives to those who share their insights.
Monitor social media conversations related to seasonal shopping, gifts and trends. Participate in relevant online forums, social media groups and discussion boards where potential customers discuss seasonal shopping. Take note of their questions, concerns and preferences.
Keep up with industry reports, studies and forecasts related to festive shopping trends and consumer behaviour. These reports can provide valuable insights and predictions for the upcoming season.
3. Sync your seasonal marketing strategy with the latest trends
It doesn't matter which marketing trends you decide to incorporate into your festive campaigns, as long as you pick up a few…
Use viral TikTok sounds for your TikTok marketing for the festive season
Create a branded Christmas meme that uses a popular (and super current) meme format
Tap into the latest design trends when creating your Christmas cards
Create phygital experiences at your stores by adding complementary online experiences to in-store shopping displays (e.g., QR codes that lead to promotions)
Establish your presence in the metaverse
Tap into the power of AR or VR
One stellar example of a trendy seasonal marketing campaign is PacSun's 2022 holiday campaign.
PacSun's 2022 holiday campaign, aptly named "PacVerse," took the metaverse concept and turned it into a celebration of virtual identities. The campaign revolved around a attention-grabbing spot titled "Welcome to the PacVerse," which introduced the PacVerse as an imaginative and community-driven fictional destination. This whimsical realm showcased captivating elements such as an upside-down world, an enchanting icy wonderland and a futuristic airport terminal.
The campaign went beyond traditional advertising channels and encompassed various marketing elements. It used out-of-home displays, digital platforms, social media engagement and influencer collaborations to spread its creative narrative.
Source: PacSun's 2022 holiday marketing campaign, "PacVerse" via Rivet
To keep tabs on trends, you can use trend analysis tools, follow conversations on Twitter and TikTok and regularly check Google Trends.
There are several benefits when it comes to keeping your seasonal marketing trendy.
Firstly, it helps you showcase your ability to think on your feet. It tells your customers that your brand is forward-thinking, dynamic and in touch with their needs. This dynamic approach not only boosts how they see your brand but can also make them more loyal and attract new customers, especially during the festive rush.
Secondly, you get a better chance at increasing your brand visibility. Your innovative marketing moves might get picked up by the media and news outlets, giving you a chance to shine in the spotlight.
Finally, trends will help you connect with Millennial and Gen Z consumers, today's largest consumer groups with the most spending power.
4. Tap into customer emotions to boost your 2023 festive marketing
'Tis the season to stir up some emotions!
When it comes to seasonal marketing, you must dive deep into the pool of happy feelings. People crave connections, meaning and unforgettable festive experiences. And that's where your business can truly shine!
Now, let's unwrap the magic of emotional marketing for the season ahead:
Awaken nostalgia. Take a trip down memory lane and bring back all those warm and fuzzy Christmas traditions. We're talking about those cosy vibes, the tingling excitement and the joy of reliving cherished moments. Time to sprinkle some nostalgia into your campaigns and make hearts skip a beat!
One of the best seasonal marketing examples that tap into nostalgia is the H&M "Come Together" holiday ad campaign directed by Wes Anderson.
The enchanting narrative and heartwarming ending create a sense of nostalgic innocence, transporting the audience back to their cherished Christmas movie memories from childhood.
Source: via H&M
Spark joy and excitement. Light up the Christmas spirit like a firework show on New Year's Eve! Get people pumped, excited and downright giddy about the festivities. Splash your campaigns with vibrant visuals, catchy messages and interactive experiences that make them jump for joy!
Spread love and gratitude. Show your customers some serious appreciation and gratitude. Shower them with wishes, random acts of kindness and inspire them to share the love with their nearest and dearest. Let's turn that festive cheer into a contagious lovefest!
Ease the festive stress. We all know the season can be a whirlwind of chaos and stress. But fear not! Your business is here to save the day. Provide your audience with helpful tips, clever solutions and stress-busting ideas. Let them know you've got their backs, and turn those frowns upside down.
An great example of festive season marketing that tackles the stress commonly linked with the season is the Heineken 'Festive Holiday Troubles' advertisement. In the commercial, Heineken cleverly captures the chaotic nature of the Christmas season, encouraging viewers not to fret and stress but rather to embrace the joyful chaos that comes with it.
Source: via Heineken
Build a welcoming community. The festivities are about coming together and celebrating as one big happy family. Embrace diversity, create a warm and inclusive atmosphere and let your customers know they belong. It's time to create a tribe of enthusiasts who feel part of something truly special.
5. Tap into the power of User-Generated Content
If you want to build a stronger bond with your target audience, create a sense of community and engage in meaningful conversations with your customers, you might want to consider User-Generated Content (UGC) marketing strategies.
UGC helps you harness the power of real customer experiences and turn them into impactful marketing. It not only boosts credibility and trustworthiness but also creates an engaging and interactive experience for your audience, ultimately leading to increased brand awareness, conversions and customer loyalty.
Here are a few ways in which you can tap into the power of UGC this season:
Seasonal hashtags. Create unique festive season hashtags and encourage customers to share their experiences, photos or videos related to your products or services using that hashtag. You can feature the best UGC on your socials or website, showcasing the festive spirit and engagement of your customers.
Product reviews and testimonials. Invite customers to leave reviews or testimonials about their seasonal purchases. Highlight these reviews on your website or social media to build trust and provide social proof to potential buyers.
Customer stories and spotlights. Share customer stories and spotlights during the season. Highlight how your products or services have made a positively impacted their festive experiences. This can be in the form of written testimonials, video interviews or customer features on your blog or social media.
User-Generated gift guides. Ask customers to share their favourite Christmas gift ideas using your products or services. Curate these recommendations into a UGC gift guide to share with your audience. This not only promotes your offerings but also provides valuable shopping inspiration.
Social media takeovers. Collaborate with loyal customers or influencers to take over your social media accounts for a day or a specific event. Let them share their festive experiences, behind-the-scenes moments or product recommendations. This boosts authenticity and helps your audience connect with real people.
Speaking of social media seasonal marketing strategies…
6. Get your social media platforms into the festive spirit
In 2023, it's essential that you give your business's social media a festive makeover. The possibilities are endless, from tweaking your profile picture ever so slightly and publishing seasonal content to launching full-scale social media festive campaigns.
For instance, you can keep the festive spirit alive by conducting interactive polls, quizzes or surveys on social media. Ask fun questions about seasonal preferences, traditions or gift ideas to encourage participation and generate conversations.
Another approach is to take your audience behind the scenes of your festive preparations, offering glimpses of your team decorating, packaging gifts or crafting special seasonal products.This personal touch creates a connection and generates excitement.
For instance, here's a holiday Instagram post from Ipswich Ale Brewery sharing a photo of the business employees repping their ugly Christmas sweaters and announcing a contest at the brewery: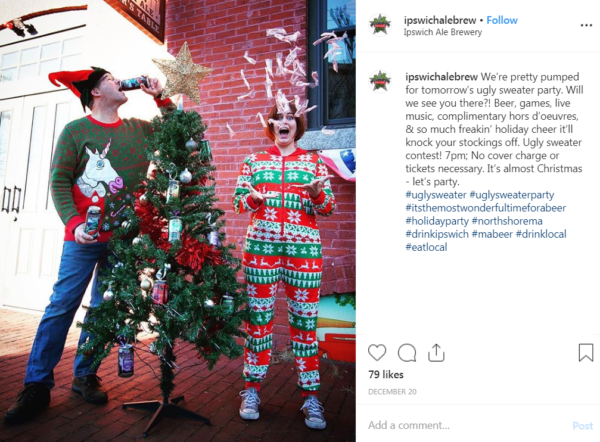 Holiday Instagram post by Ipswich Ale Brewery via ConstantContact
To be even closer to your customers, you can host live video sessions on social media platforms to share Christmas tips, showcase new products or conduct Q&A sessions. Interact with your audience in real-time, answer their questions, and make them feel involved in your seasonal journey.
7. Decorate your store and make use of print marketing
The same way you give your social media a festive makeover, you should also decorate your store, food joint or office.
Here are some specific examples and ideas for seasonal decorations:
Eye-catching window displays. Design visually appealing window displays that capture the season's spirit and showcase your products or services. Use festive props, lighting and creative arrangements to make your windows stand out.
Festive signage and banners. Hang colourful posters, banners and signs with festive messages and greetings. Add elements like ornaments or holly to add a festive touch.
Outdoor lighting. Add sparks to your building's exterior with twinkling lights, LED displays or light projections. Create captivating light installations that reflect the season, such as sparkling trees or reindeer.
Wreaths and garlands. Deck up your entryways, facades and interior spaces with wreaths and garlands. To add a festive touch, add trinkets like ornaments, ribbons or bows.
Seasonal scents. Use scent diffusers or candles to infuse your building with delightful festive aromas such as cinnamon, pine or peppermint. Pleasant scents can create a welcoming atmosphere and build positive emotions in customers.
Remember, when decorating your business space for the festive season, it's essential to match the decor with your brand identity and the overall customer experience you want to create. Be creative, showcase your unique style and create a memorable and festive environment that leaves a lasting impression on visitors.
8. Host exciting giveaways and contests
Spice up your seasonal marketing strategy with some sizzling contests and giveaways that will leave your audience craving for more! Check out these unconventional ideas to make your brand shine…
Ugly Sweater Showdown
Let your followers unleash their fashion disasters by hosting an Ugly Sweater Contest. Encourage them to flaunt their wackiest, wildest Christmas sweater creations. The winner? The one with the most jaw-dropping, laugh-inducing masterpiece! Offer a prize that screams "ugly cool" to keep the festive spirit alive.
A twist on the traditional Ugly Sweater Contest will do, too. For instance, back in 2021, VistaCreate ran a Christmas contest asking their social media followers to customise the "Uglify Sweater" template in the editor with their own selfies to create a terrible Christmas look. Participants were then prompted to share their creations on Instagram Stories, tag VistaCreate and get a chance to win an AR ugly sweater!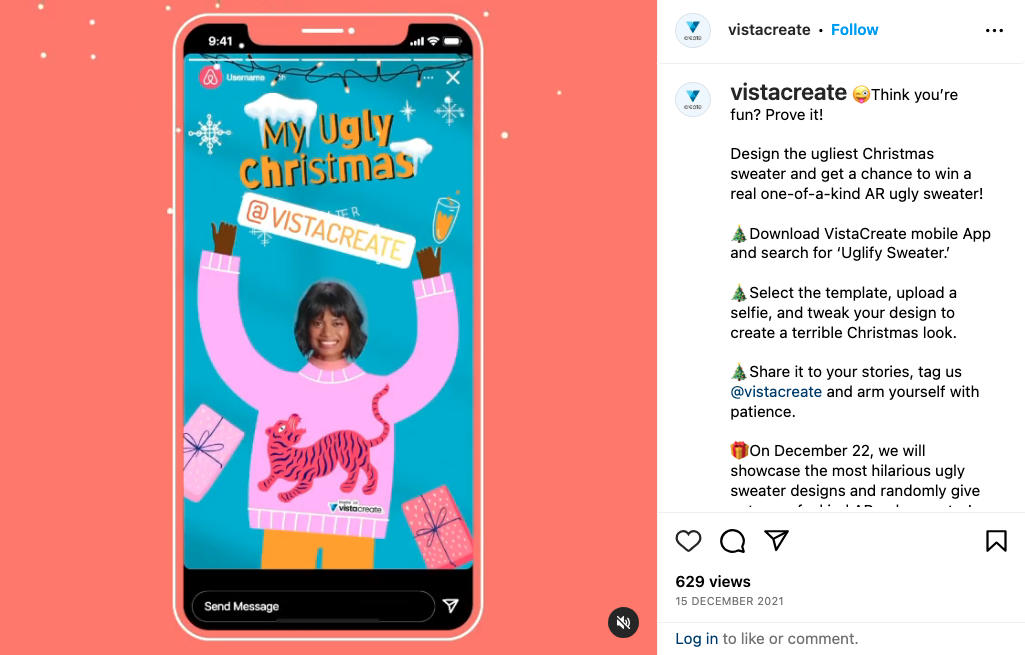 Source: Ugly sweater social campaign via VistaCreate
Recipe Rumble
Heat up the kitchen with a Christmas recipe challenge. Challenge your community to share their secret family recipes or creative festive concoctions. The most delicious, innovative or mouthwatering recipe wins the crown and a tasty prize fit for a culinary master!
Workspace Wonderland
Turn your office into a festive wonderland and challenge your followers to do the same. Let them show off their dazzling Christmas decor in a "Decorate Your Workspace Contest." From twinkling lights to quirky ornaments, the most spirited workspace wins a jolly reward that will make the competition green with envy.
9. Focus on seasonal sales and discounts
Even if you aren't too eager to host a giveaway this season, you should definitely consider running a sale and offering discounts to your customers.
Many shoppers anticipate that the festive seasons are influenced by inflation or a possible bad economic climate. As a result, they take all measures to be cost-conscious and rely on sales and discounts when purchasing Christmas products.
Plus, don't miss out on the opportunity to provide irresistible seasonal perks like free shipping or free gift wrapping! Showcase these promotions in engaging marketing emails, and ensure it's prominently displayed across your store.
Black Friday and Cyber Monday may be two of the biggest sales days of the year — but you don't have to wait until the end of November to run a promotion. To entice new customers, try offering daily deals and subscriber-only flash sales.
10. Start early and plan your marketing activities thoroughly
The festive season is a race, and if you want to win, you need to start early and plan your marketing strategy thoroughly. Don't wait for the festivities to kick in before you take action.
Why is it so crucial to plan ahead? Well, for starters, it gives you the advantage of staying one step ahead of the competition. While others scramble to put their campaigns together, you'll be there, ready to steal the spotlight.
Planning in advance also lets you finetune every aspect of your marketing activities. From crafting the perfect message that resonates with your audience to designing eye-catching visuals that draw them in, you'll have the time to create a campaign that leaves a lasting impression.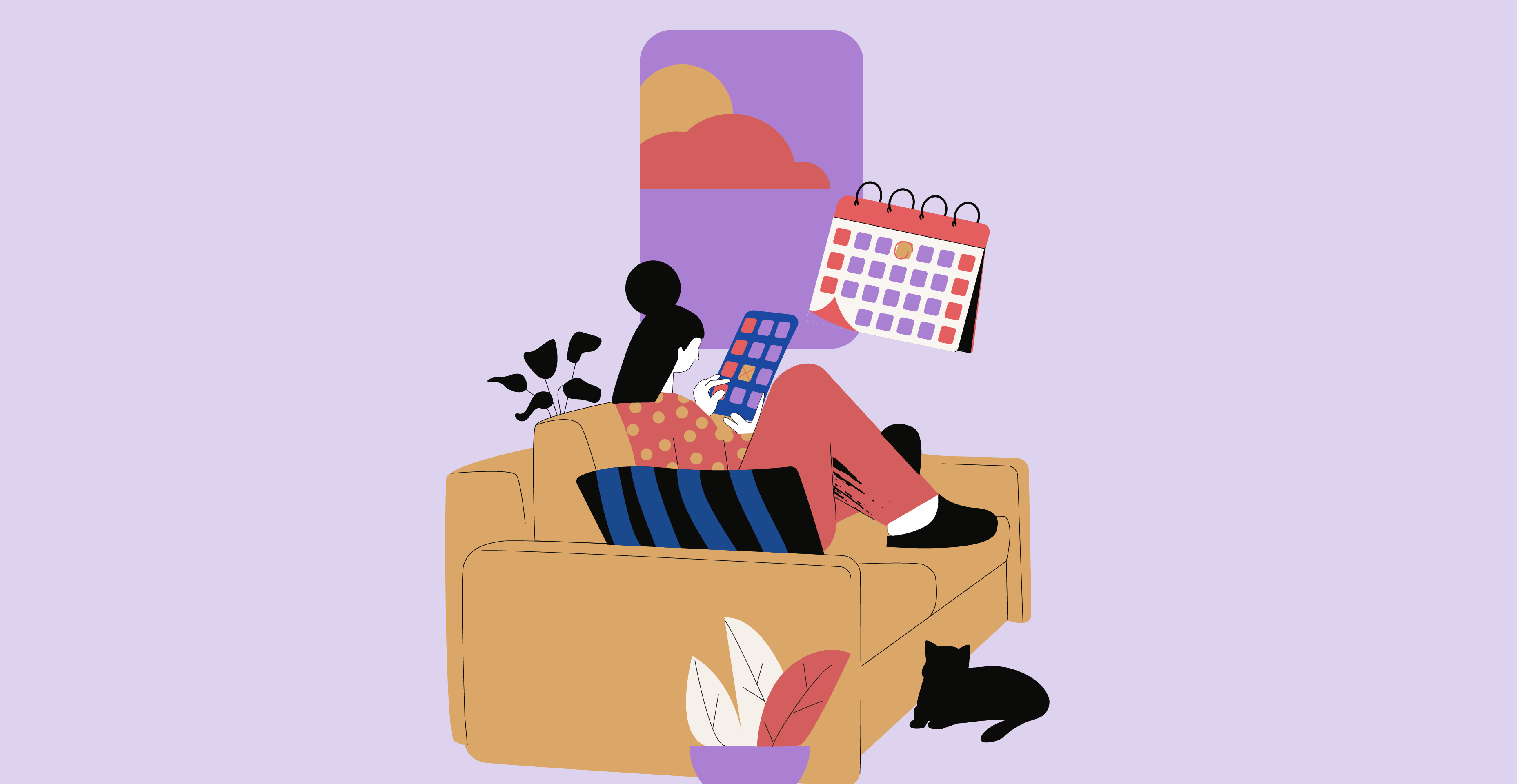 Source: Design by Fe Melo via 99designs by Vista
But it's not just about outdoing the competition and perfecting your strategy. Planning ahead is like having a well-stocked toolkit to execute your plans flawlessly. You won't have to stress about running low on supplies or spreading your budget too thin. Instead, you can focus on creating a fantastic customer experience, without any last-minute bumps in the road.
The final bow: Tips to ace your Christmas marketing game
No matter the size of your business or your budget, the festive season is a golden opportunity for every business to shine. By starting early and diving deep into your audience's needs, by studying market trends and by unleashing a burst of personalised and creative marketing activities, you can set your business up for seasonal success.