MY MARKETING MUST-HAVES
Redesign resolution: A new look sparks a brand transformation
Estimated reading time: 6 minutes
A new year brings new opportunities for everyone…especially small business owners. And Jack Eller, owner and designer of Jack Eller Studio, is ready to take his jewellery brand to the next level. Thanks to a recent logo redesign with 99designs by Vista, he's set to conquer the new year and show off his new branding on some of his favourite marketing products. We talked to Jack to learn more about his background, his small business journey and his plans for the future — as well as his must-have marketing tools.
Breaking the mould
Jack first became fascinated with jewellery when he was working at a jewellery shop seven years ago. "That store makes crazy, custom pieces for athletes and rappers and it's a completely different vibe from what I do. But it gave me access…it was my first door into that world."
After several years in luxury retail, Jack started working with smaller designers in their homes and studios to get an ever deeper look inside the jewellery industry. He enrolled in technical jewellery-making classes at Barnsdall Art Park, and started his business, Jack Eller Studio, two years ago.
"I saw an opening in America for more queer male artists in jewellery. And I was looking for something creative to do with my life that would also allow me to sustain myself…so I kind of went into, like, a hole during the pandemic and just started drawing out this line."
Jack's first collection, 'West', was inspired by his move from the East Coast of America to the West Coast when he was 21. "I'm 28 now, and I was really lost. And 'West' was a representation of that journey for me.
"I remember before I launched [Jack Eller Studio] that I was like, if this line doesn't work out, if it doesn't get as big as I want, okay…I don't know what I'll do. But you just have to keep fighting no matter what. I think once you put that out into the world, everything kind of starts to come together."
The artistic lifestyle is new for Jack. "I never grew up around artists. My parents are very much in the mindset, 'You work a 9-5, you wake up everyday, you have a family, that's it'. So this is a new thing for me."
His eponymous jewellery business is currently a side hustle — Jack admits that it's a juggling act, and he picks up digital marketing jobs and creative projects to continue supporting his brand and creating more collections.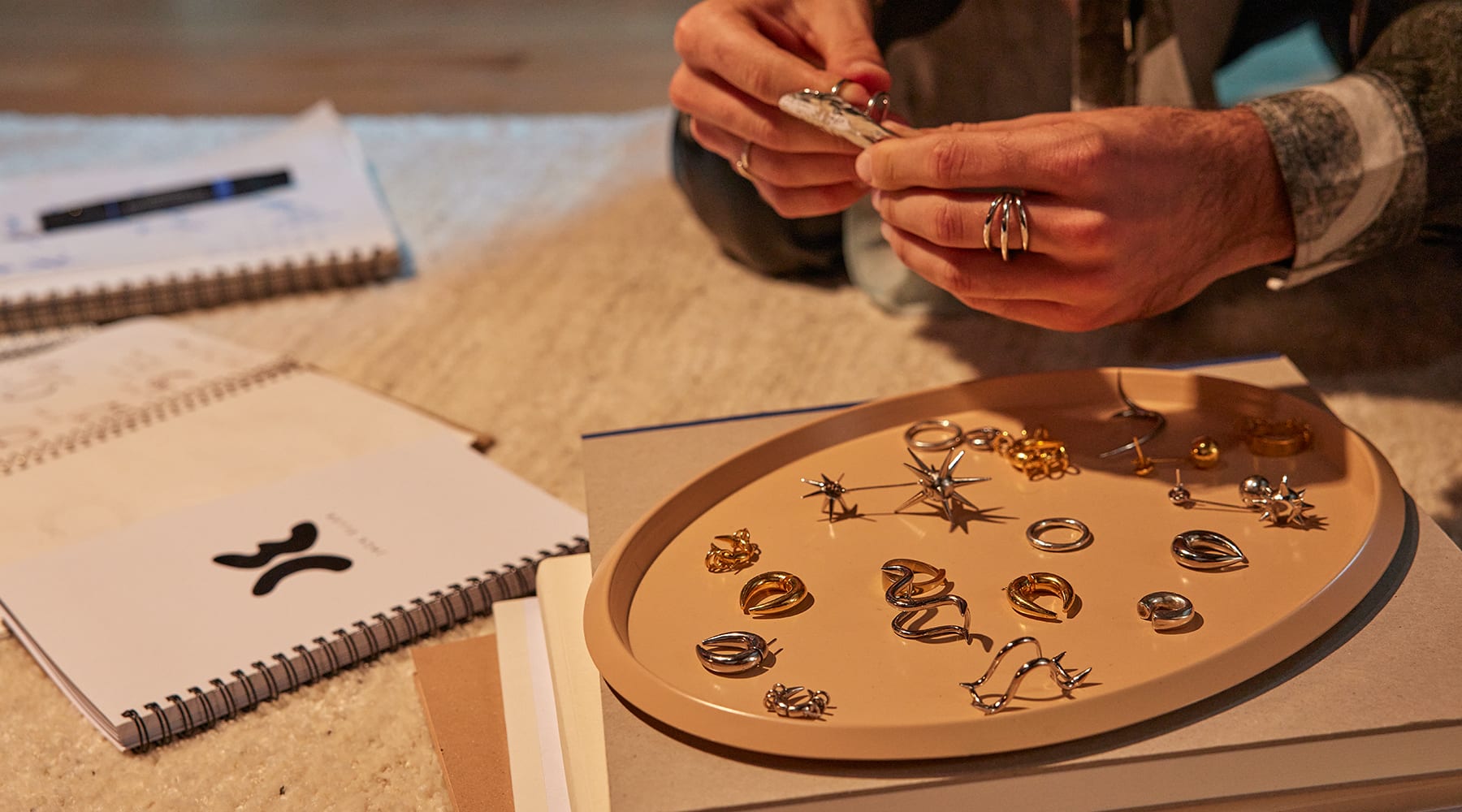 A multifaceted logo redesign
Jack definitely has a sense for design and studied as a graphic artist, so he knows how important great design is to a brand. He created his original logo himself, and when he was ready for a more professional version, he applied for a grant through 99designs by Vista.

The 99designs logo contest was another new experience for Jack. "People were submitting so many ideas…it was weird being on that end of things. There were so many amazing artists that were in the top tier and it was really hard to choose."
Especially because he already had an idea of what he wanted his logo to be. "I'd originally come up with a logo that looks like a melting silver liquid, and that's what I wanted it to look like — but mine was a bit amateur."
He found a designer, EMWDesigns, to bring his idea to life — and notes that she did a great job of making cool shapes that can be used in so many ways. "She was so kind. She really listened to me and brought her very clean and clear vision to life as well. At one point, I was like, maybe we can make the 'JE' look like a butterfly and like there's a metamorphosis there. There were so many concepts that we went through. She got it so perfect with being able to see the letters but also being an abstract shape if you want to look at it in a different way.
"The designer also added cute pink versions and a more melting sorbet version for me. Those were a surprise, and I'm excited to maybe use them for exclusive ads or packaging."
If your logo is in need of a refresh, find a designer to collaborate with at 99designs by Vista. They'll help you and your business stand out in the new year (and beyond).
Since the redesign, he's loved hearing feedback from his customers and community. "So many people have commented on the new logo and the rebranding, and they've been so impressed. Like, 'Whoa, Jack, this is official'. Just hearing that from people is so validating."
When describing his new logo, the first words that came to Jack's mind were 'official' and 'clean'. "I'm so happy when I look at my website and see my logo. I'm like, okay, I'm making steps forward in the right direction. This new look has scaled up my business to make it look more fresh and professional."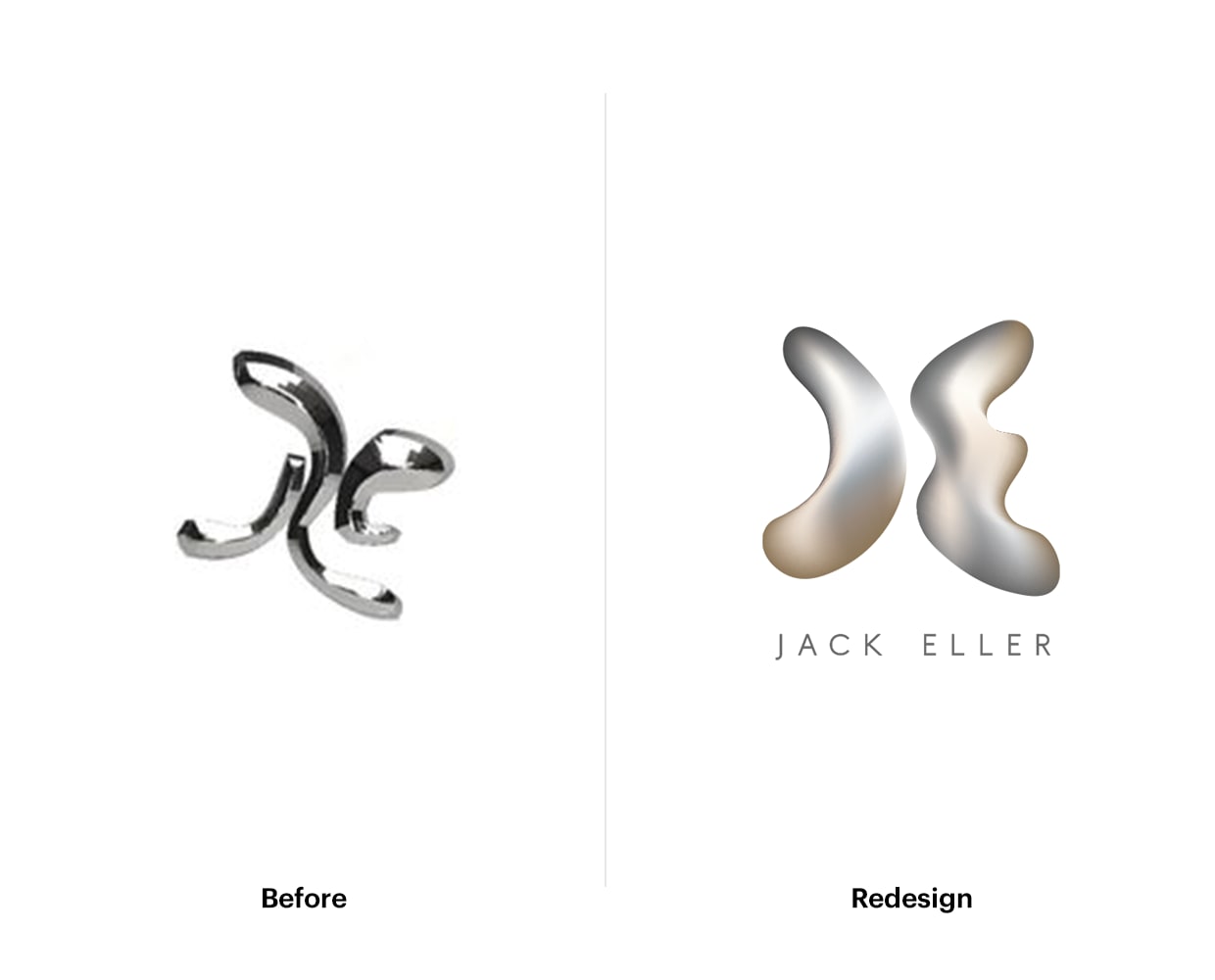 Jack's marketing must-haves
When we asked Jack about his marketing must-haves, the first thing he immediately cited was social media. "If I didn't have my social media, no one would know me. It's basically my portfolio online." He mostly uses Instagram and Facebook, and is hoping to create a more active presence on TikTok in the future.
Social media marketing is important for all small business owners. If you need help creating stand-out social content, find a template that works for you at VistaCreate.
Packaging is also key for Jack. Since he makes most of his sales online, the efforts he puts into posting each piece are key in connecting with his customers. When he launched his initial collection, the first things he ordered were roll stickers and custom packaging tape. Now, the labels go on the individual packaging for each piece of jewellery, as well as on the outside of the package (along with custom packaging tape) so customers get excited when they see it in the post. "The custom packaging tape just gets my name across — people know what to expect and they can look out for it in their mailbox."
When he first started out, he didn't have branded postcards…so, he got creative with his Polaroid camera. "I would take photos of myself wearing the jewellery, and I just put the Polaroid photo of myself in the package." Now, he has his own postcards but still adds a personal touch with handwritten notes. "I write a thank you letter and include one with each mailed purchase." He's also planning on bringing these postcards with his new logo to pop-up events to give away to new customers.
Jack admits he's always felt like business cards are outdated, but he jumped at the opportunity to add a QR code to the back. "People know how to use them now and it's not just as wasteful." The front of his business card features an oversized version of his logo that's clean, sexy and mysterious. "When you see it, you're wondering what the shape says since people don't immediately know what the 'JE' is." He's excited to start leaving them around local coffee houses and smaller shops in his area to attract more business in the new year.
When thinking about other marketing materials he wants to use in the future, Jack immediately mentioned sticky notes — but he's also loving his new logo beanies.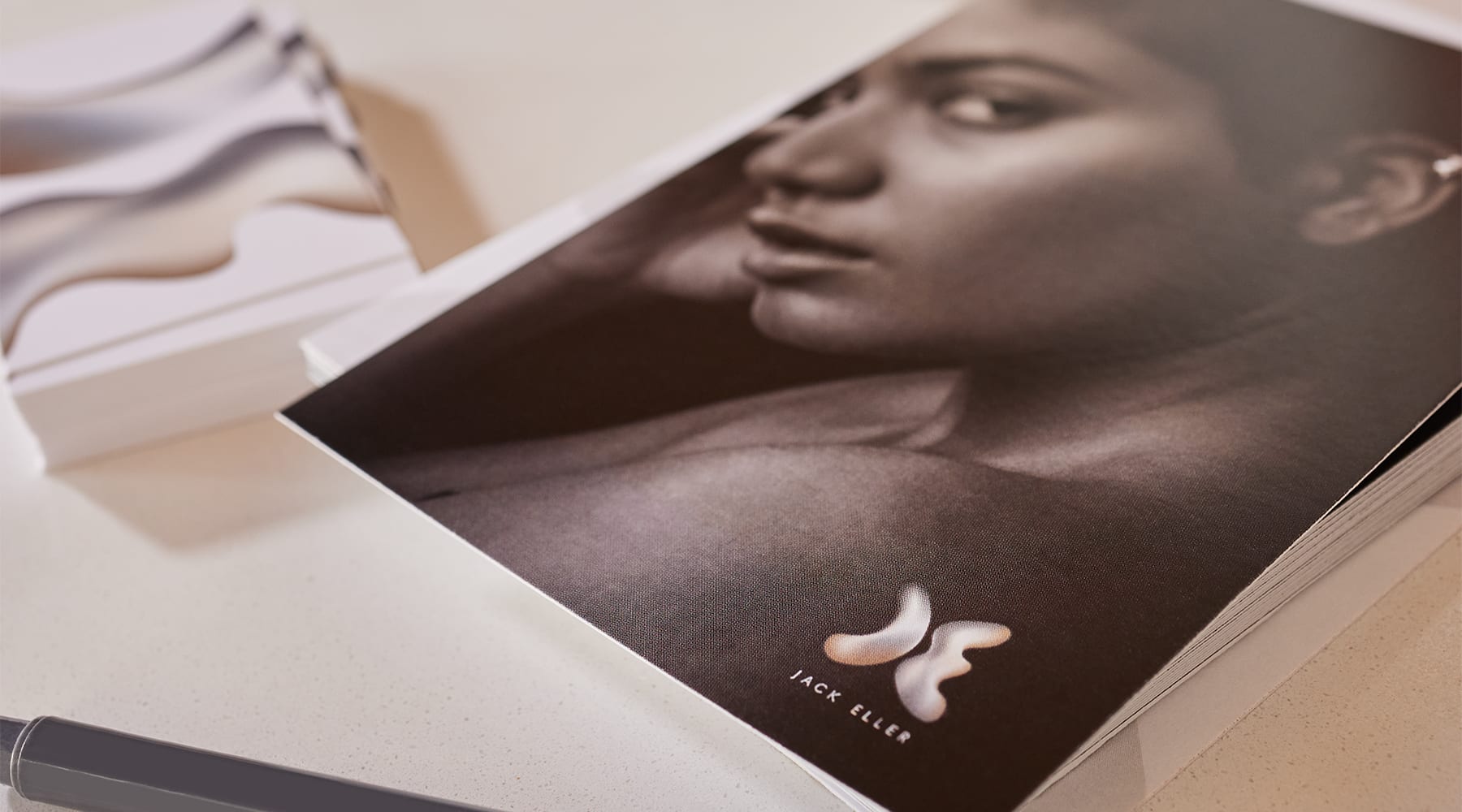 Forging the future
"I have a big smile when I look at the future, because I know that's going to be really amazing", Jack says with a grin. "I see me collaborating with more artists, I see me not only making jewellery but making sculptures and clothing. I want to work with more technology. I see myself being carried in stores in LA. I just never want to stop working with other artists. It's so thrilling. It's crazy."
Now, he wants customers to feel like they're getting a piece of himself and a story when they buy Jack Eller jewellery. "It's a tangible form of art that can be worn. Each piece has its own story and special place in my heart. I want people to feel confident and free. I want them to feel strong and loved when they wear my pieces."
Jack's hoping to boost sales in the future, but notes he's been lucky to receive a lot of great press from celebrities wearing his pieces. "My community is so amazing and I'm so happy to be supported by other artists and amazing humans."
He also reflected on some advice he got when he was first starting out. He says the best words of wisdom he got were that he didn't have to make a huge collection — he just needed to create a few staple pieces. "Instead of investing too much in the beginning, just put a small amount of money into one thing and project that out."
Jack admits he didn't completely take that advice ("I think you do have to learn from spending money!"), but he advises other up-and-coming small business owners to manage their money…and learn from their mistakes. "I would just say, keep doing it. Don't stop. Be your biggest fan."