Estimated reading time: 7 minutes
These days, stickers aren't just for kids — consumers of all ages love, use and collect them. And as a small business owner, you might be wondering about using stickers for marketing.
The power of stickers shouldn't be underestimated. On Instagram, the #stickers hashtag features more than 17 million posts, while #stickeraddict has more than 1.3 million posts. 'Stickers' even made the list of the top 10 most searched keywords on Etsy in January 2023.
This is good news for small business owners everywhere because not only do consumers love stickers, stickers are also a marketer's dream. Affordable, fun and immensely brandable, these small pieces of paper or vinyl offer you a cost-effective opportunity to let your marketing creativity run wild, all while expanding your reach organically.
Top ways to use stickers for marketing.
Brand names have long realised the power of marketing with promotional stickers. You can include them for free in product packaging, as an add-on purchase in a small bowl by the checkout counter, on products themselves and in many more places.
There are several benefits to using stickers for marketing. They can:
Act as an attention grabber: With sticker marketing, it's easy to flex your creative muscles to create advertising stickers that 'pop'. While they may be small, stickers offer your business a prime opportunity to grab the attention of both existing and potential customers.
Boost brand recognition and promotion: From packaging to products to giveaways, custom stickers for small business let you affordably create an entire brand experience for your customers — an experience that most will readily show to family and friends.
Encourage customer engagement: Stickers are meant to be used. Every time a customer puts your sticker on their laptop, notebook or phone case, they're actively increasing their engagement with your brand. When your stickers contain a QR code or your website, this creates easy follow-up opportunities.
Convey important information: With a lot of consumers saying they prefer to learn about products in-store, stickers are the ideal vehicle for displaying the information your customers are looking for. You might use a small label on sustainable clothing and accessories detailing the eco-friendly production process or a larger square sticker on beauty products that lists the ingredients.
Add a free gift to a purchase: Stickers are fun, and when you include them as small gifts with purchases, consumers will often show their appreciation by using your stickers on various belongings — a great way for you to obtain the benefits of word-of-mouth marketing.
7 types of custom stickers to promote your business.
One of the biggest advantages of marketing with advertising stickers for business is the flexibility you have to design your stickers for a multitude of uses. As you'll see below, stickers and labels come in a wide assortment of shapes, sizes and materials, allowing you to create exactly the look you need.
1. Die-cut single stickers
Die-cut stickers are made with a die-cutter, a machine that cuts the sticker material into specific shapes. This means die-cut stickers can sport shapes that stand out from the more conventional circles, squares, ovals and rectangles — for example, the shape of your logo. These custom-cut stickers are a definite attention grabber, particularly when paired with eye-catching colours and designs.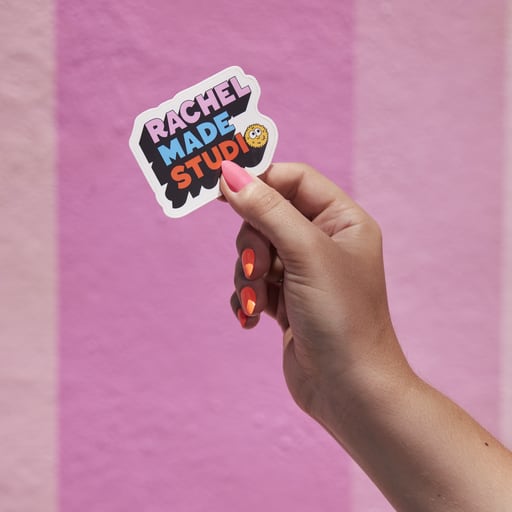 Cleverly designed die-cut stickers make ideal free gifts for your customers. Place a selection in a small container next to your checkout counter where they'll easily catch your customers' eyes. You may even find customers wanting to collect each design so they eventually have a full set!
2. Reusable static cling stickers
Reusable stickers are a good option for temporary or short-term promotions. Made of waterproof polypropylene film with a residue-free adhesive backing, reusable stickers can adhere to any smooth surface. They can be repositioned as many times as you want, and reused multiple times, making them of great value. And because they're waterproof, you can use them outdoors too.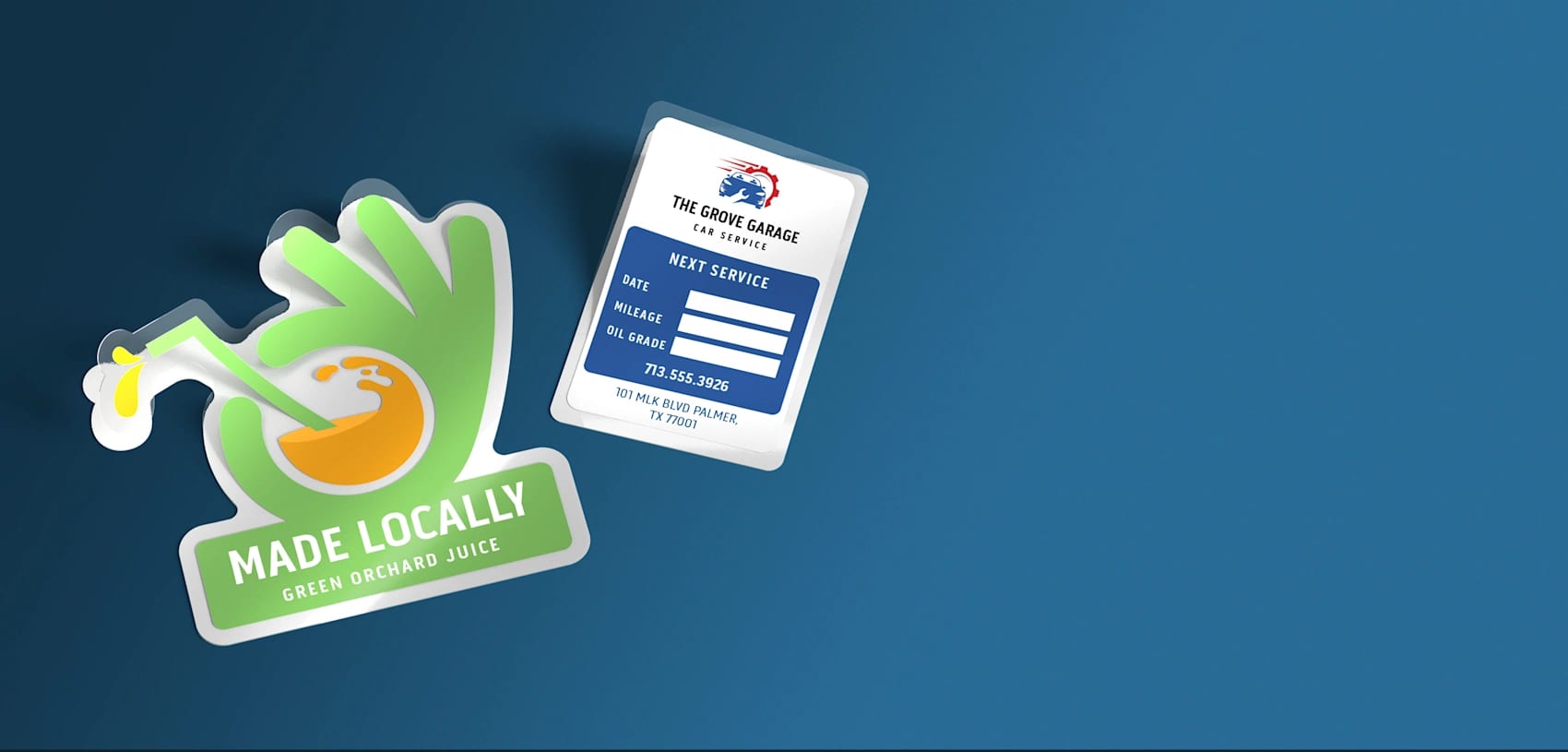 Catching the eye of passing pedestrians can be a challenge when you're surrounded by other businesses clamouring for their attention. If you have a shopfront window or glass door, reusable stickers are a great way to supplement larger, more permanent window stickers to promote sales or discounts and attract more foot traffic to your shop. Remove the stickers once the promotion is over and reuse them for your next sale.
3. Holographic stickers
Holographic stickers shimmer with a rainbow sheen, creating a mesmerising 3D effect whenever they catch the light. Their iridescent quality makes them ideal for adding a touch of glam to your product packaging or as a gift with an online purchase. They're waterproof too, which means your customers can use them both indoors and out.
Successfully marketing your business at trade shows is all about standing out from the crowd — which makes holographic stickers the ideal swag for your trade show stand. Incorporate funny quips, wise sayings or visually striking artwork into your design, and you may find trade show attendees searching for your stand so they can add your stickers to their swag collection.
4. QR code stickers
QR codes are everywhere these days, and for good reason: a vast majority of smartphone users scan QR codes, and it's expected that the trend will only go up in the coming years. This means QR code stickers are the perfect way for you to direct your customers online, whether it's to your website, your social media profiles, a demo video or a product info PDF.
When your customers bring their new purchase home, would they benefit from a tutorial on how to use your product? Create a video that demonstrates how your product can be used, and make custom QR code stickers to include with the product that link to the video.
5. Weatherproof stickers
Weatherproof stickers let you extend your marketing promotions to the great outdoors. In addition to waterproofing, some have UV protection as well, so they won't fade from too many hours in the sun. These are ideal for outdoor events and can be placed on signage, car windows, shop windows and buildings.
What's more, like the proverbial postman, your e-commerce packages might need to brave the rain, snow, sleet or hail. Pretty up your shipping boxes using weatherproof stickers that feature your logo or your social media profiles. Not only will your stickers stay unsmudged and easy to read on arrival, but your customers will also know the package is from you before they open it.
6. Sheet stickers or labels
Want to brand your packaging and products? Sheet stickers provide a cost-effective way to create a matching look across your packaging, products and marketing promos. With a variety of shapes to choose from, you can use sheet stickers to effectively ramp up your brand strategy.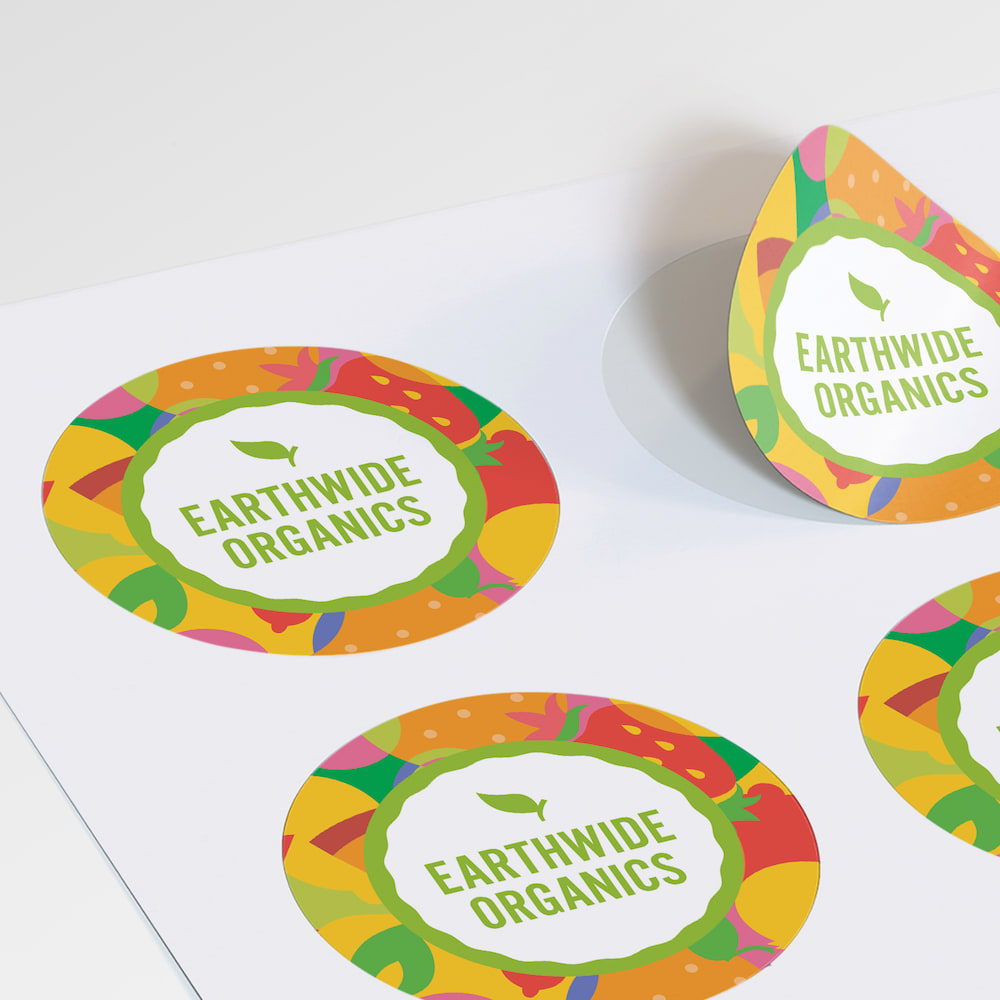 If you're an e-commerce business, consider designing 'Thank You' sheet stickers with space in the middle for a handwritten message. Add a personalised note and include them inside shipping boxes when you're sending out orders. Your customers will appreciate the gesture — plus, your sticker will add that special touch to their unboxing experience.
7. Roll label stickers
Roll labels are perfect for your high-volume small business needs. Because you're ordering in bulk, you can easily create a consistent look on all of your bags, boxes and product containers, all without breaking the bank. And waterproof options mean you can order labels for both your dry goods and liquid products.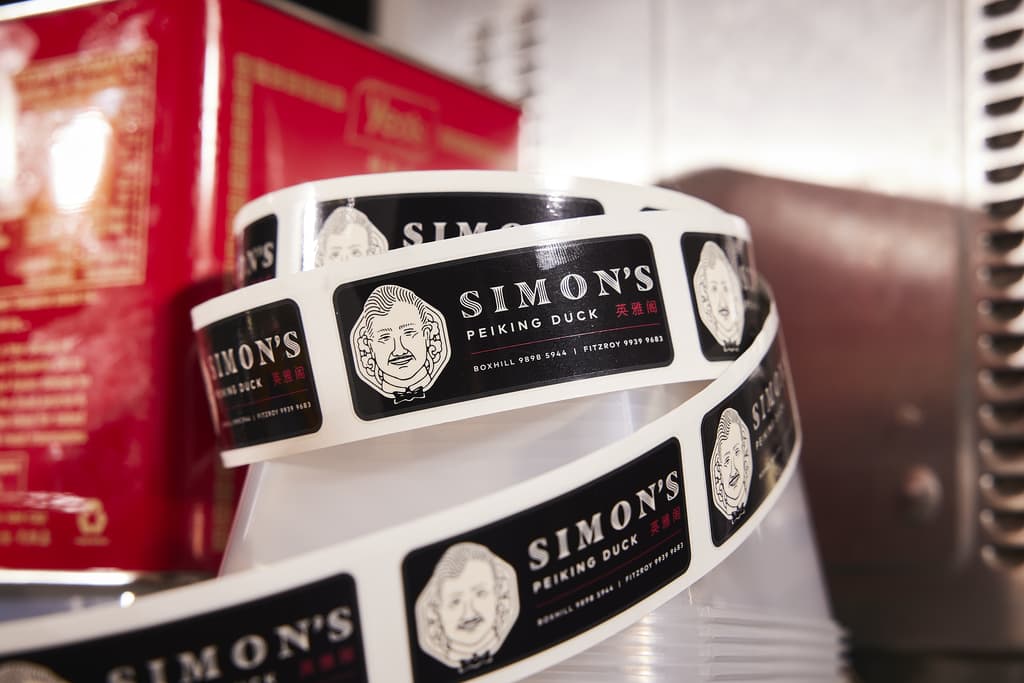 Do your products have a special feature you want to highlight? Maybe they're handcrafted, or perhaps they're made locally using sustainable or eco-friendly materials. With roll labels, you can get stickers in bulk to shine a spotlight on the features that make your products stand out from the competition.
Whether you want a consistent look across your packaging and products, or you're in need of distinctive swag or giveaways, using stickers can help bring your marketing campaigns to life. From brand recognition to customer engagement, stickers for marketing have quite the staying power to bolster your long-term business success.