Personalised Calendars
Create a year full of cheer, whether you're surprising friends and family or designing for your own home or office.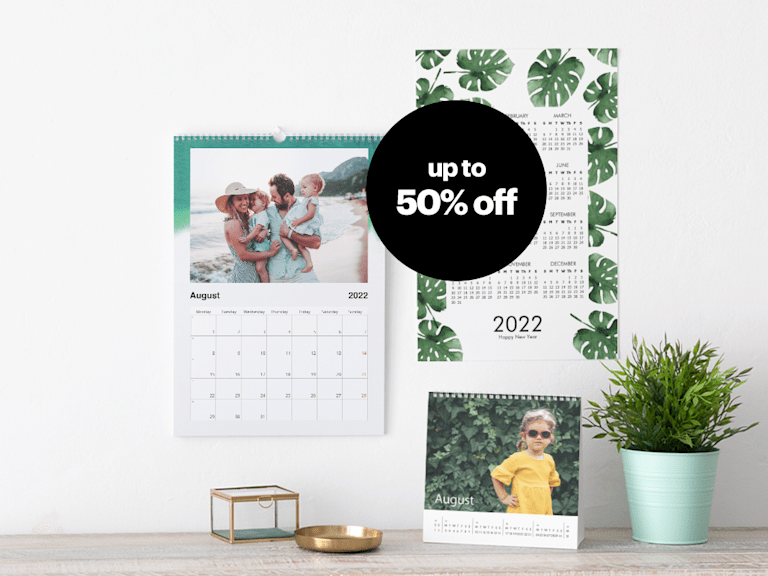 Make your own calendar that features your favourite photos and memories. Choose options for desks, fridges and walls.
Turn favourite photos and memories into a photo calendar that can be enjoyed all year long.
When you're searching for a feel-good gift idea – or way to add something special to a kitchen, office or hallway – a custom calendar is an ever-popular option. Featuring a 12-month display and plenty of personalisation options, photo calendars are both fun and functional, whether displayed on a wall or desktop. Our custom calendar printing can help you relive holiday excursions, show off beloved pets and delight grandparents with pictures of the grandkids. You can even start a lovely tradition: a new custom calendar for each new year.
Whatever your particular style, VistaPrint is ready to help you make your own calendar or print a calendar for friends and family. You can explore calendars for wall and desktop use, each with an assortment of decoration options and custom accents. We'll guide you through the creation process with our intuitive design studio, where you can upload all of your favourite photos, label special dates and more. And if you need a hand at any step of the way, our expert designers will be ready to offer help or advice – making photo calendars online has never been easier with VistaPrint.